Caption: Board of Trustees Minutes - 1992
This is a reduced-resolution page image for fast online browsing.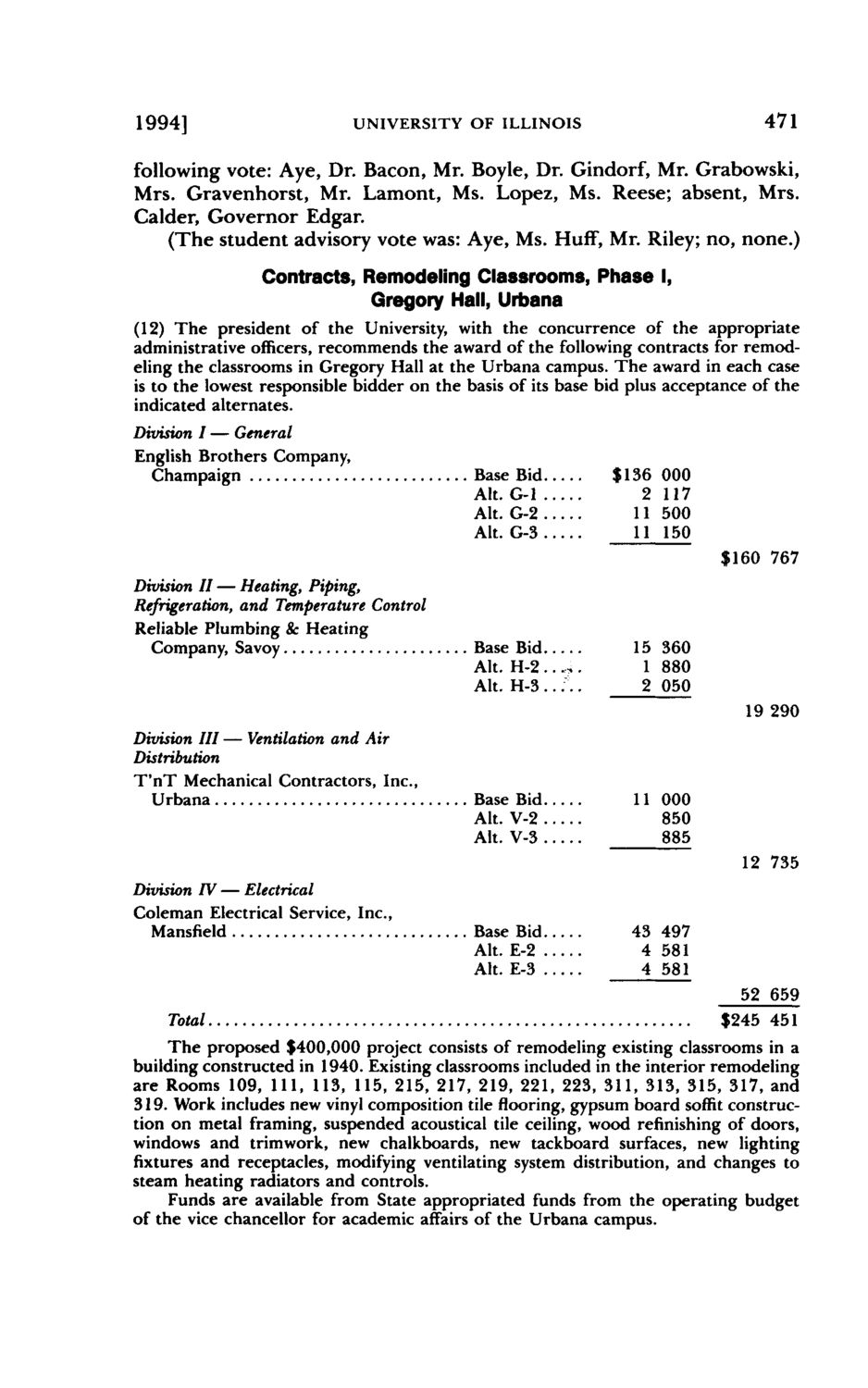 ---
EXTRACTED TEXT FROM PAGE:
1994]
UNIVERSITY OF ILLINOIS
471
following vote: Aye, Dr. Bacon, Mr. Boyle, Dr. Gindorf, Mr. Grabowski, Mrs. Gravenhorst, Mr. Lamont, Ms. Lopez, Ms. Reese; absent, Mrs. Calder, Governor Edgar. (The student advisory vote was: Aye, Ms. Huff, Mr. Riley; no, none.)
Contracts, Remodeling Classrooms, Phase I, Gregory Hall, Urbana
(12) The president of the University, with the concurrence of the appropriate administrative officers, recommends the award of the following contracts for remodeling the classrooms in Gregory Hall at the Urbana campus. The award in each case is to the lowest responsible bidder on the basis of its base bid plus acceptance of the indicated alternates. Division I — General English Brothers Company, Champaign
Base Alt. Alt. Alt.
Bid G-l G-2 G-3
$136 000 2 117 11 500 11 150 $160 767
Division II — Heating, Piping, Refrigeration, and Temperature Control Reliable Plumbing 8c Heating . . . . Base Bid Alt. H-2 ..... . Alt. H-3 , . .--'. . Division III — Ventilation and Air Distribution T'nT Mechanical Contractors, Inc., Alt. V-2 Alt. V-3 Division IV — Electrical Coleman Electrical Service, Inc., Base Bid Alt. E-2 Alt. E-3 43 497 4 581 4 581 52 659 S245 451 The proposed $400,000 project consists of remodeling existing classrooms in a building constructed in 1940. Existing classrooms included in the interior remodeling are Rooms 109, 111, 113, 115, 215, 217, 219, 221, 223, 311, 313, 315, 317, and 319. Work includes new vinyl composition tile flooring, gypsum board soffit construction on metal framing, suspended acoustical tile ceiling, wood refinishing of doors, windows and trimwork, new chalkboards, new tackboard surfaces, new lighting fixtures and receptacles, modifying ventilating system distribution, and changes to steam heating radiators and controls. Funds are available from State appropriated funds from the operating budget of the vice chancellor for academic affairs of the Urbana campus. 11 000 850 885 12 735 15 360 1 880 2^ 050 19 290