Caption: Board of Trustees Minutes - 1992
This is a reduced-resolution page image for fast online browsing.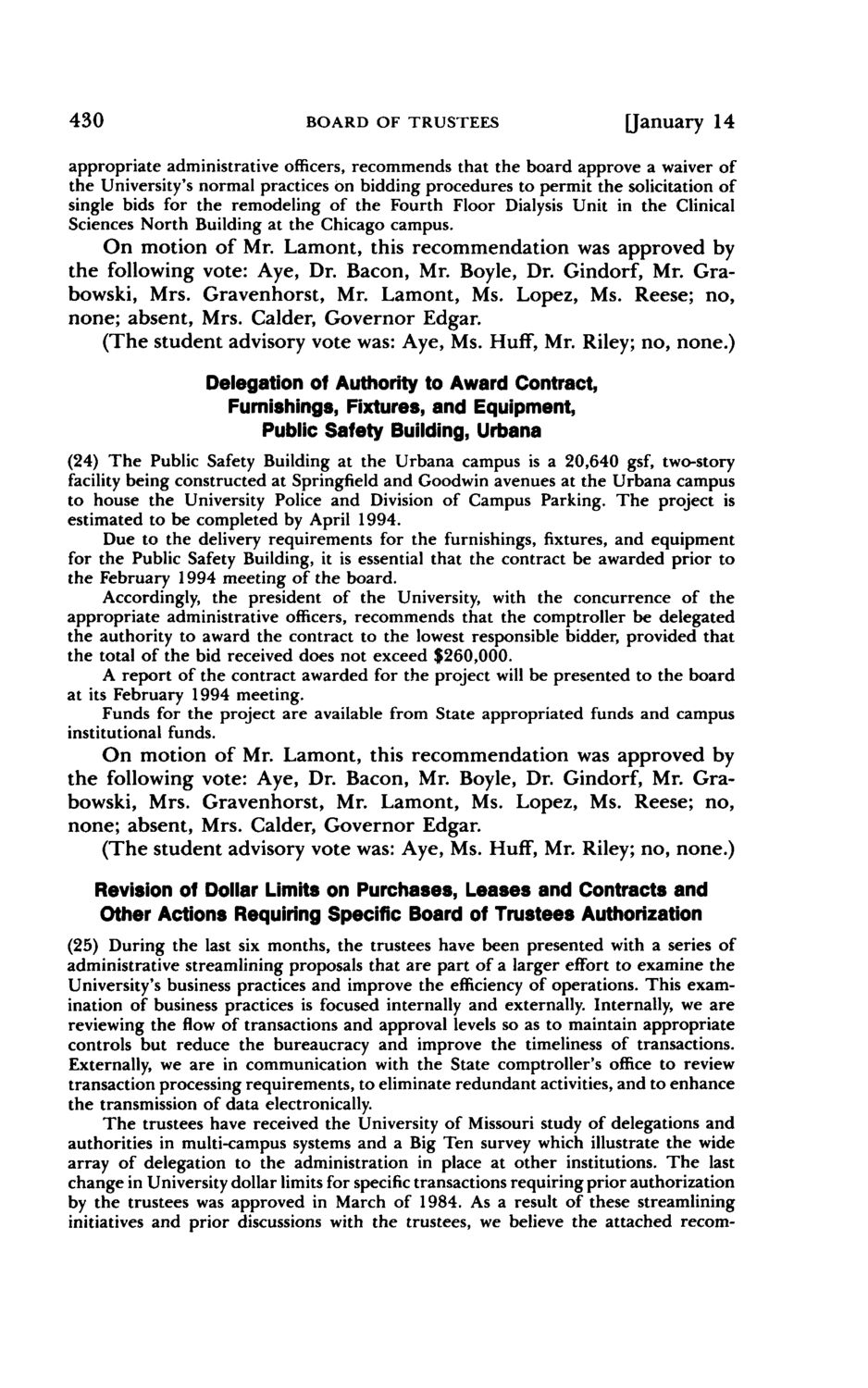 ---
EXTRACTED TEXT FROM PAGE:
430
BOARD OF TRUSTEES
[January 14
appropriate administrative officers, recommends that the board approve a waiver of the University's normal practices on bidding procedures to permit the solicitation of single bids for the remodeling of the Fourth Floor Dialysis Unit in the Clinical Sciences North Building at the Chicago campus.
On motion of Mr. Lamont, this recommendation was approved by the following vote: Aye, Dr. Bacon, Mr. Boyle, Dr. Gindorf, Mr. Grabowski, Mrs. Gravenhorst, Mr. Lamont, Ms. Lopez, Ms. Reese; no, none; absent, Mrs. Calder, Governor Edgar. (The student advisory vote was: Aye, Ms. Huff, Mr. Riley; no, none.)
Delegation of Authority to Award Contract, Furnishings, Fixtures, and Equipment, Public Safety Building, Urbana
(24) The Public Safety Building at the Urbana campus is a 20,640 gsf, two-story facility being constructed at Springfield and Goodwin avenues at the Urbana campus to house the University Police and Division of Campus Parking. The project is estimated to be completed by April 1994. Due to the delivery requirements for the furnishings, fixtures, and equipment for the Public Safety Building, it is essential that the contract be awarded prior to the February 1994 meeting of the board. Accordingly, the president of the University, with the concurrence of the appropriate administrative officers, recommends that the comptroller be delegated the authority to award the contract to the lowest responsible bidder, provided that the total of the bid received does not exceed $260,000. A report of the contract awarded for the project will be presented to the board at its February 1994 meeting. Funds for the project are available from State appropriated funds and campus institutional funds.
On motion of Mr. Lamont, this recommendation was approved by the following vote: Aye, Dr. Bacon, Mr. Boyle, Dr. Gindorf, Mr. Grabowski, Mrs. Gravenhorst, Mr. Lamont, Ms. Lopez, Ms. Reese; no, none; absent, Mrs. Calder, Governor Edgar. (The student advisory vote was: Aye, Ms. Huff, Mr. Riley; no, none.)
Revision of Dollar Limits on Purchases, Leases and Contracts and Other Actions Requiring Specific Board of Trustees Authorization
(25) During the last six months, the trustees have been presented with a series of administrative streamlining proposals that are part of a larger effort to examine the University's business practices and improve the efficiency of operations. This examination of business practices is focused internally and externally. Internally, we are reviewing the flow of transactions and approval levels so as to maintain appropriate controls but reduce the bureaucracy and improve the timeliness of transactions. Externally, we are in communication with the State comptroller's office to review transaction processing requirements, to eliminate redundant activities, and to enhance the transmission of data electronically. The trustees have received the University of Missouri study of delegations and authorities in multi-campus systems and a Big Ten survey which illustrate the wide array of delegation to the administration in place at other institutions. The last change in University dollar limits for specific transactions requiring prior authorization by the trustees was approved in March of 1984. As a result of these streamlining initiatives and prior discussions with the trustees, we believe the attached recom-