Caption: Board of Trustees Minutes - 1992
This is a reduced-resolution page image for fast online browsing.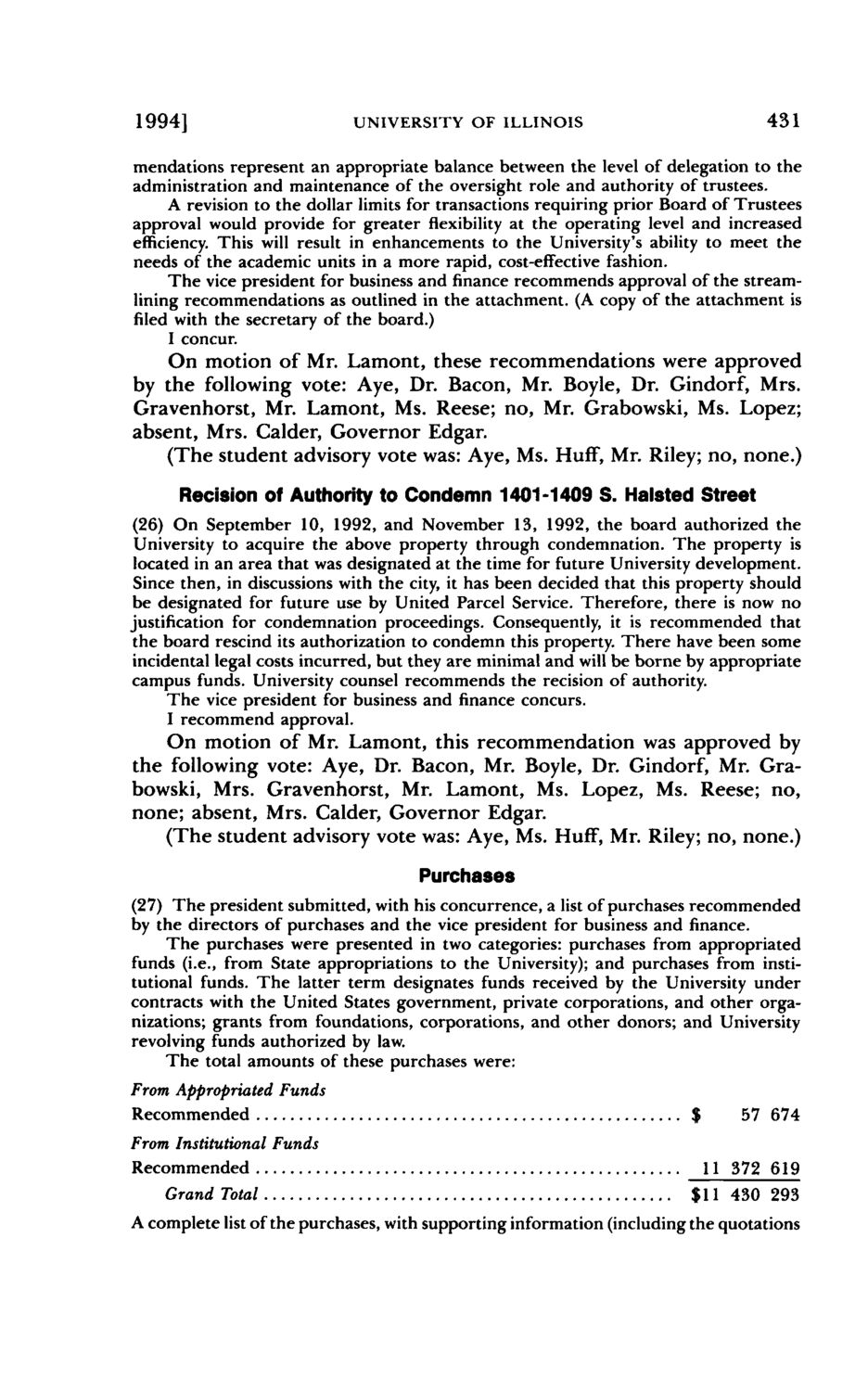 ---
EXTRACTED TEXT FROM PAGE:
1994]
UNIVERSITY OF ILLINOIS
431
mendations represent an appropriate balance between the level of delegation to the administration and maintenance of the oversight role and authority of trustees. A revision to the dollar limits for transactions requiring prior Board of Trustees approval would provide for greater flexibility at the operating level and increased efficiency. This will result in enhancements to the University's ability to meet the needs of the academic units in a more rapid, cost-effective fashion. The vice president for business and finance recommends approval of the streamlining recommendations as outlined in the attachment. (A copy of the attachment is filed with the secretary of the board.) I concur.
On motion of Mr. Lamont, these recommendations were approved by the following vote: Aye, Dr. Bacon, Mr. Boyle, Dr. Gindorf, Mrs. Gravenhorst, Mr. Lamont, Ms. Reese; no, Mr. Grabowski, Ms. Lopez; absent, Mrs. Calder, Governor Edgar. (The student advisory vote was: Aye, Ms. Huff, Mr. Riley; no, none.)
Recision of Authority to Condemn 1401-1409 S. Halsted Street
(26) On September 10, 1992, and November 13, 1992, the board authorized the University to acquire the above property through condemnation. The property is located in an area that was designated at the time for future University development. Since then, in discussions with the city, it has been decided that this property should be designated for future use by United Parcel Service. Therefore, there is now no justification for condemnation proceedings. Consequently, it is recommended that the board rescind its authorization to condemn this property. There have been some incidental legal costs incurred, but they are minimal and will be borne by appropriate campus funds. University counsel recommends the recision of authority. The vice president for business and finance concurs. I recommend approval.
On motion of Mr. Lamont, this recommendation was approved by the following vote: Aye, Dr. Bacon, Mr. Boyle, Dr. Gindorf, Mr. Grabowski, Mrs. Gravenhorst, Mr. Lamont, Ms. Lopez, Ms. Reese; no, none; absent, Mrs. Calder, Governor Edgar. (The student advisory vote was: Aye, Ms. Huff, Mr. Riley; no, none.)
Purchases
(27) The president submitted, with his concurrence, a list of purchases recommended by the directors of purchases and the vice president for business and finance. The purchases were presented in two categories: purchases from appropriated funds (i.e., from State appropriations to the University); and purchases from institutional funds. The latter term designates funds received by the University under contracts with the United States government, private corporations, and other organizations; grants from foundations, corporations, and other donors; and University revolving funds authorized by law. The total amounts of these purchases were: From Appropriated Funds Recommended From Institutional Funds Recommended Grand Total $ 57 674
11 372 619 $11 430 293
A complete list of the purchases, with supporting information (including the quotations