Caption: Board of Trustees Minutes - 1992
This is a reduced-resolution page image for fast online browsing.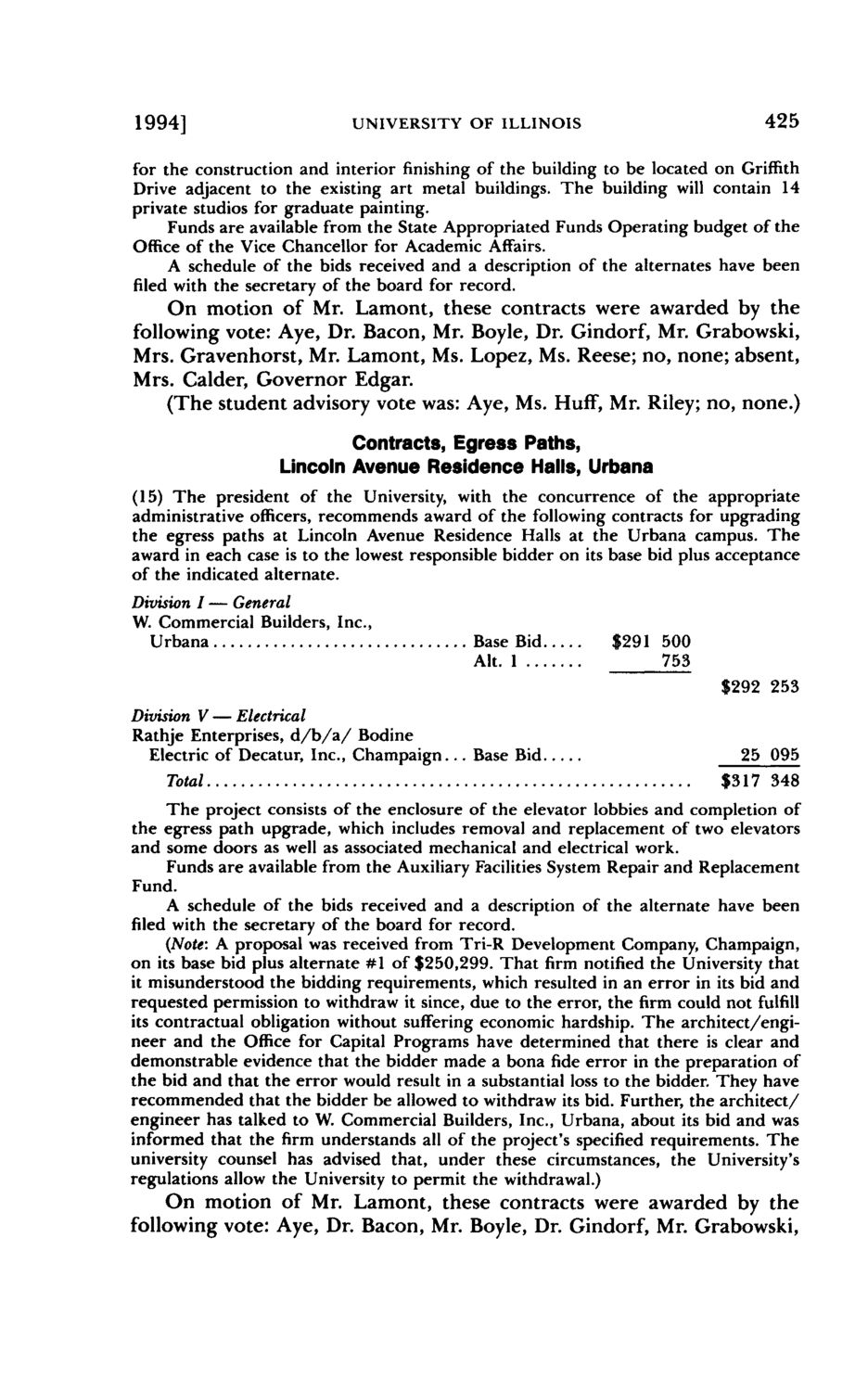 ---
EXTRACTED TEXT FROM PAGE:
1994]
UNIVERSITY OF ILLINOIS
425
for the construction and interior finishing of the building to be located on Griffith Drive adjacent to the existing art metal buildings. The building will contain 14 private studios for graduate painting. Funds are available from the State Appropriated Funds Operating budget of the Office of the Vice Chancellor for Academic Affairs. A schedule of the bids received and a description of the alternates have been filed with the secretary of the board for record.
On motion of Mr. Lamont, these contracts were awarded by the following vote: Aye, Dr. Bacon, Mr. Boyle, Dr. Gindorf, Mr. Grabowski, Mrs. Gravenhorst, Mr. Lamont, Ms. Lopez, Ms. Reese; no, none; absent, Mrs. Calder, Governor Edgar. (The student advisory vote was: Aye, Ms. Huff, Mr. Riley; no, none.)
Contracts, Egress Paths, Lincoln Avenue Residence Halls, Urbana
(15) The president of the University, with the concurrence of the appropriate administrative officers, recommends award of the following contracts for upgrading the egress paths at Lincoln Avenue Residence Halls at the Urbana campus. The award in each case is to the lowest responsible bidder on its base bid plus acceptance of the indicated alternate. Division I — General W. Commercial Builders, Inc., Urbana
Base Bid Alt. 1
$291 500 753 $292 253
Division V — Electrical Rathje Enterprises, d / b / a / Bodine Electric of Decatur, Inc., Champaign... Base Bid Total
25 095 $317 348
The project consists of the enclosure of the elevator lobbies and completion of the egress path upgrade, which includes removal and replacement of two elevators and some doors as well as associated mechanical and electrical work. Funds are available from the Auxiliary Facilities System Repair and Replacement Fund. A schedule of the bids received and a description of the alternate have been filed with the secretary of the board for record. (Note: A proposal was received from Tri-R Development Company, Champaign, on its base bid plus alternate #1 of $250,299. That firm notified the University that it misunderstood the bidding requirements, which resulted in an error in its bid and requested permission to withdraw it since, due to the error, the firm could not fulfill its contractual obligation without suffering economic hardship. The architect/engineer and the Office for Capital Programs have determined that there is clear and demonstrable evidence that the bidder made a bona fide error in the preparation of the bid and that the error would result in a substantial loss to the bidder. They have recommended that the bidder be allowed to withdraw its bid. Further, the architect/ engineer has talked to W. Commercial Builders, Inc., Urbana, about its bid and was informed that the firm understands all of the project's specified requirements. The university counsel has advised that, under these circumstances, the University's regulations allow the University to permit the withdrawal.)
On motion of Mr. Lamont, these contracts were awarded by the following vote: Aye, Dr. Bacon, Mr. Boyle, Dr. Gindorf, Mr. Grabowski,