Caption: Board of Trustees Minutes - 1992
This is a reduced-resolution page image for fast online browsing.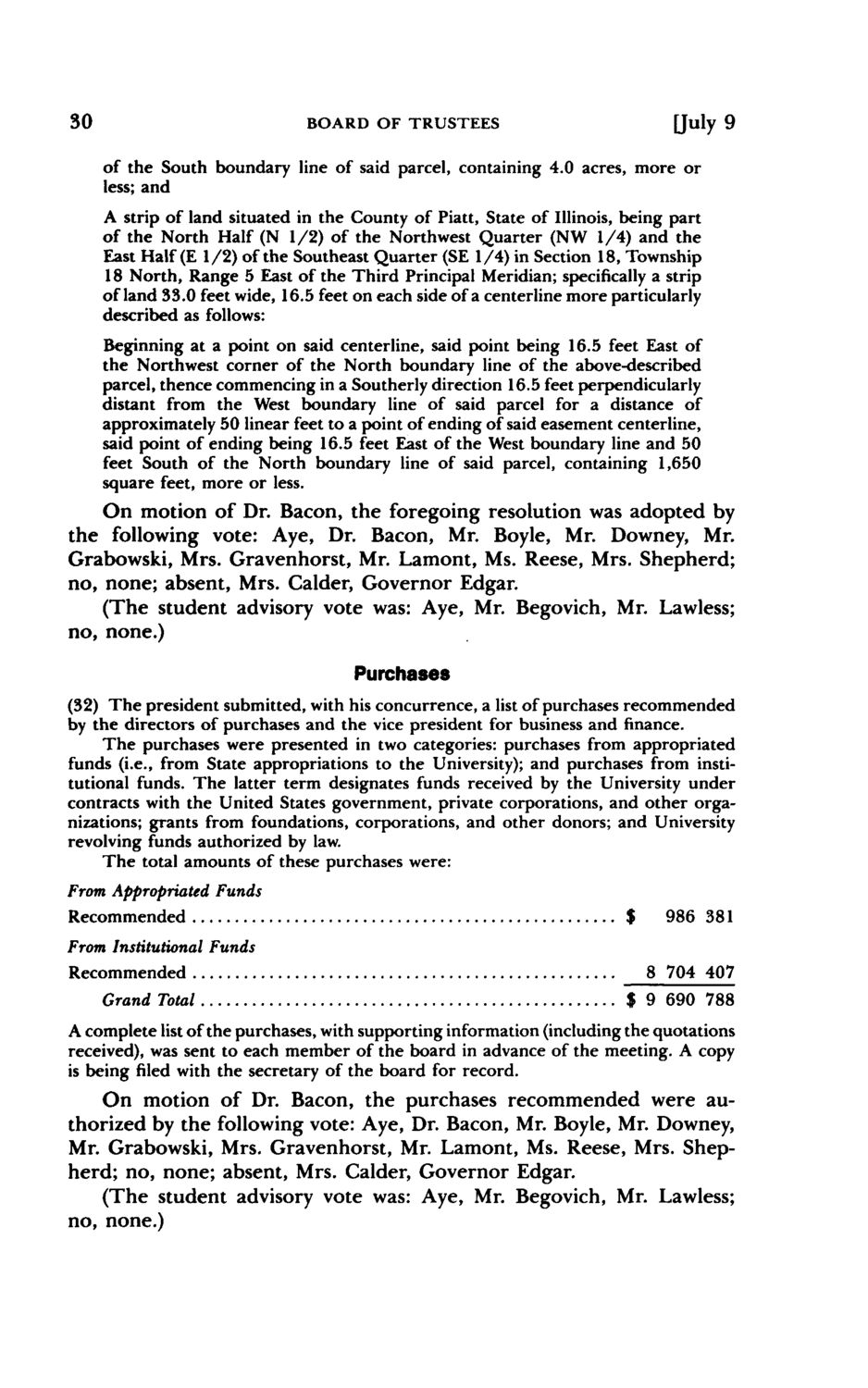 ---
EXTRACTED TEXT FROM PAGE:
30
BOARD OF TRUSTEES
[July 9
of the South boundary line of said parcel, containing 4.0 acres, more or less; and A strip of land situated in the County of Piatt, State of Illinois, being part of the North Half (N 1/2) of the Northwest Quarter (NW 1/4) and the East Half (E 1/2) of the Southeast Quarter (SE 1/4) in Section 18, Township 18 North, Range 5 East of the Third Principal Meridian; specifically a strip of land 33.0 feet wide, 16.5 feet on each side of a centerline more particularly described as follows: Beginning at a point on said centerline, said point being 16.5 feet East of the Northwest corner of the North boundary line of the above-described parcel, thence commencing in a Southerly direction 16.5 feet perpendicularly distant from the West boundary line of said parcel for a distance of approximately 50 linear feet to a point of ending of said easement centerline, said point of ending being 16.5 feet East of the West boundary line and 50 feet South of the North boundary line of said parcel, containing 1,650 square feet, more or less.
On motion of Dr. Bacon, the foregoing resolution was adopted by the following vote: Aye, Dr. Bacon, Mr. Boyle, Mr. Downey, Mr. Grabowski, Mrs. Gravenhorst, Mr. Lamont, Ms. Reese, Mrs. Shepherd; no, none; absent, Mrs. Calder, Governor Edgar. (The student advisory vote was: Aye, Mr. Begovich, Mr. Lawless; no, none.)
Purchases
(32) The president submitted, with his concurrence, a list of purchases recommended by the directors of purchases and the vice president for business and finance. The purchases were presented in two categories: purchases from appropriated funds (i.e., from State appropriations to the University); and purchases from institutional funds. The latter term designates funds received by the University under contracts with the United States government, private corporations, and other organizations; grants from foundations, corporations, and other donors; and University revolving funds authorized by law. The total amounts of these purchases were: From Appropriated Funds Recommended From Institutional Funds Recommended Grand Total $ 986 381 8 704 407 $ 9 690 788
A complete list of the purchases, with supporting information (including the quotations received), was sent to each member of the board in advance of the meeting. A copy is being filed with the secretary of the board for record.
On motion of Dr. Bacon, the purchases recommended were authorized by the following vote: Aye, Dr. Bacon, Mr. Boyle, Mr. Downey, Mr. Grabowski, Mrs. Gravenhorst, Mr. Lamont, Ms. Reese, Mrs. Shepherd; no, none; absent, Mrs. Calder, Governor Edgar. (The student advisory vote was: Aye, Mr. Begovich, Mr. Lawless; no, none.)