Caption: Board of Trustees Minutes - 1992
This is a reduced-resolution page image for fast online browsing.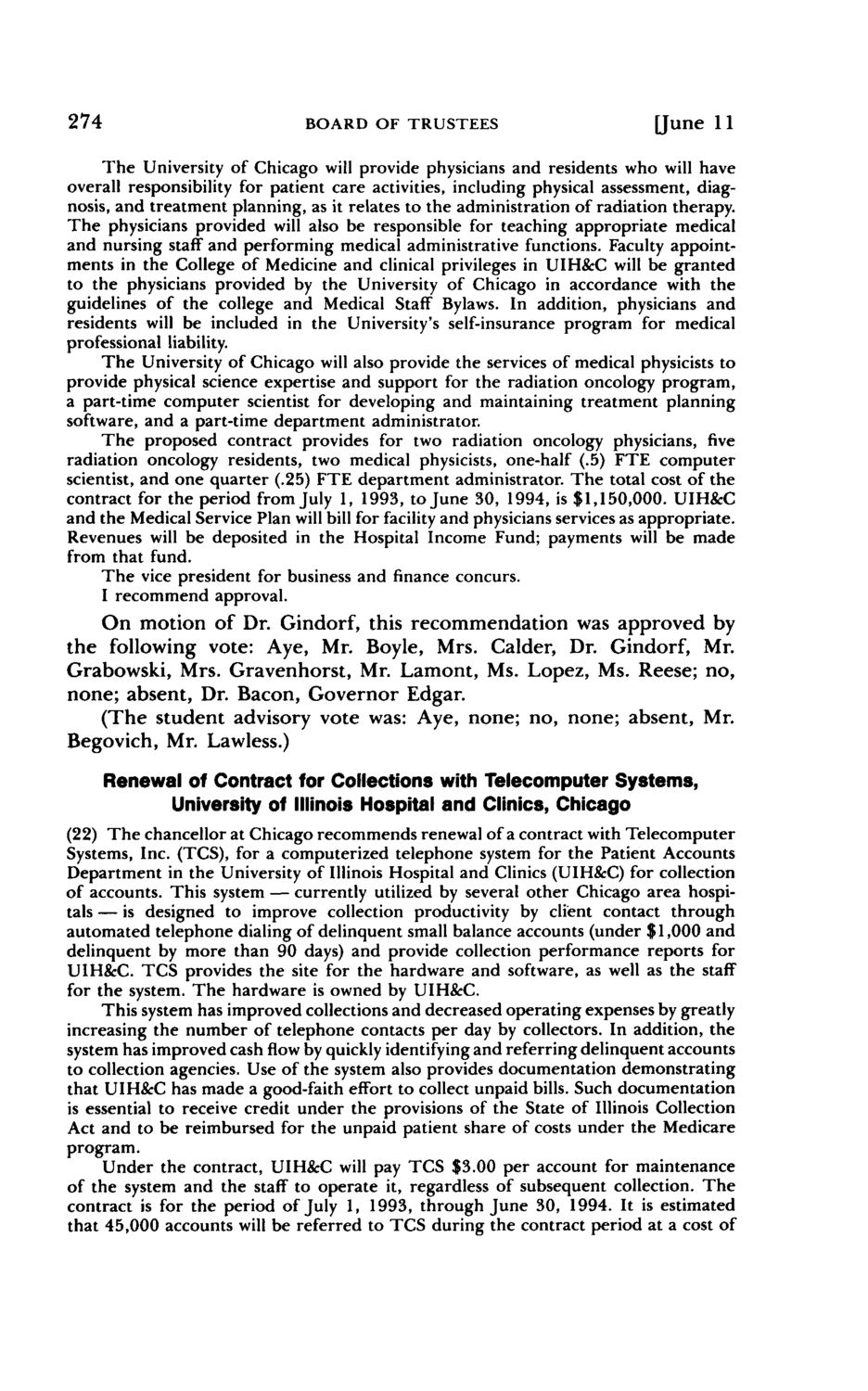 ---
EXTRACTED TEXT FROM PAGE:
274
BOARD OF TRUSTEES
[June 11
The University of Chicago will provide physicians and residents who will have overall responsibility for patient care activities, including physical assessment, diagnosis, and treatment planning, as it relates to the administration of radiation therapy. The physicians provided will also be responsible for teaching appropriate medical and nursing staff and performing medical administrative functions. Faculty appointments in the College of Medicine and clinical privileges in UIH&C will be granted to the physicians provided by the University of Chicago in accordance with the guidelines of the college and Medical Staff Bylaws. In addition, physicians and residents will be included in the University's self-insurance program for medical professional liability. The University of Chicago will also provide the services of medical physicists to provide physical science expertise and support for the radiation oncology program, a part-time computer scientist for developing and maintaining treatment planning software, and a part-time department administrator. The proposed contract provides for two radiation oncology physicians, five radiation oncology residents, two medical physicists, one-half (.5) FTE computer scientist, and one quarter (.25) FTE department administrator. The total cost of the contract for the period from July 1, 1993, to June 30, 1994, is $1,150,000. UIH&C and the Medical Service Plan will bill for facility and physicians services as appropriate. Revenues will be deposited in the Hospital Income Fund; payments will be made from that fund. The vice president for business and finance concurs. I recommend approval.
On motion of Dr. Gindorf, this recommendation was approved by the following vote: Aye, Mr. Boyle, Mrs. Calder, Dr. Gindorf, Mr. Grabowski, Mrs. Gravenhorst, Mr. Lamont, Ms. Lopez, Ms. Reese; no, none; absent, Dr. Bacon, Governor Edgar. (The student advisory vote was: Aye, none; no, none; absent, Mr. Begovich, Mr. Lawless.)
Renewal of Contract for Collections with Telecomputer Systems, University of Illinois Hospital and Clinics, Chicago
(22) The chancellor at Chicago recommends renewal of a contract with Telecomputer Systems, Inc. (TCS), for a computerized telephone system for the Patient Accounts Department in the University of Illinois Hospital and Clinics (UIH&C) for collection of accounts. This system — currently utilized by several other Chicago area hospitals — is designed to improve collection productivity by client contact through automated telephone dialing of delinquent small balance accounts (under $ 1,000 and delinquent by more than 90 days) and provide collection performance reports for UIH&C. TCS provides the site for the hardware and software, as well as the staff for the system. The hardware is owned by UIH&C. This system has improved collections and decreased operating expenses by greatly increasing the number of telephone contacts per day by collectors. In addition, the system has improved cash flow by quickly identifying and referring delinquent accounts to collection agencies. Use of the system also provides documentation demonstrating that UIH&C has made a good-faith effort to collect unpaid bills. Such documentation is essential to receive credit under the provisions of the State of Illinois Collection Act and to be reimbursed for the unpaid patient share of costs under the Medicare program. Under the contract, UIH&C will pay TCS $3.00 per account for maintenance of the system and the staff to operate it, regardless of subsequent collection. The contract is for the period of July 1, 1993, through June 30, 1994. It is estimated that 45,000 accounts will be referred to TCS during the contract period at a cost of