Caption: Board of Trustees Minutes - 1992
This is a reduced-resolution page image for fast online browsing.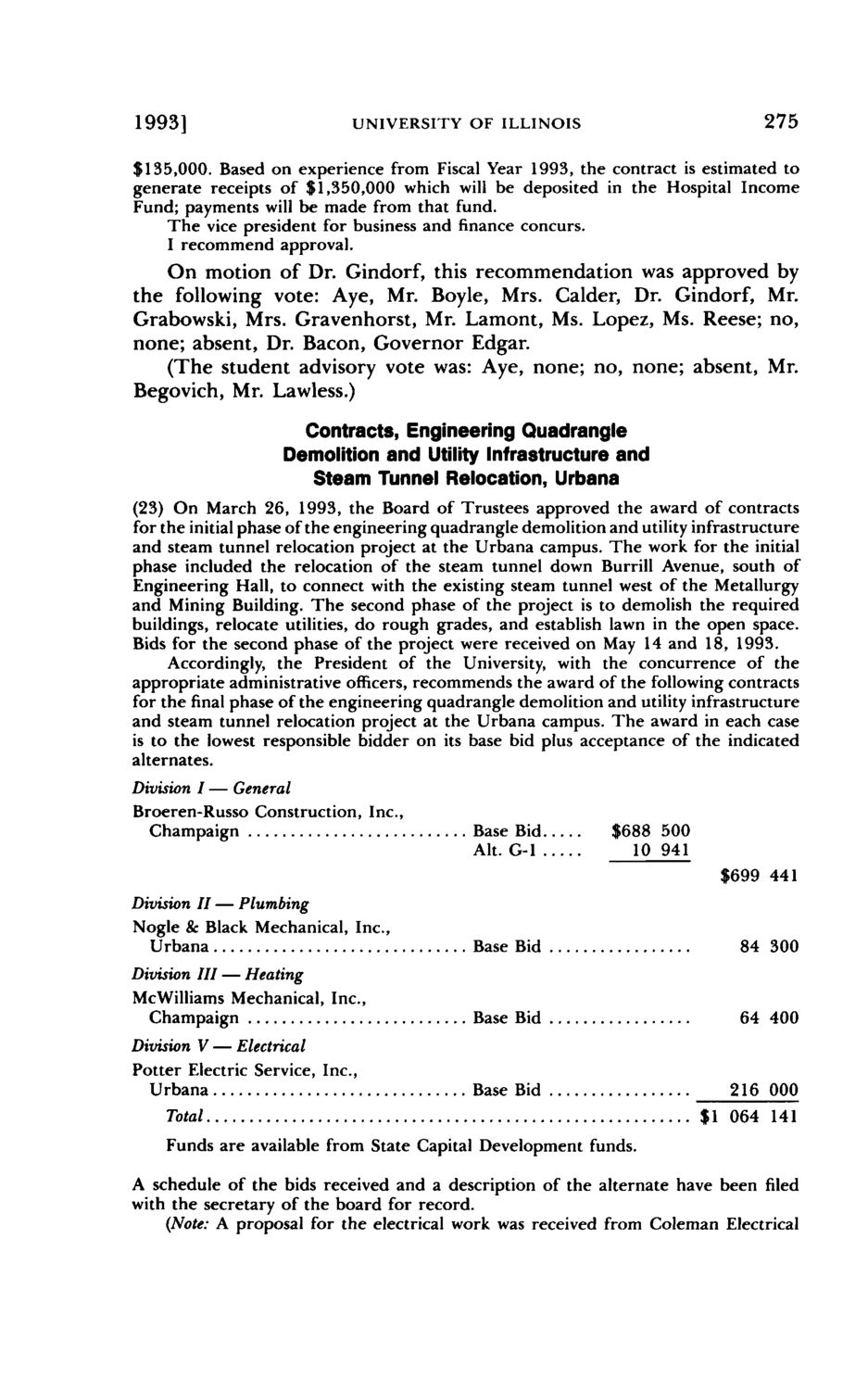 ---
EXTRACTED TEXT FROM PAGE:
1993]
UNIVERSITY OF ILLINOIS
275
$135,000. Based on experience from Fiscal Year 1993, the contract is estimated to generate receipts of $1,350,000 which will be deposited in the Hospital Income Fund; payments will be made from that fund. The vice president for business and finance concurs. I recommend approval.
On motion of Dr. Gindorf, this recommendation was approved by the following vote: Aye, Mr. Boyle, Mrs. Calder, Dr. Gindorf, Mr. Grabowski, Mrs. Gravenhorst, Mr. Lamont, Ms. Lopez, Ms. Reese; no, none; absent, Dr. Bacon, Governor Edgar. (The student advisory vote was: Aye, none; no, none; absent, Mr. Begovich, Mr. Lawless.)
Contracts, Engineering Quadrangle Demolition and Utility Infrastructure and Steam Tunnel Relocation, Urbana
(23) On March 26, 1993, the Board of Trustees approved the award of contracts for the initial phase of the engineering quadrangle demolition and utility infrastructure and steam tunnel relocation project at the Urbana campus. The work for the initial phase included the relocation of the steam tunnel down Burrill Avenue, south of Engineering Hall, to connect with the existing steam tunnel west of the Metallurgy and Mining Building. The second phase of the project is to demolish the required buildings, relocate utilities, do rough grades, and establish lawn in the open space. Bids for the second phase of the project were received on May 14 and 18, 1993. Accordingly, the President of the University, with the concurrence of the appropriate administrative officers, recommends the award of the following contracts for the final phase of the engineering quadrangle demolition and utility infrastructure and steam tunnel relocation project at the Urbana campus. The award in each case is to the lowest responsible bidder on its base bid plus acceptance of the indicated alternates. Division I — General Broeren-Russo Construction, Inc., Champaign
Base Bid Alt. G-l
$688 500 10 941
Division II — Plumbing Nogle & Black Mechanical, Inc., Urbana Division III — Heating McWilliams Mechanical, Inc., Champaign Division V — Electrical Potter Electric Service, Inc., Urbana Total Funds are available from State Capital Development funds. Base Bid Base Bid
$699 441
84 300 64 400
Base Bid
216 000 $1 064 141
A schedule of the bids received and a description of the alternate have been filed with the secretary of the board for record. (Note: A proposal for the electrical work was received from Coleman Electrical