Caption: Board of Trustees Minutes - 1992
This is a reduced-resolution page image for fast online browsing.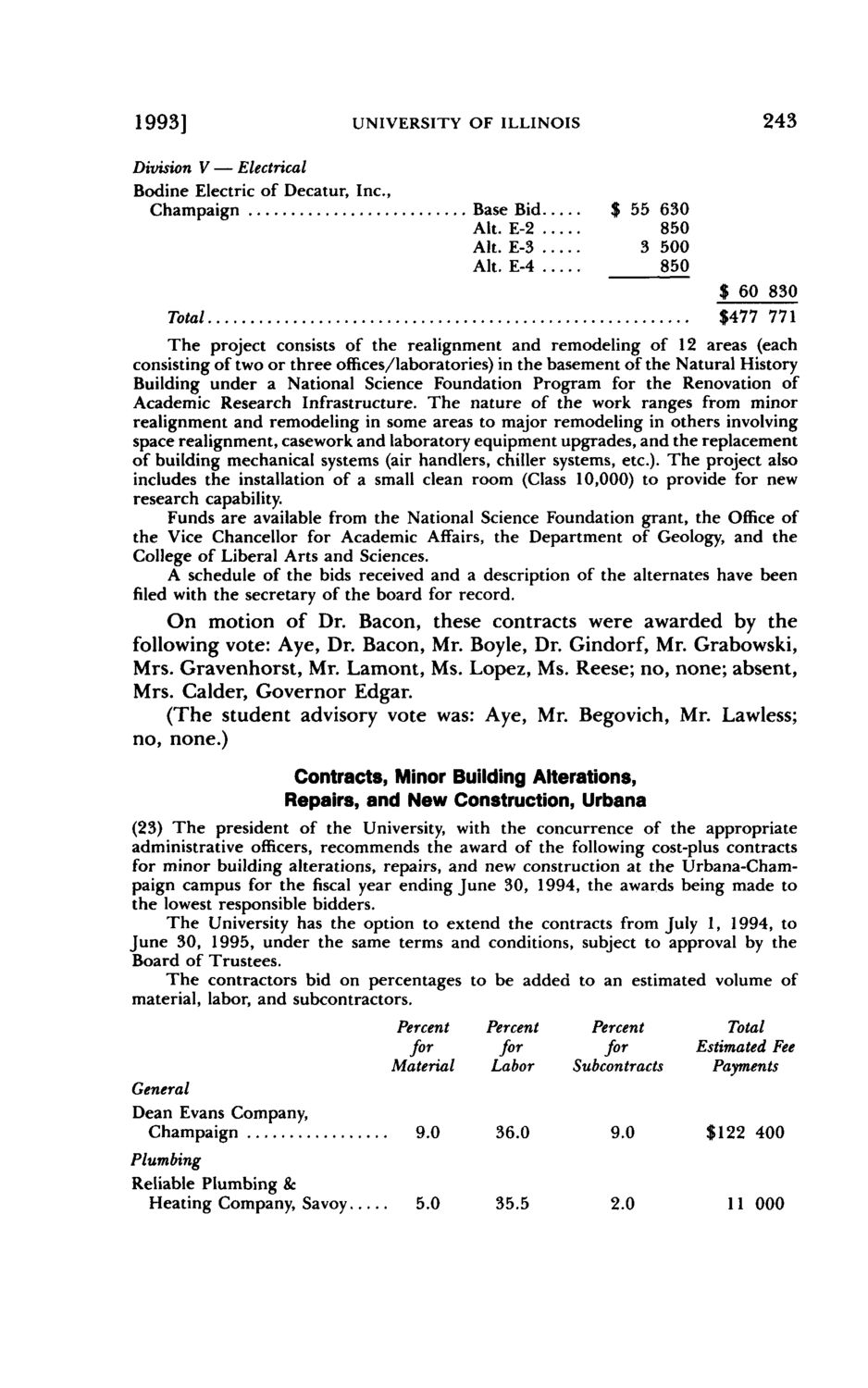 ---
EXTRACTED TEXT FROM PAGE:
1993]
UNIVERSITY OF ILLINOIS
243
Division V — Electrical Bodine Electric of Decatur, Inc., Champaign
Base Alt. Alt. Alt.
Bid E-2 E-3 E-4
$ 55 630 850 3 500 850 $ 60 830 $477 771
Total
The project consists of the realignment and remodeling of 12 areas (each consisting of two or three offices/laboratories) in the basement of the Natural History Building under a National Science Foundation Program for the Renovation of Academic Research Infrastructure. The nature of the work ranges from minor realignment and remodeling in some areas to major remodeling in others involving space realignment, casework and laboratory equipment upgrades, and the replacement of building mechanical systems (air handlers, chiller systems, etc.). The project also includes the installation of a small clean room (Class 10,000) to provide for new research capability. Funds are available from the National Science Foundation grant, the Office of the Vice Chancellor for Academic Affairs, the Department of Geology, and the College of Liberal Arts and Sciences. A schedule of the bids received and a description of the alternates have been filed with the secretary of the board for record.
On motion of Dr. Bacon, these contracts were awarded by the following vote: Aye, Dr. Bacon, Mr. Boyle, Dr. Gindorf, Mr. Grabowski, Mrs. Gravenhorst, Mr. Lamont, Ms. Lopez, Ms. Reese; no, none; absent, Mrs. Calder, Governor Edgar. (The student advisory vote was: Aye, Mr. Begovich, Mr. Lawless; no, none.)
Contracts, Minor Building Alterations, Repairs, and New Construction, Urbana
(23) The president of the University, with the concurrence of the appropriate administrative officers, recommends the award of the following cost-plus contracts for minor building alterations, repairs, and new construction at the Urbana-Champaign campus for the fiscal year ending June 30, 1994, the awards being made to the lowest responsible bidders. The University has the option to extend the contracts from July 1, 1994, to June 30, 1995, under the same terms and conditions, subject to approval by the Board of Trustees. The contractors bid on percentages to be added to an estimated volume of material, labor, and subcontractors. Percent for Material General Dean Evans Company, Champaign Plumbing Reliable Plumbing 8c Heating Company, Savoy Percent for Labor Percent for Subcontracts Total Estimated Fee Payments
9.0
36.0
9.0
$122 400
5.0
35.5
2.0
11 000