Caption: Board of Trustees Minutes - 1992
This is a reduced-resolution page image for fast online browsing.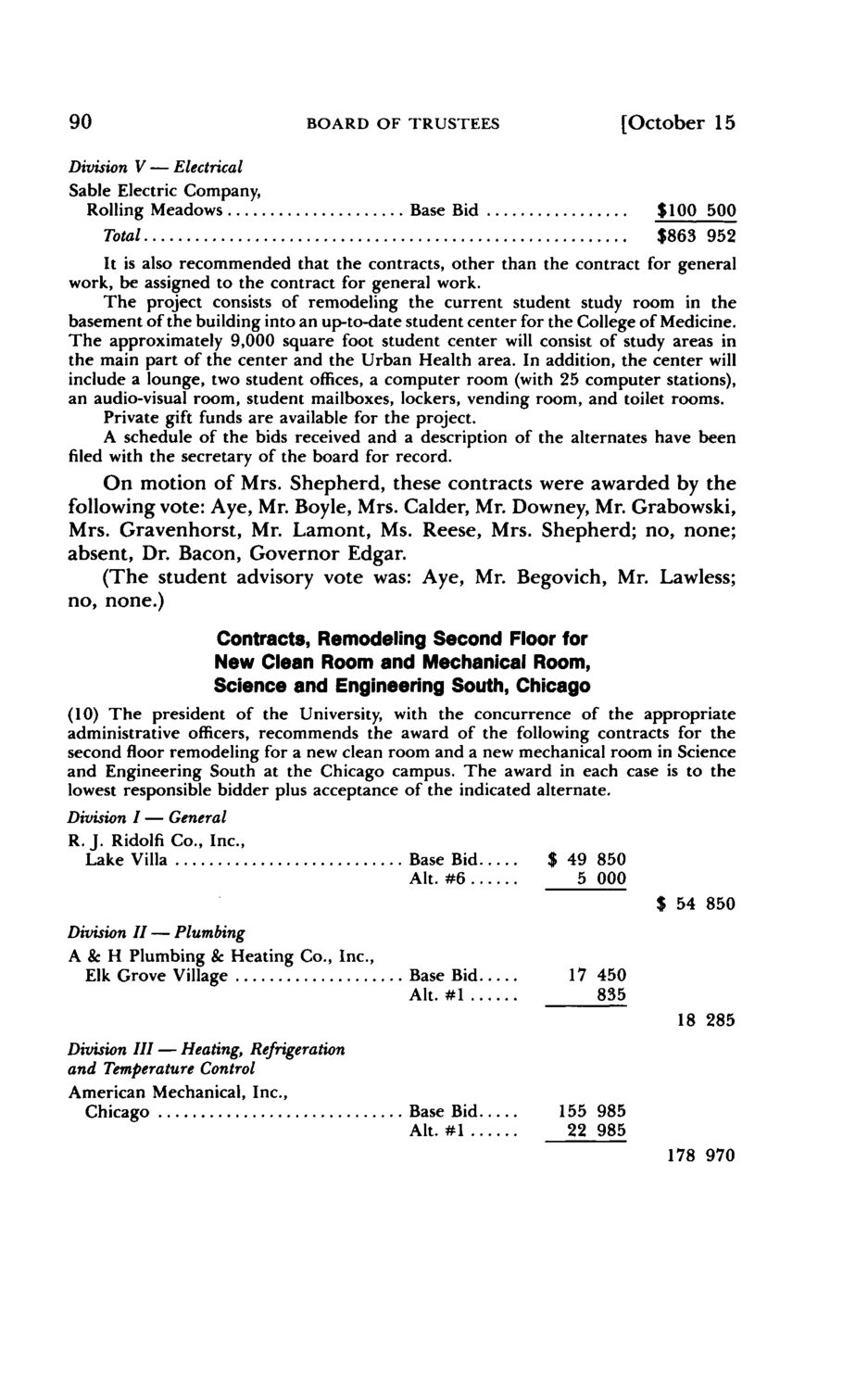 ---
EXTRACTED TEXT FROM PAGE:
90
Division V — Electrical Sable Electric Company, Rolling Meadows Total
BOARD OF TRUSTEES
[October 15
Base Bid
$100 500 $863 952
It is also recommended that the contracts, other than the contract for general work, be assigned to the contract for general work. The project consists of remodeling the current student study room in the basement of the building into an up-to-date student center for the College of Medicine. The approximately 9,000 square foot student center will consist of study areas in the main part of the center and the Urban Health area. In addition, the center will include a lounge, two student offices, a computer room (with 25 computer stations), an audio-visual room, student mailboxes, lockers, vending room, and toilet rooms. Private gift funds are available for the project. A schedule of the bids received and a description of the alternates have been filed with the secretary of the board for record.
On motion of Mrs. Shepherd, these contracts were awarded by the following vote: Aye, Mr. Boyle, Mrs. Calder, Mr. Downey, Mr. Grabowski, Mrs. Gravenhorst, Mr. Lamont, Ms. Reese, Mrs. Shepherd; no, none; absent, Dr. Bacon, Governor Edgar. (The student advisory vote was: Aye, Mr. Begovich, Mr. Lawless; no, none.)
Contracts, Remodeling Second Floor for New Clean Room and Mechanical Room, Science and Engineering South, Chicago
(10) The president of the University, with the concurrence of the appropriate administrative officers, recommends the award of the following contracts for the second floor remodeling for a new clean room and a new mechanical room in Science and Engineering South at the Chicago campus. The award in each case is to the lowest responsible bidder plus acceptance of the indicated alternate. Division I — General R. J. Ridolfi Co., Inc., Lake Villa
Base Bid Alt. #6
$ 49 850 5 000 $ 54 850
Division II — Plumbing A 8c H Plumbing & Heating Co., Inc., Elk Grove Village
Base Bid Alt. #1
17 450 835 18 285
Division III — Heating, Refrigeration and Temperature Control American Mechanical, Inc., Chicago
Base Bid Alt. #1
155 985 22 985 178 970