Caption: Board of Trustees Minutes - 1896
This is a reduced-resolution page image for fast online browsing.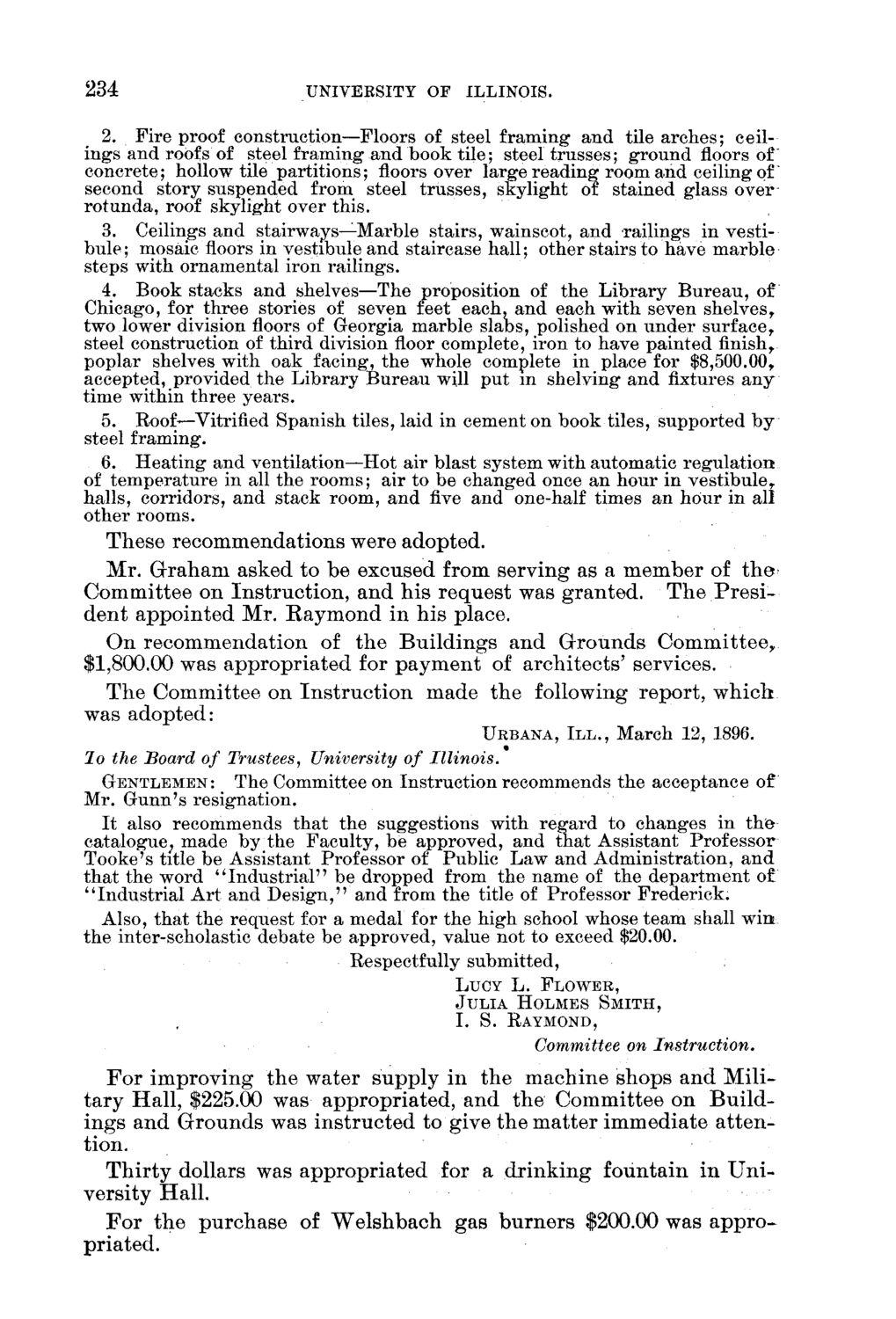 ---
EXTRACTED TEXT FROM PAGE:
234
UNIVERSITY OF ILLINOIS.
2. Fire proof construction—Floors of steel framing and tile arches; ceilings and roofs of steel framing and book tile; steel trusses; ground floors of" concrete; hollow tile partitions; floors over large reading room and ceiling of" second story suspended from steel trusses, skylight of stained glass over rotunda, roof skylight over this. 3. Ceilings and stairways—Marble stairs, wainscot, and railings in vestibule; mosaic floors in vestibule and staircase hall; other stairs to have marble steps with ornamental iron railings. 4. Book stacks and shelves—The proposition of the Library Bureau, of Chicago, for three stories of seven feet each, and each with seven shelves r two lower division floors of Georgia marble slabs, polished on under surface r steel construction of third division floor complete, iron to have painted finishf. poplar shelves with oak facing, the whole complete in place for $8,500.00,, accepted, provided the Library Bureau will put in shelving and fixtures any time within three years. 5. Roof—Vitrified Spanish tiles, laid in cement on book tiles, supported by steel framing. 6. Heating and ventilation—Hot air blast system with automatic regulation of temperature in all the rooms; air to be changed once an hour in vestibule,, halls, corridors, and stack room, and five and one-half times an hour in all other rooms. T h e s e r e c o m m e n d a t i o n s were adopted. M r . G r a h a m asked to be excused from serving as a m e m b e r of t h e C o m m i t t e e on I n s t r u c t i o n , a n d h i s r e q u e s t was g r a n t e d . T h e P r e s i d e n t a p p o i n t e d M r . R a y m o n d in h i s place. O n r e c o m m e n d a t i o n of t h e B u i l d i n g s a n d G r o u n d s Committee,. $1,800.00 was a p p r o p r i a t e d for p a y m e n t of a r c h i t e c t s ' services. T h e C o m m i t t e e on I n s t r u c t i o n m a d e t h e following report, w h i c h was a d o p t e d :
URBANA, I I I . , March 12, 1896.
lo the Board of Trustees, University of Illinois. GENTLEMEN: The Committee on Instruction recommends the acceptance of Mr. Gunn's resignation. It also recommends that the suggestions with regard to changes in the catalogue, made by the Faculty, be approved, and that Assistant Professor Tooke's title be Assistant Professor of Public Law and Administration, and that the word "Industrial" be dropped from the name of the department of "Industrial Art and Design,' 7 and from the title of Professor Frederick. Also, that the request for a medal for the high school whose team shall win the inter-scholastic debate be approved, value not to exceed $20.00. Respectfully submitted,
LUCY L. FLOWER, J U L I A HOLMES SMITH, I. S. RAYMOND,
Committee on Instruction. F o r i m p r o v i n g t h e water s u p p l y in t h e m a c h i n e s h o p s a n d M i l i t a r y H a l l , $225.00 was a p p r o p r i a t e d , a n d t h e C o m m i t t e e on B u i l d i n g s a n d G r o u n d s was i n s t r u c t e d to give t h e m a t t e r i m m e d i a t e a t t e n tion. T h i r t y dollars was a p p r o p r i a t e d for a d r i n k i n g f o u n t a i n in U n i versity H a l l . F o r t h e p u r c h a s e of W e l s h b a c h gas b u r n e r s $200.00 was a p p r o priated.