Caption: Board of Trustees Minutes - 1896
This is a reduced-resolution page image for fast online browsing.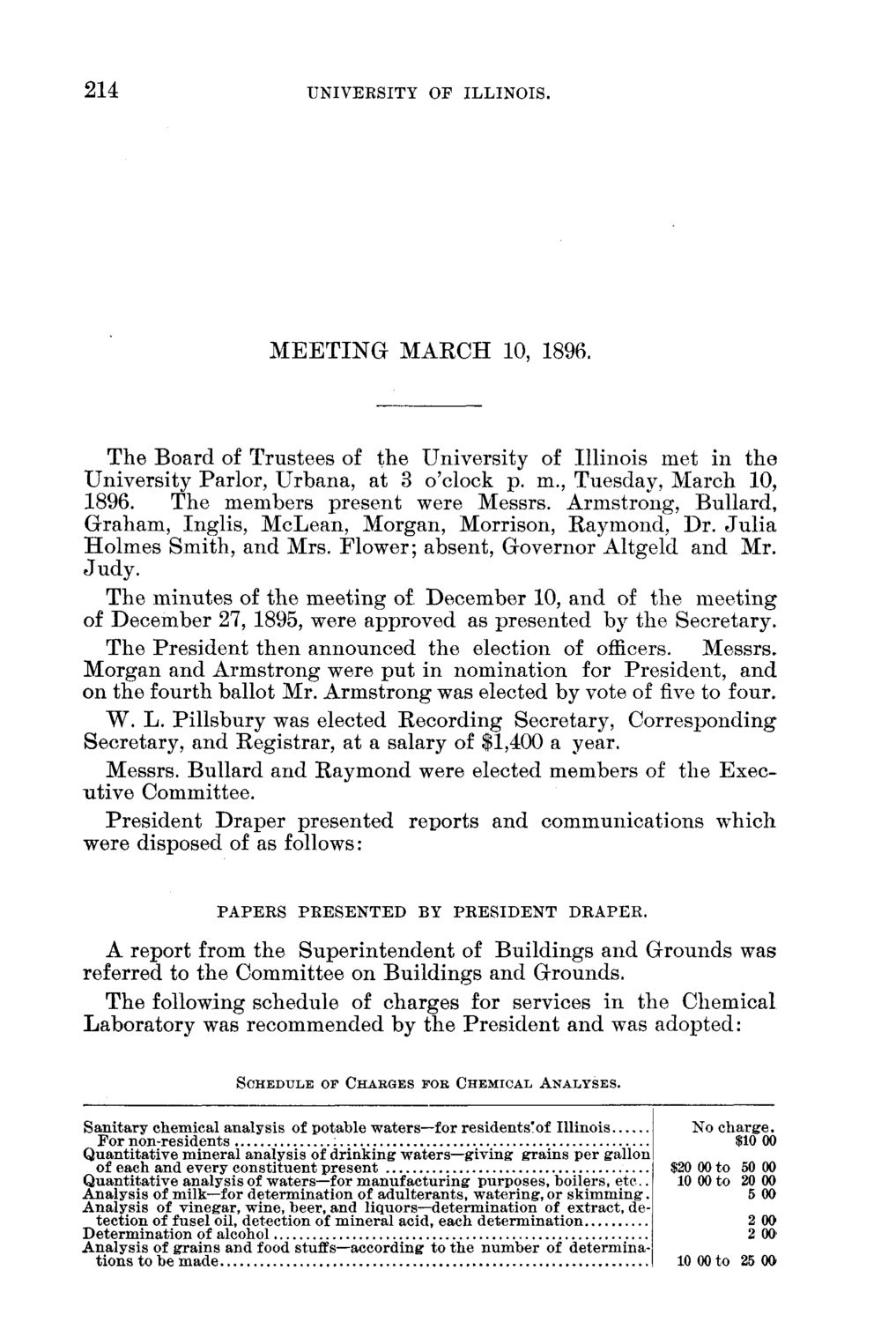 ---
EXTRACTED TEXT FROM PAGE:
214
UNIVEESITY OF I L L I N O I S .
M E E T I N G MARCH 10, 1896.
The Board of Trustees of the University of Illinois met in the University Parlor, Urbana, at 3 o'clock p. m., Tuesday, March 10, 1896. The members present were Messrs. Armstrong, Bullard, Graham, Inglis, McLean, Morgan, Morrison, Raymond, Dr. Julia Holmes Smith, and Mrs. Flower; absent, Governor Altgeld and Mr. Judy. The minutes of the meeting of December 10, and of the meeting of December 27, 1895, were approved as presented by the Secretary. The President then announced the election of officers. Messrs. Morgan and Armstrong were put in nomination for President, and on the fourth ballot Mr. Armstrong was elected by vote of five to four. W. L. Pillsbury was elected Recording Secretary, Corresponding Secretary, and Registrar, at a salary of $1,400 a year. Messrs. Bullard and Raymond were elected members of the Executive Committee. President Draper presented reports and communications which were disposed of as follows:
P A P E R S P R E S E N T E D BY P R E S I D E N T DRAPER.
A report from the Superintendent of Buildings and Grounds was referred to the Committee on Buildings and Grounds. The following schedule of charges for services in the Chemical Laboratory was recommended by the President and was adopted:
S C H E D U L E OF C H A R G E S FOR C H E M I C A L A N A L Y S E S .
S a n i t a r y chemical analysis of potable waters—for residents'of I l l i n o i s . . . F o r non-residents ; Quantitative mineral analysis of d r i n k i n g waters—giving: g r a i n s p e r gallon! of each and every constituent p r e s e n t — Quantitative analysis of waters—for m a n u f a c t u r i n g purposes, boilers, e t c . . Analysis of milk—for determination of a d u l t e r a n t s , watering, or s k i m m i n g . Analysis of vinegar, wine, beer, and liquors—determination of extract, detection of fusel oil, detection of m i n e r a l acid, each determination Determination of alcohol Analysis of grains and food stuffs—according to t h e n u m b e r of determinations to be m a d e
No c h a r g e . $10 00 $20 00 to 50 00 10 00 to 20 00 5 00 200 2 0010 00 to 25 00