Caption: Board of Trustees Minutes - 1896
This is a reduced-resolution page image for fast online browsing.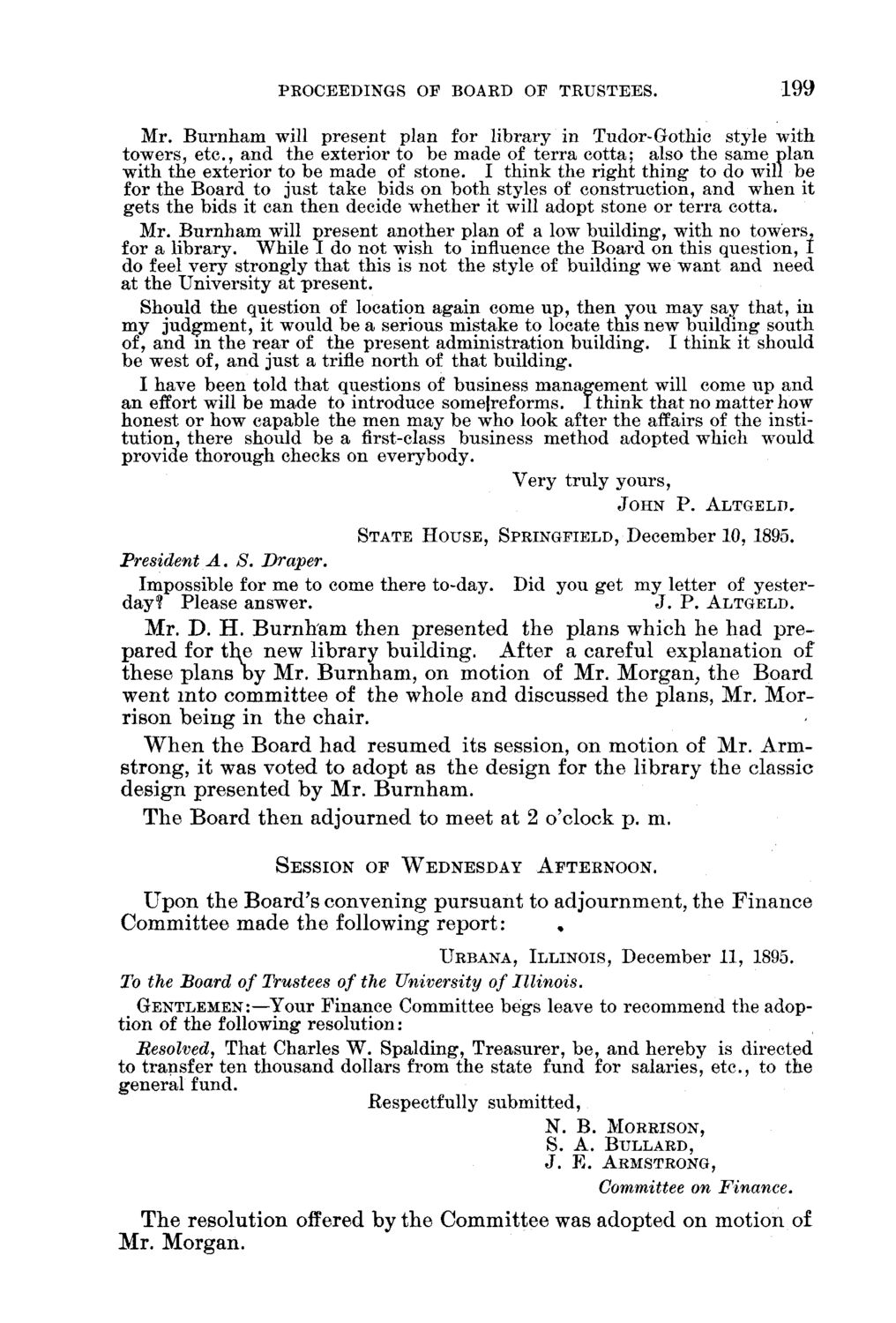 ---
EXTRACTED TEXT FROM PAGE:
PKOCEEDINGS OF BOARD OF TRUSTEES.
199
Mr. Burnham will present plan for library in Tudor-Gothic style with towers, etc., and the exterior to be made of terra cotta; also the same plan with the exterior to be made of stone. I think the right thing to do will be for the Board to just take bids on both styles of construction, and when it gets the bids it can then decide whether it will adopt stone or terra cotta. Mr. Burnham will present another plan of a low building, with no towers, for a library. While I do not wish to influence the Board on this question, I do feel very strongly that this is not the style of building we want and need at the University at present. Should the question of location again come up, then you may say that, in my judgment, it would be a serious mistake to locate this new building south of, and m the rear of the present administration building. I think it should be west of, and just a trifle north of that building. I have been told that questions of business management will come up and an effort will be made to introduce some|reforms. I think that no matter how honest or how capable the men may be who look after the affairs of the institution, there should be a first-class business method adopted which would provide thorough checks on everybody. Very truly yours,
J O H N P . ALTGELD, STATE HOUSE, SPRINGFIELD, December 10, 1895.
President A. S. Draper. Impossible for me to come there to-day. Did you get my letter of yesterday? Please answer. J . P . ALTGELD. Mr. D . H . B u r n h a m t h e n p r e s e n t e d t h e p l a n s w h i c h h e h a d p r e p a r e d for t h e new l i b r a r y b u i l d i n g . After a careful explanation of these p l a n s b y M r . B u r n h a m , o n m o t i o n of Mr. M o r g a n , t h e B o a r d went i n t o c o m m i t t e e of t h e whole a n d discussed t h e plans, Mr. M o r rison b e i n g i n t h e chair. W h e n t h e B o a r d h a d r e s u m e d i t s session, o n m o t i o n of Mr. A r m s t r o n g , it was voted t o a d o p t as t h e design for t h e l i b r a r y t h e classic d e s i g n p r e s e n t e d b y Mr. B u r n h a m . T h e B o a r d t h e n a d j o u r n e d t o meet a t 2 o'clock p . m.
SESSION OF WEDNESDAY AFTERNOON.
Upon the Board's convening pursuant to adjournment, the Finance C o m m i t t e e m a d e t h e following r e p o r t : •
URBANA, ILLINOIS, December 11, 1895.
To the Board of Trustees of the University of Illinois. GENTLEMEN:—Yonr Finance Committee begs leave to recommend the adoption of the following resolution: Resolved, That Charles W. Spalding, Treasurer, be, and hereby is directed to transfer ten thousand dollars from the state fund for salaries, etc., to the general fund. .Respectfully submitted,
N. B. MORRISON, S. A. BULLARD, J . E. ARMSTRONG,
Committee on Finance. T h e resolution offered by t h e C o m m i t t e e was a d o p t e d o n motion of Mr. Morgan.