Caption: Board of Trustees Minutes - 1896
This is a reduced-resolution page image for fast online browsing.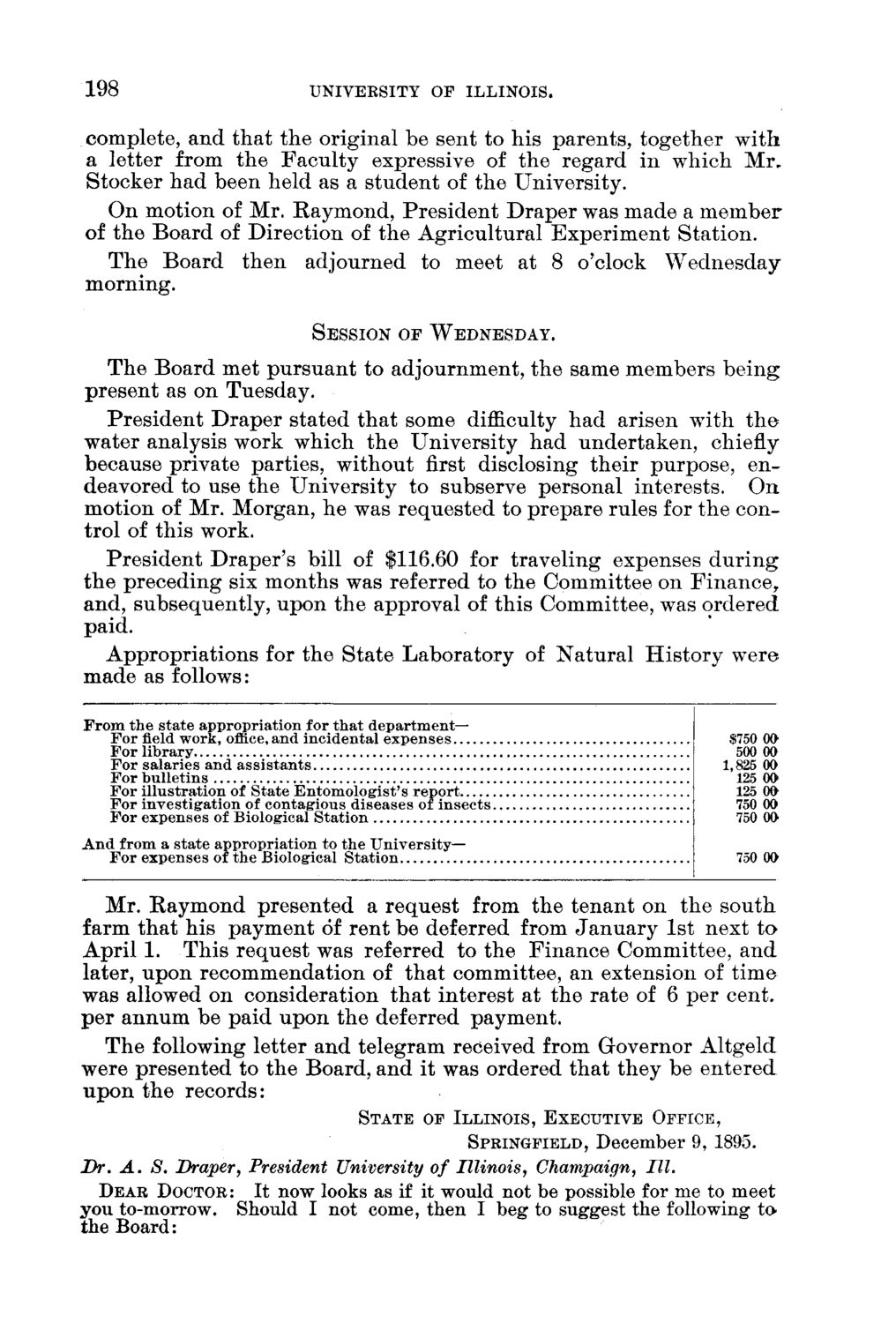 ---
EXTRACTED TEXT FROM PAGE:
198
UNIVERSITY OF ILLINOIS.
complete, and that the original be sent to his parents, together with a letter from the Faculty expressive of the regard in which Mr. Stocker had been held as a student of the University. On motion of Mr. Raymond, President Draper was made a member of the Board of Direction of the Agricultural Experiment Station. The Board then adjourned to meet at 8 o'clock Wednesdaymorning.
SESSION OF WEDNESDAY.
The Board met pursuant to adjournment, the same members being present as on Tuesday. President Draper stated that some difficulty had arisen wTith the water analysis work which the University had undertaken, chiefly because private parties, without first disclosing their purpose, endeavored to use the University to subserve personal interests. On motion of Mr. Morgan, he was requested to prepare rules for the control of this work. President Draper's bill of $116.60 for traveling expenses during the preceding six months was referred to the Committee on Finance, and, subsequently, upon the approval of this Committee, was ordered paid. Appropriations for the State Laboratory of Natural History wTere made as follows:
From the state appropriation for that department— For field work, office, and incidental expenses For library For salaries and assistants For bulletins For illustration of State Entomologist's report For investigation of contagious diseases of insects. For expenses of Biological Station And from a state appropriation to the University— For expenses of the Biological Station
$750 500 1,825 125 125 750 750 00 00 00 00 00 00 00
750 00
Mr. Eaymond presented a request from the tenant on the south farm that his payment of rent be deferred from January 1st next to April 1. This request was referred to the Finance Committee, and later, upon recommendation of that committee, an extension of time was allowed on consideration that interest at the rate of 6 per cent. per annum be paid upon the deferred payment. The following letter and telegram received from Governor Altgeld were presented to the Board, and it was ordered that they be entered upon the records:
STATE OF ILLINOIS, EXECUTIVE OFFICE,
SPRINGFIELD, December 9, 1895.
Dr. A. S. Draper, President University of Illinois, Champaign, III. DEAR DOCTOR: It now looks as if it would not be possible for me to meet you to-morrow. Should I not come, then I beg to suggest the following to> the Board: