Caption: Board of Trustees Minutes - 1896
This is a reduced-resolution page image for fast online browsing.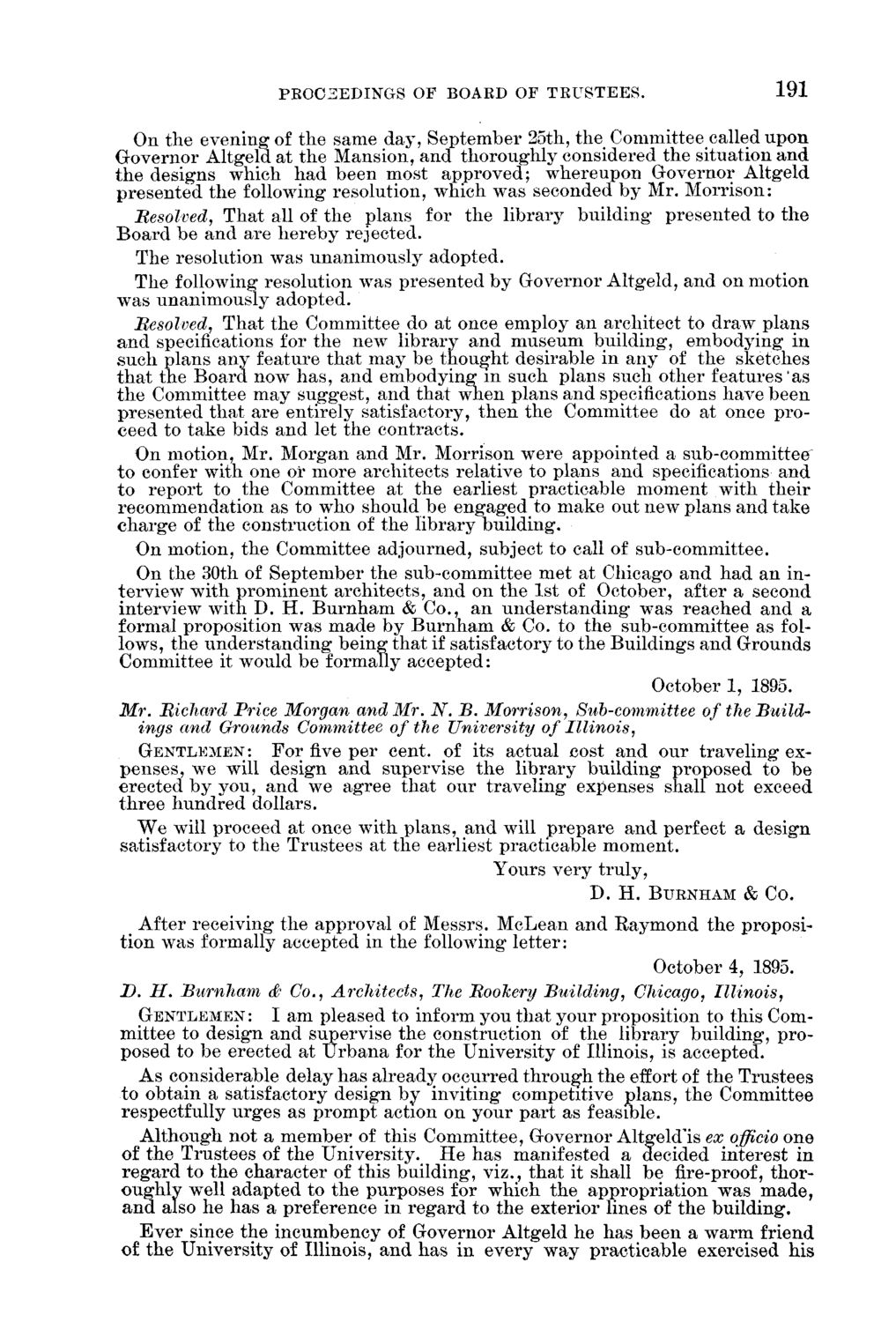 ---
EXTRACTED TEXT FROM PAGE:
PROCEEDINGS OF BOARD OF TRUSTEES.
191
On the evening of the same day, September 25th, the Committee called upon Governor Altgeld at the Mansion, and thoroughly considered the situation and the designs which had been most approved; whereupon Governor Altgeld presented the following resolution, which was seconded by Mr. Morrison: Besolved, That all of the plans for the library building presented to the Board be and are hereby rejected. The resolution was unanimously adopted. The following resolution was presented by Governor Altgeld, and on motion was unanimously adopted. Besolved, That the Committee do at once employ an architect to draw plans and specifications for the new library and museum building, embodying in such plans any feature that may be thought desirable in any of the sketches that the Board now has, and embodying m such plans such other features 'as the Committee may suggest, and that when plans and specifications have been presented that are entirely satisfactory, then the Committee do at once proceed to take bids and let the contracts. On motion, Mr. Morgan and Mr. Morrison were appointed a sub-committeef to confer with one or more architects relative to plans and specifications and to report to the Committee at the earliest practicable moment with their recommendation as to who should be engaged to make out new plans and take charge of the construction of the library building. On motion, the Committee adjourned, subject to call of sub-committee. On the 30th of September the sub-committee met at Chicago and had an interview with prominent architects, and on the 1st of October, after a second interview with D. H. Burnham & Co., an understanding was reached and a formal proposition was made by Burnham & Co. to the sub-committee as follows, the understanding being that if satisfactory to the Buildings and Grounds Committee it would be formally accepted: October 1, 1895. Mr. Bichard Price Morgan and Mr. N. B. Morrison, Sub-committee of the Buildings and Grounds Committee of the University of Illinois, GENTLEMEN: For five per cent, of its actual cost and our traveling expenses, we will design and supervise the library building proposed to be erected by you, and we agree that our traveling expenses shall not exceed three hundred dollars. We will proceed at once with plans, and will prepare and perfect a design satisfactory to the Trustees at the earliest practicable moment. Yours very truly,
D. H. BURNHAM & Co.
After receiving the approval of Messrs. McLean and Raymond the proposition was formally accepted in the following letter: October 4, 1895. D. H. Burnham & Co., Architects, The Bookery Building, Chicago, Illinois, GENTLEMEN: I am pleased to inform you that your proposition to this Committee to design and supervise the construction of the library building, proposed to be erected at Urbana for the University of Illinois, is accepted. As considerable delay has already occurred through the effort of the Trustees to obtain a satisfactory design by inviting competitive plans, the Committee respectfully urges as prompt action on your part as feasible. Although not a member of this Committee, Governor Altgeld'is ex officio one of the Trustees of the University. He has manifested a decided interest in regard to the character of this building, viz., that it shall be fire-proof, thoroughly well adapted to the purposes for which the appropriation was made, and also he has a preference in regard to the exterior lines of the building. Ever since the incumbency of Governor Altgeld he has been a warm friend of the University of Illinois, and has in every way practicable exercised his