Caption: Board of Trustees Minutes - 1896
This is a reduced-resolution page image for fast online browsing.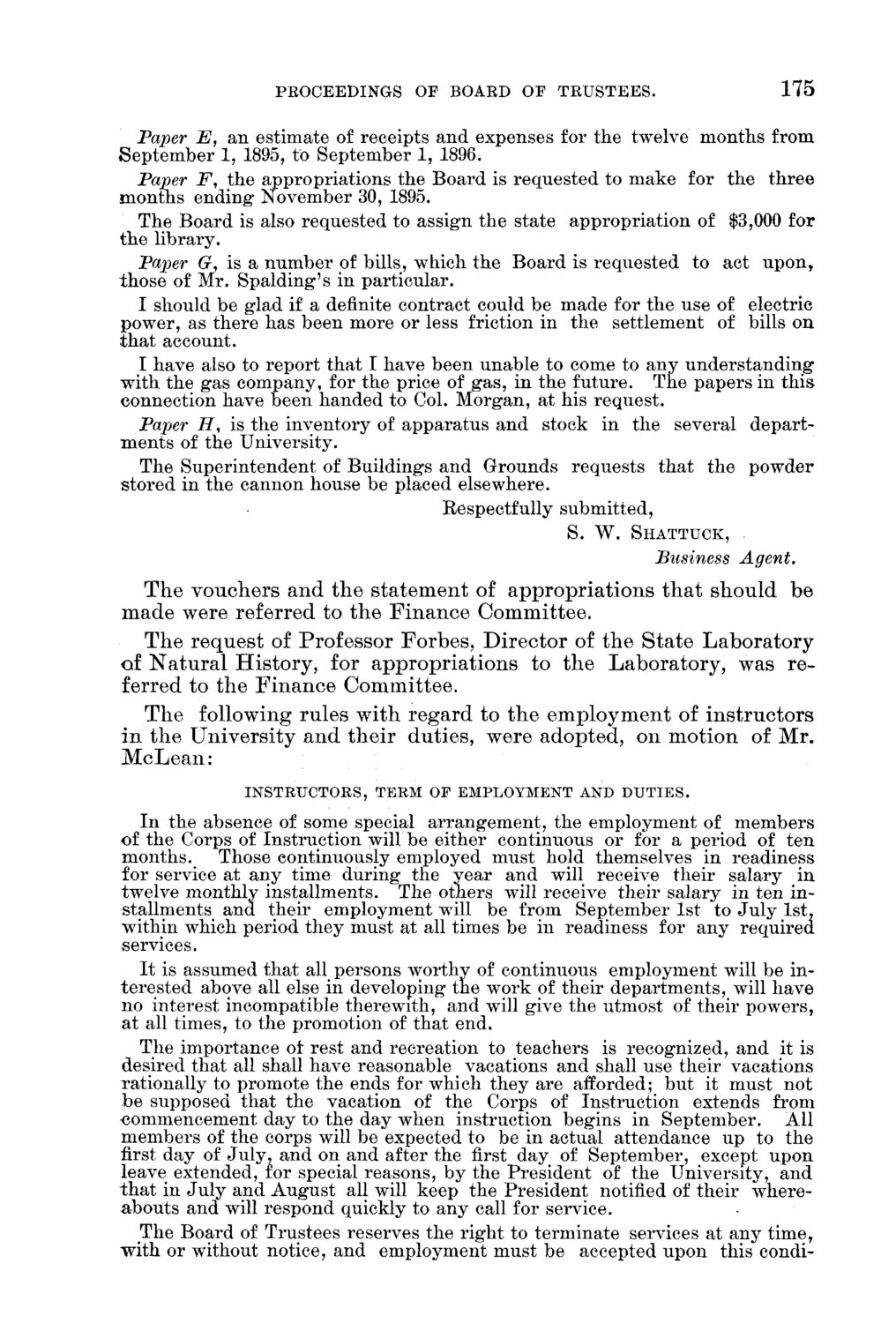 ---
EXTRACTED TEXT FROM PAGE:
PROCEEDINGS OF BOARD OF TRUSTEES.
175
Paper E, an estimate of receipts and expenses for the twelve months from September 1, 1895, to September 1, 1896. Paper F, the appropriations the Board is requested to make for the three months ending November 30, 1895. The Board is also requested to assign the state appropriation of $3,000 for the library. Paper G, is a number of bills, which the Board is requested to act upon, those of Mr. Spalding's in particular. I should be glad if a definite contract could be made for the use of electric power, as there has been more or less friction in the settlement of bills on that account. I have also to report that I have been unable to come to any understanding with the gas company, for the price of gas, in the future. The papers in this connection have been handed to Col. Morgan, at his request. Paper if, is the inventory of apparatus and stock in the several departments of the University. The Superintendent of Buildings and Grounds requests that the powder stored in the cannon house be placed elsewhere. Respectfully submitted,
S. W. SHATTUCK, .
Business
Agent.
The vouchers and the statement of appropriations that should be made were referred to the Finance Committee. The request of Professor Forbes, Director of the State Laboratory of Natural History, for appropriations to the Laboratory, was referred to the Finance Committee. The following rules with regard to the employment of instructors in the University and their duties, were adopted, on motion of Mr. McLean:
INSTRUCTORS, TERM OF EMPLOYMENT AND DUTIES.
In the absence of some special arrangement, the employment of members of the Corps of Instruction will be either continuous or for a period of ten months. Those continuously employed must hold themselves in readiness for service at any time during the year and will receive their salary in twelve monthly installments. The others will receive their salary in ten installments and their employment will be from September 1st to July 1st, within which period they must at all times be in readiness for any required services. It is assumed that all persons worthy of continuous employment will be interested above all else in developing the work of their departments, will have no interest incompatible therewith, and will give the utmost of their powers, at all times, to the promotion of that end. The importance ot rest and recreation to teachers is recognized, and it is desired that all shall have reasonable vacations and shall use their vacations rationally to promote the ends for which they are afforded; but it must not be supposed that the vacation of the Corps of Instruction extends from commencement day to the day when instruction begins in September. All members of the corps will be expected to be in actual attendance up to the first day of July, and on and after the first day of September, except upon leave extended, for special reasons, by the President of the University, and that in July and August all will keep the President notified of their whereabouts and will respond quickly to any call for service. The Board of Trustees reserves the right to terminate services at any time, with or without notice, and employment must be accepted upon this condi-