Caption: Book - Century of Physics (1973)
This is a reduced-resolution page image for fast online browsing.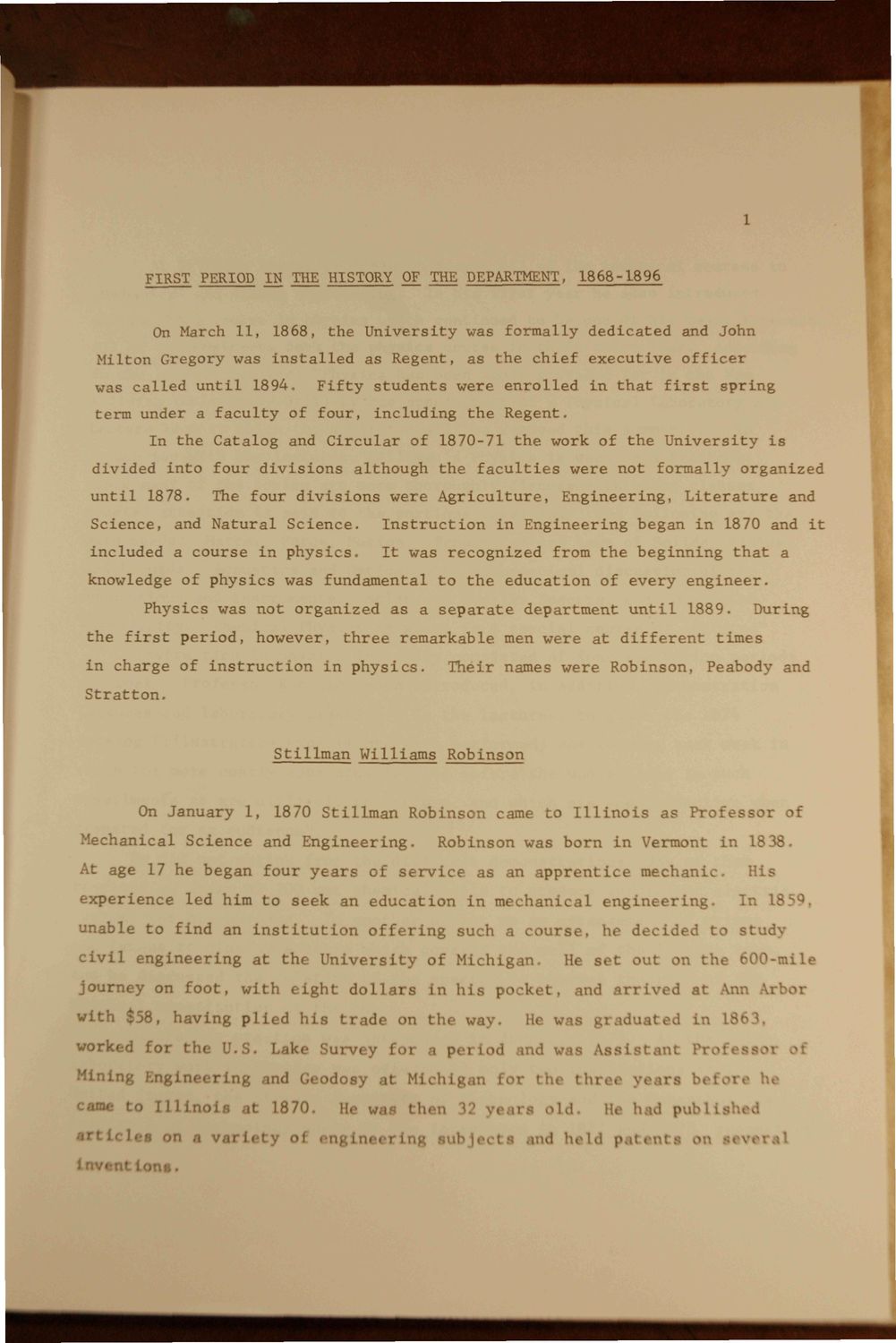 ---
EXTRACTED TEXT FROM PAGE:
FIRST PERIOD IN THE HISTORY OF THE DEPARTMENT, 1868-1896 On March 11, 1868, the University was formally dedicated and John Milton Gregory was installed as Regent, as the chief executive officer was called until 1894. Fifty students were enrolled in that first spring term under a faculty of four, including the Regent. In the Catalog and Circular of 1870-71 the work of the University is divided into four divisions although the faculties were not formally organized until 1878. The four divisions were Agriculture, Engineering, Literature and Instruction in Engineering began in 1870 and it It was recognized from the beginning that a Science, and Natural Science. included a course in physics.
knowledge of physics was fundamental to the education of every engineer. Physics was not organized as a separate department until 1889. During
the first period, however, three remarkable men were at different times in charge of instruction in physics. Stratton. Their names were Robinson, Peabody and
Stillman Williams Robinson
On January 1, 18 70 Stillman Robinson came to Illinois as Professor of Mechanical Science and Engineering. Robinson was born in Vermont in 18 38. H: In 1£
At age 17 he began four years of service as an apprentice mechanic. experience led him to seek an education in mechanical engineering.
unable to find an institution offering such a course, he decided to study civil engineering at the University of Michigan. journey on foot, with eight dollars in his pocV with $58, having plied his trade on the way. work He set out on the 6 . and arrived at -mile rbor
He was graduated in L8€ ant ira b He had pu avi al a
for the U.S. Lake Survey foi a period and was Assi : the thi >ld. tl
Mining hngineering and Geodosy at Michigan came to [] nois at 1870. He was than \2 inineaul
:B on a vari.
is.
u! held pat <