Caption: Book - Century of Physics (1973)
This is a reduced-resolution page image for fast online browsing.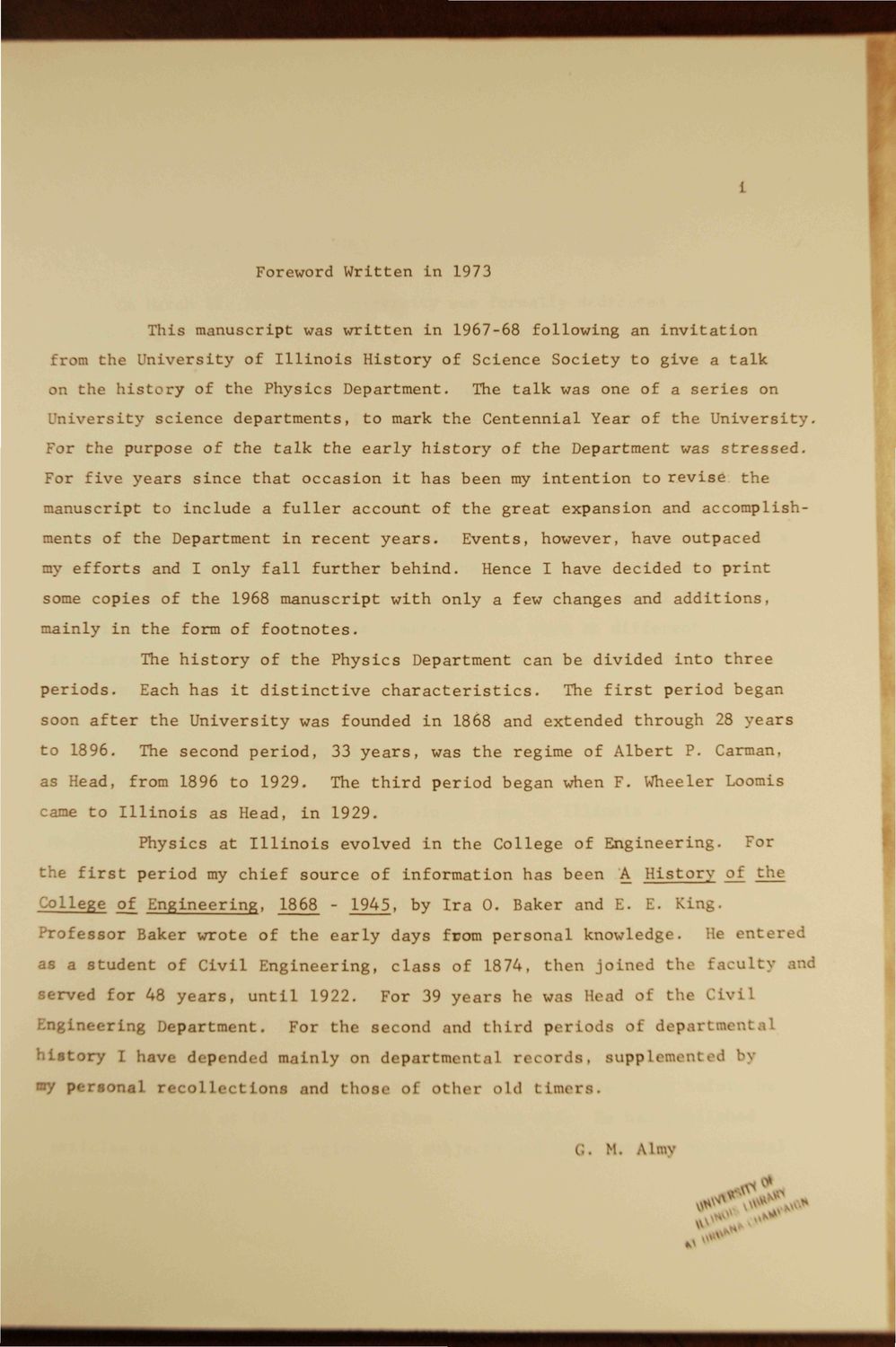 ---
EXTRACTED TEXT FROM PAGE:
1
Foreword Written in 1973
This manuscript was written in 1967-68 following an invitation fr. the University of Illinois History of Science Society to give a talk The talk was one of a series on
on the history of the Physics Department.
University science departments, to mark the Centennial Year of the University. For the purpose of the talk the early history of the Department was stressed. For five years since that occasion it has been my intention to revise the manuscript to include a fuller account of the great expansion and accomplishments of the Department in recent years. my Events, however, have outpaced Hence I have decided to print
some copies of the 1968 manuscript with only a few changes and additions, mainly in the form of footnotes. The history of the Physics Department can be divided into three periods. Each has it distinctive characteristics. The first period began
soon after the University was founded in 1868 and extended through 28 years to 1896. The second period, 33 years, was the regime of Albert P. Carman, The third period began when F. Wheeler Loomis
as Head, from 1896 to 1929.
to Illinois as Head, in 1929. Physics at Illinois evolved in the College of Engineering. For
the first period my chief source of information has been A History of the College o f Engineering, 1868 - 1945, by Ira 0. Baker and E. E. King. _ Professor Baker wrote of the early days from personal knowledge. He entered
as a student of Civil Engineering, class of 18 74, then joined the faculty and rved for 48 years, until 1922. Engineering Department. For 39 years he was Head of the Civil
For the second and third periods of depar tenta1
history I have depended mainly on department.il records, supplemented bv •y P'-rsonal recoil f ions and those of other old timers.
. M. Almv
*
• ^