Caption: Book - Century of Physics (1973)
This is a reduced-resolution page image for fast online browsing.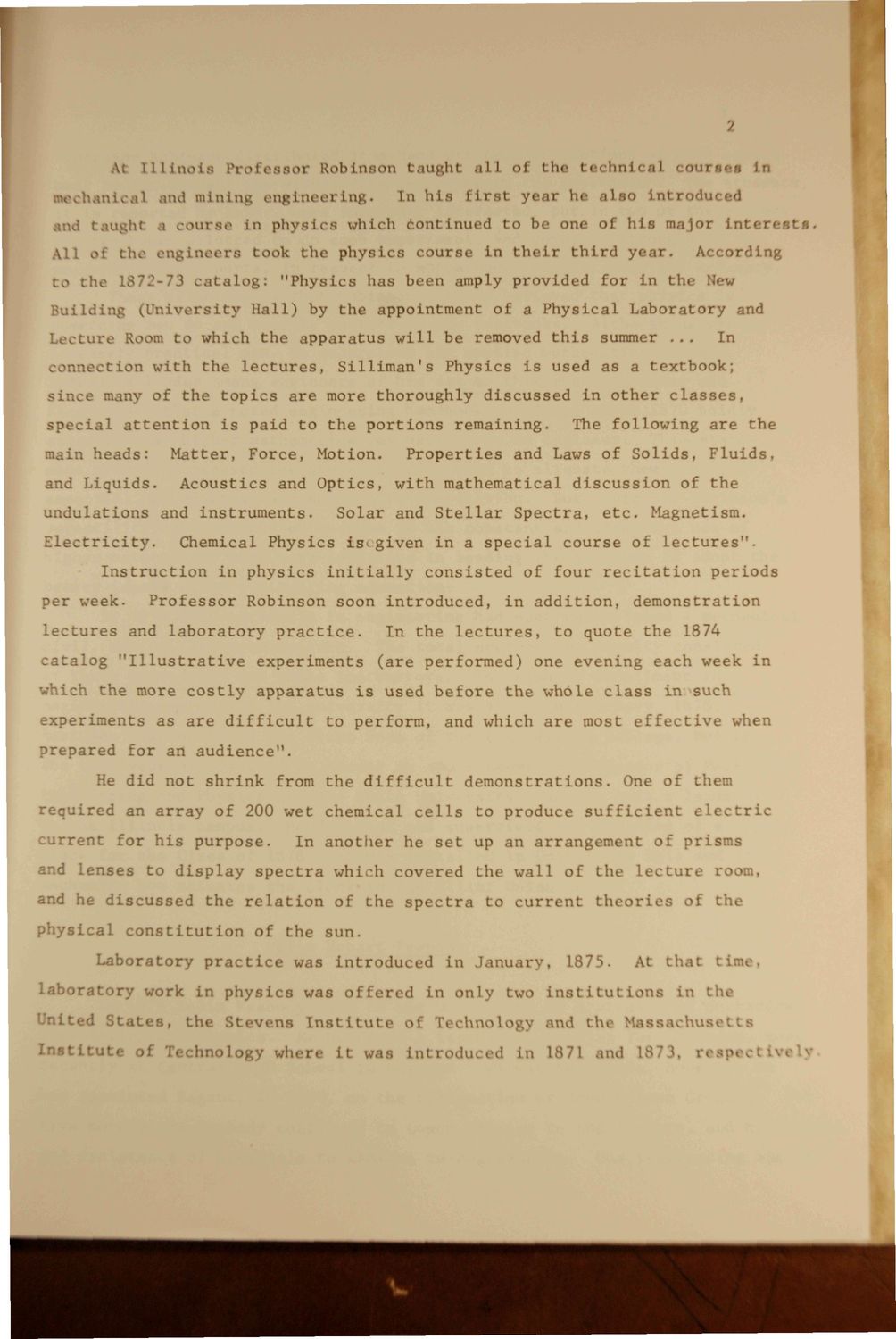 ---
EXTRACTED TEXT FROM PAGE:
2 li M U M s Proi m< h« >r Robinson taught .ill of i i»e technical courses Ln In h first year he also introduced Htn.
al and mining c\- m< ring.
taught a course in physics which continued to be one of liLs major i t n. All v to I Buildi: L con he engineers took the physics course in their third y< r. According
1872-73 catalog: "Physics has been amply provided for in the- New (University Hall) by the appointment of a Physical Laboratory and In
re Room to which the apparatus will be removed this summer ...
Lon with the lectures, Silliman's Physics is used as a textbook;
since many of the topics are more thoroughly discussed in other classes, special attention is paid to the portions remaining. main heads: and Liquids. Matter, Force, Motion. The following are the
Properties and Laws of Solids, Fluids,
Acoustics and Optics, with mathematical discussion of the Solar and Stellar Spectra, etc. Magnetism.
undulations and instruments. Electricity.
Chemical Physics is given in a special course of lectures".
Instruction in physics initially consisted of four recitation periods per week. Professor Robinson soon introduced, in addition, demonstration In the lectures, to quote the 1874
lectures and laboratory practice.
catalog "Illustrative experiments (are performed) one evening each week in which the more costly apparatus is used before the whole class in such experiments as are difficult to perform, and which are most effective when repared for an audience". He did not shrink from the difficult demonstrations. One of them equired an array of 200 wet chemical cells to produce sufficient ele current for his purpose. In another he set up an arrangement of prisms ric
and lenses to display spectra which covered the wall of the lecture re and he discussed the rel tion of the spectra to current theori cal constitution of the sun. Laboratory practice was introduced Ln January, 1875. laboratory work in physics was < fer in only two institu At that t t 3 > th< f
nited States, the Stevens Institute of Techno 1 . nstitute of Technology where it was introdu(
and the HM8*chU8<
1 in 1871 and L873, r > < <