Caption: Book - Overview of University of Illinois for Chicago Alumni (1926)
This is a reduced-resolution page image for fast online browsing.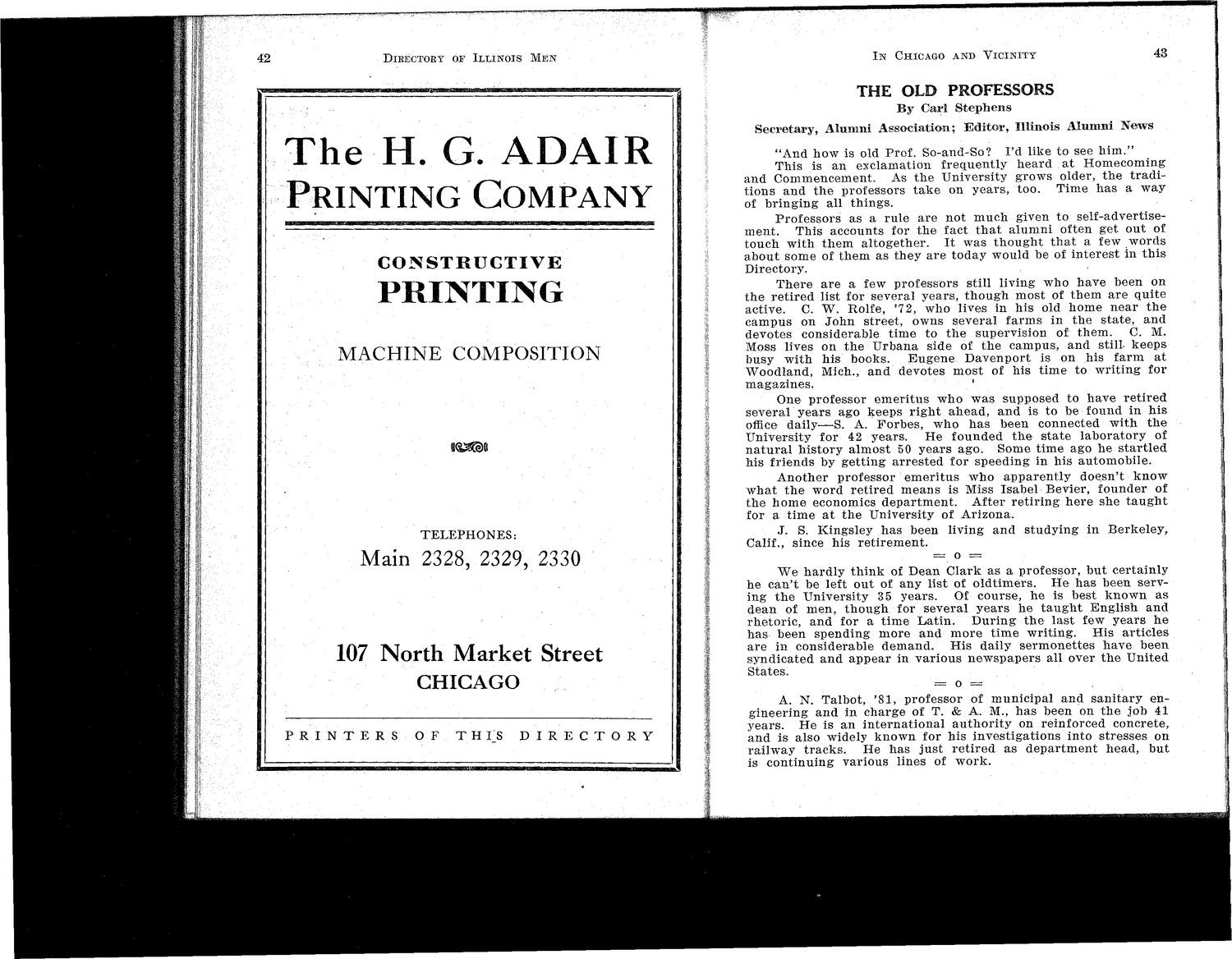 ---
EXTRACTED TEXT FROM PAGE:
42
DlKECTORY OF ILLINOIS
MEN
IN
CHICAGO AND V I C I N I T Y
43
THE OLD PROFESSORS
T h e H. G. A D A I R
PRINTING COMPANY
CONSTRUCTIVE
PRINTING
MACHINE COMPOSITION
l<S5®ll
TELEPHONES:
By Carl Stephens Secretary, Alumni Association; Editor, Illinois Alumni News "And how is old Prof. So-and-So? I'd like to see him." This is an exclamation frequently heard at Homecoming and Commencement. As the University grows older, the traditions and the professors take on years, too. Time has a way of bringing all things. Professors as a rule are not much given to self-advertisement. This accounts for the fact that alumni often get out of touch with them altogether. It was thought that a few words about some of them as they are today would be of interest in this Directory. There are a few professors still living who have been on the retired list for several years, though most of them are quite active. C. W. Rolfe, '72, who lives in his old home near the campus on John street, owns several farms in the state, and devotes considerable time to the supervision of them. C. M. Moss lives on the Urbana side of the campus, and still keeps busy with his books. Eugene Davenport is on his farm at Woodland, Mich., and devotes most of his time to writing for magazines. i One professor emeritus who was supposed to have retired several years ago keeps right ahead, and is to be found in his office daily—S. A. Forbes, who has been connected with the University for 42 years. He founded the state laboratory of natural history almost 50 years ago. Some time ago he startled his friends by getting arrested for speeding in his automobile. Another professor emeritus who apparently doesn't know what the word retired means is Miss Isabel Bevier, founder of the home economics department. After retiring here she taught for a time at the University of Arizona. J. S. Kingsley has been living and studying in Berkeley, Calif., since his retirement. We hardly think of Dean Clark as a professor, but certainly he can't be left out of any list of oldtimers. He has been serving the University 35 years. Of course, he is best known as dean of men, though for several years he taught English and rhetoric, and for a time Latin. During the last few years he has been spending more and more time writing. His articles are in considerable demand. His daily sermonettes have been syndicated and appear in various newspapers all over the United States. A. N. Talbot, '81, professor of municipal and sanitary engineering and in charge of T. & A. M., has been on the job 41 years. He is an international authority on reinforced concrete, and is also widely known for his investigations into stresses on railway tracks. He has just retired as department head, but is continuing various lines of work.
Main 2328,.2329, 2330
107 North Market Street
CHICAGO
P R I N T E R S O F T H rs D I R E C T O R Y