Caption: Booklet - Illinois Day Celebration 1917
This is a reduced-resolution page image for fast online browsing.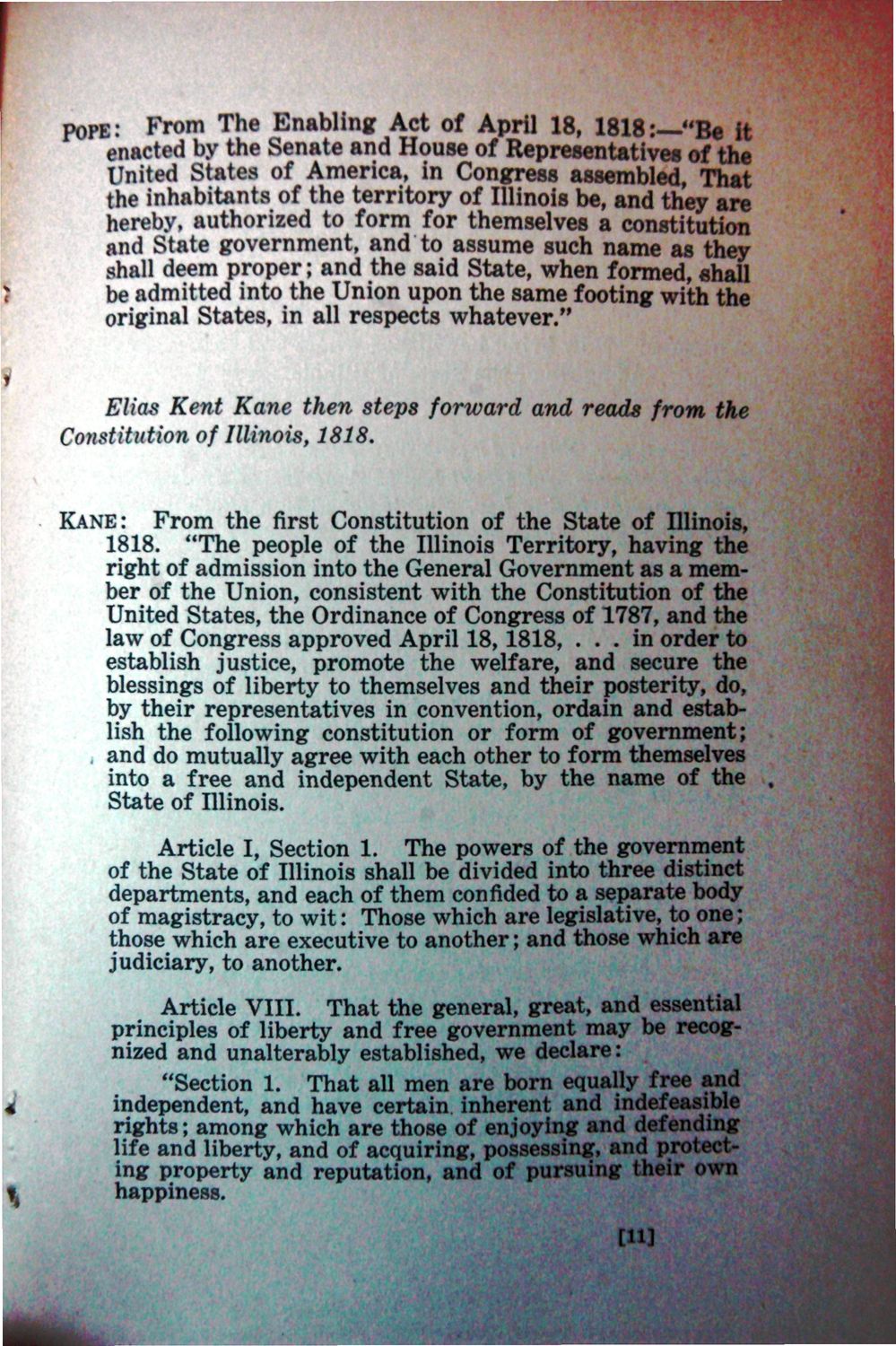 ---
EXTRACTED TEXT FROM PAGE:
POPE:
From The Enabling Act of April 18, 1818:—"Be It enacted by the Senate and House of Representatives of the United States of America, in Congress assembled, That the inhabitants of the territory of Illinois be, and they are hereby, authorized to form for themselves a constitution and State government, and to assume such name as they shall deem proper; and the said State, when formed, shall be admitted into the Union upon the same footing with the original States, in all respects whatever."
Elias Kent Kane then steps forward and reads from the Constitution of Illinois, 1818.
KANE:
From the first Constitution of the State of Illinois, 1818. "The people of the Illinois Territory, having the right of admission into the General Government as a member of the Union, consistent with the Constitution of the United States, the Ordinance of Congress of 1787, and the law of Congress approved April 18,1818, . . . in order to establish justice, promote the welfare, and secure the blessings of liberty to themselves and their posterity, do, by their representatives in convention, ordain and establish the following constitution or form of government; , and do mutually agree with each other to form themselves into a free and independent State, by the name of the State of Illinois. Article I, Section 1. The powers of the government of the State of Illinois shall be divided into three distinct departments, and each of them confided to a separate body of magistracy, to wit: Those which are legislative, to one; those which are executive to another; and those which are judiciary, to another. Article VIII. That the general, great, and essential principles of liberty and free government may be recognized and unalterably established, we declare: "Section 1. That all men are born equally free and independent, and have certain, inherent and indefeasible rights; among which are those of enjoying and defending life and liberty, and of acquiring, possessing, and protecting property and reputation, and of pursuing their own happiness.
[ii]