Caption: Course Catalog - 1876-1877
This is a reduced-resolution page image for fast online browsing.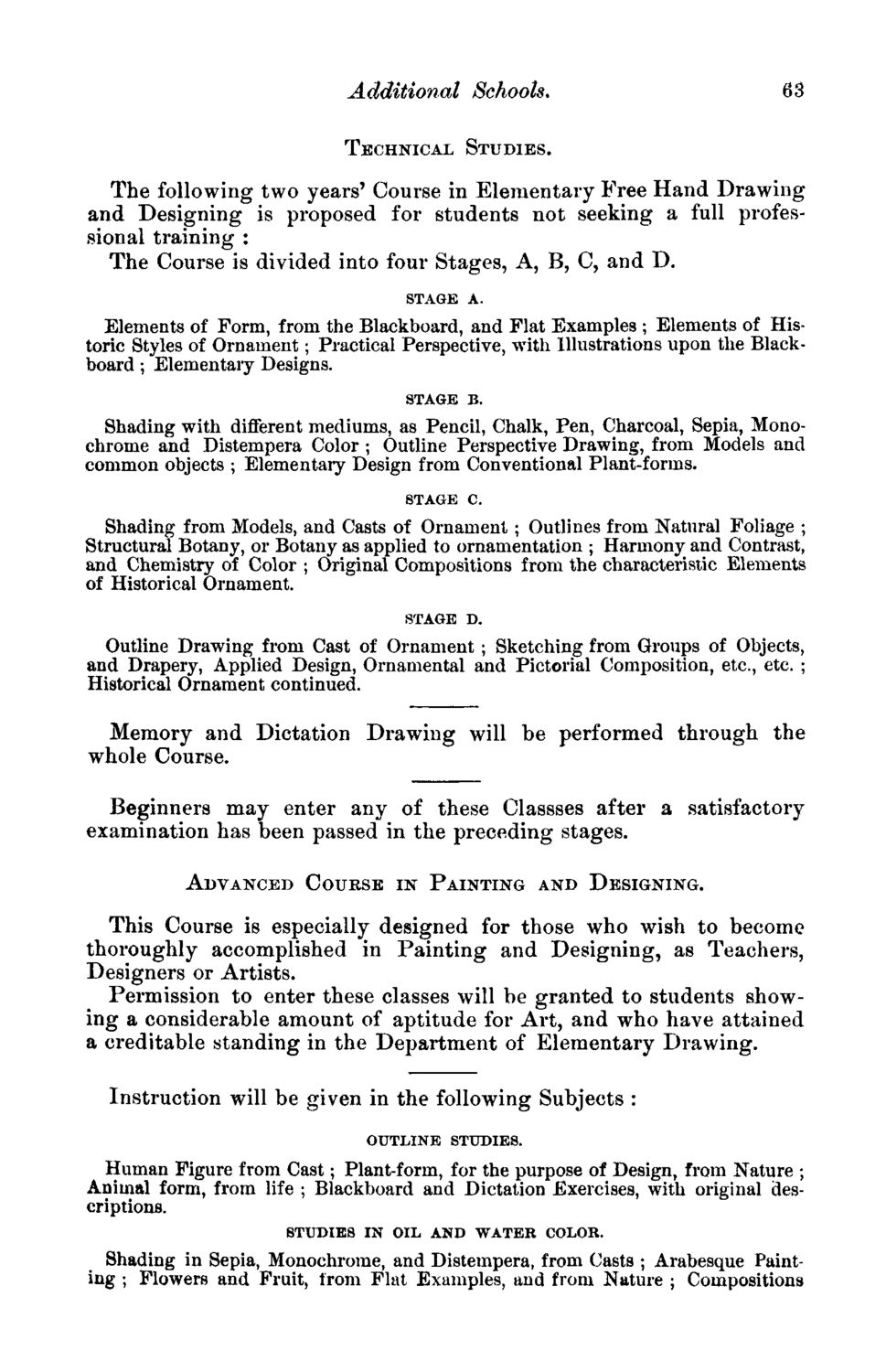 ---
EXTRACTED TEXT FROM PAGE:
Additional Schools.
TECHNICAL STUDIES.
63
The following two years' Course in Elementary Free Hand Drawing and Designing is proposed for students not seeking a full professional training : The Course is divided into four Stages, A, B, C, and D.
STAGE A.
Elements of Form, from the Blackboard, and Flat Examples ; Elements of Historic Styles of Ornament; Practical Perspective, with Illustrations upon the Blackboard ; Elementary Designs.
STAGE B.
Shading with different mediums, as Pencil, Chalk, Pen, Charcoal, Sepia, Monochrome and Distempera Color ; Outline Perspective Drawing, from Models and common objects ; Elementary Design from Conventional Plant-forms.
STAGE c.
Shading from Models, and Casts of Ornament ; Outlines from Natural Foliage ; Structural Botany, or Botany as applied to ornamentation ; Harmony and Contrast, and Chemistry of Color ; Original Compositions from the characteristic Elements of Historical Ornament.
STAGE D.
Outline Drawing from Cast of Ornament; Sketching from Groups of Objects, and Drapery, Applied Design, Ornamental and Pictorial Composition, etc., etc. ; Historical Ornament continued.
Memory and Dictation Drawing will be performed through the whole Course. Beginners may enter any of these Classses after a satisfactory examination has been passed in the preceding stages.
ADVANCED COURSE IN PAINTING AND DESIGNING.
This Course is especially designed for those who wish to become thoroughly accomplished in Painting and Designing, as Teachers, Designers or Artists. Permission to enter these classes will be granted to students showing a considerable amount of aptitude for Art, and who have attained a creditable standing in the Department of Elementary Drawing. Instruction will be given in the following Subjects :
OUTLINE STUDIES.
Human Figure from Cast; Plant-form, for the purpose of Design, from Nature ; Animal form, from life ; Blackboard and Dictation Exercises, with original descriptions.
STUDIES IN OIL AND WATER COLOR.
Shading in Sepia, Monochrome, and Distempera, from Casts ; Arabesque Painting ; Flowers and Fruit, from Flat Examples, and from Nature ; Compositions