Caption: Course Catalog - 1876-1877
This is a reduced-resolution page image for fast online browsing.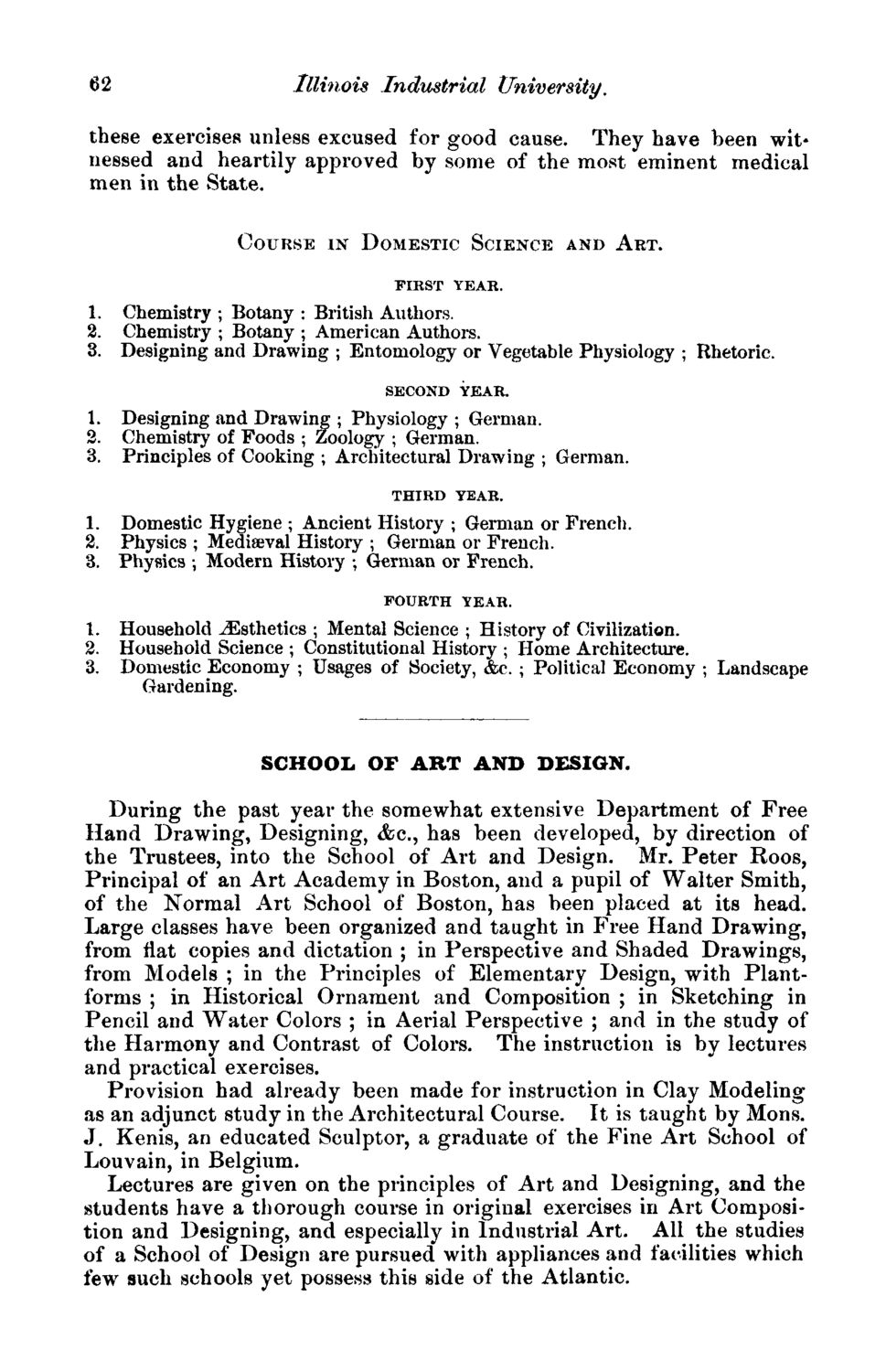 ---
EXTRACTED TEXT FROM PAGE:
62
Illinois Industrial
University.
these exercises unless excused for good cause. They have been witnessed and heartily approved by some of the most eminent medical men in the State.
COURSE IN DOMESTIC SCIENCE AND ART. FIRST YEAR.
1. Chemistry ; Botany : British Authors. 2. Chemistry ; Botany ; American Authors. 3. Designing and Drawing ; Entomology or Vegetable Physiology ; Rhetoric.
SECOND YEAR.
1. Designing and Drawing ; Physiology ; German. 2. Chemistry of Foods ; Zoology ; German. 3. Principles of Cooking ; Architectural Drawing ; German.
THIRD YEAR.
1. Domestic Hygiene ; Ancient History ; German or French. 2. Physics ; Mediaeval History ; German or French. 3. Physics ; Modern History ; German or French.
FOURTH YEAR.
1. Household Esthetics ; Mental Science ; History of Civilization. 2. Household Science ; Constitutional History ; Home Architecture. 3. Domestic Economy ; Usages of Society, &c. ; Political Economy ; Landscape Gardening.
SCHOOL OF ART AND DESIGN. During the past year the somewhat extensive Department of Free Hand Drawing, Designing, & c , has been developed, by direction of the Trustees, into the School of Art and Design. Mr. Peter Roos, Principal of an Art Academy in Boston, and a pupil of Walter Smith, of the Normal Art School of Boston, has been placed at its head. Large classes have been organized and taught in Free Hand Drawing, from flat copies and dictation ; in Perspective and Shaded Drawings, from Models ; in the Principles of Elementary Design, with Plantforms ; in Historical Ornament and Composition ; in Sketching in Pencil and Water Colors ; in Aerial Perspective ; and in the study of the Harmony and Contrast of Colors. The instruction is by lectures and practical exercises. Provision had already been made for instruction in Clay Modeling as an adjunct study in the Architectural Course. It is taught by Mons. J. Kenis, an educated Sculptor, a graduate of the Fine Art School of Louvain, in Belgium. Lectures are given on the principles of Art and Designing, and the students have a thorough course in original exercises in Art Composition and Designing, and especially in Industrial Art. All the studies of a School of Design are pursued with appliances and facilities which few such schools yet possess this side of the Atlantic.