Caption: Course Catalog - 1876-1877
This is a reduced-resolution page image for fast online browsing.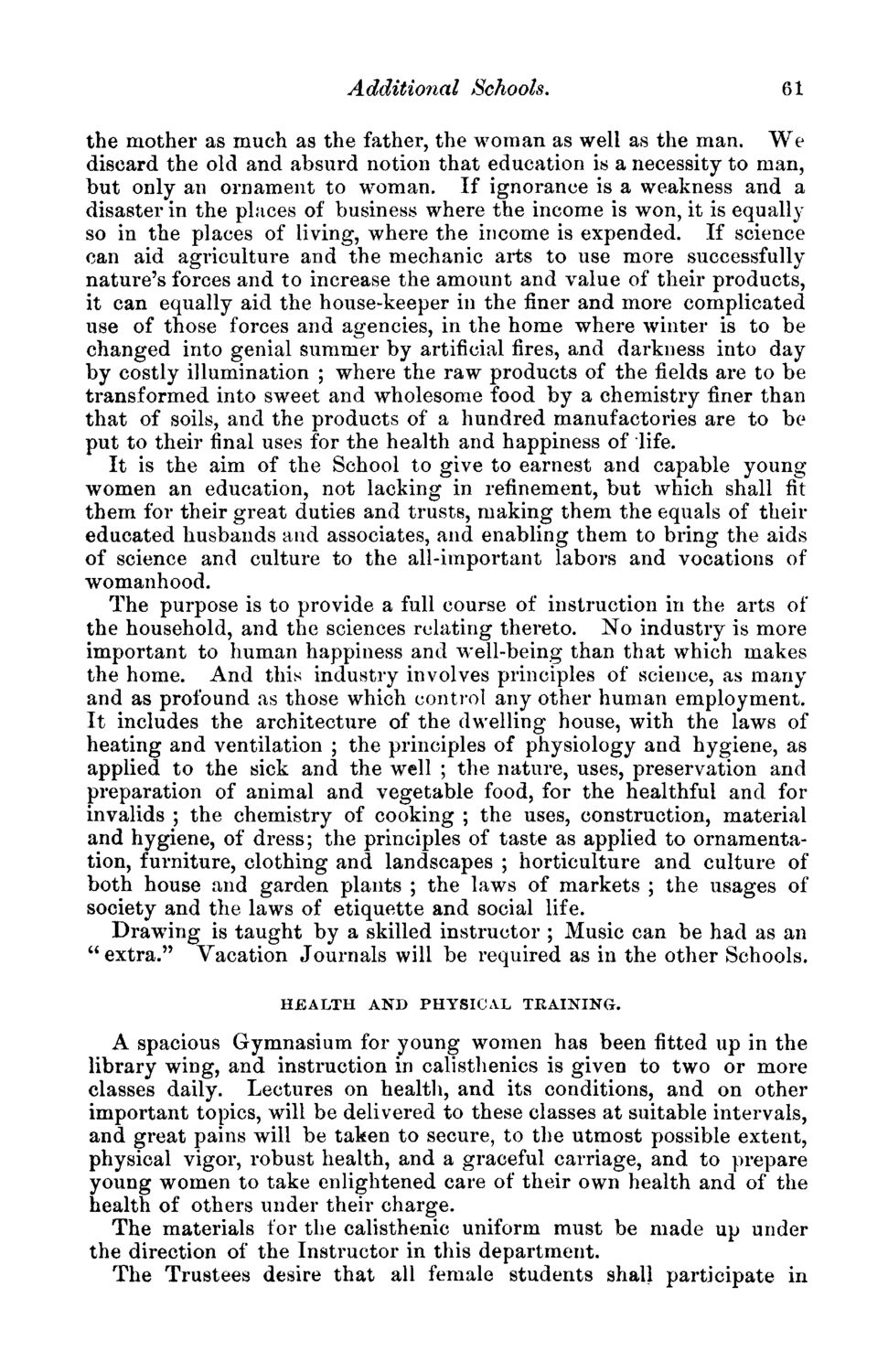 ---
EXTRACTED TEXT FROM PAGE:
Additional Schools.
61
the mother as much as the father, the woman as well as the man. We discard the old and absurd notion that education is a necessity to man, but only an ornament to woman. If ignorance is a weakness and a disaster in the places of business where the income is won, it is equally so in the places of living, where the income is expended. If science can aid agriculture and the mechanic arts to use more successfully nature's forces and to increase the amount and value of their products, it can equally aid the house-keeper in the finer and more complicated use of those forces and agencies, in the home where winter is to be changed into genial summer by artificial fires, and darkness into day by costly illumination ; where the raw products of the fields are to be transformed into sweet and wholesome food by a chemistry finer than that of soils, and the products of a hundred manufactories are to be put to their final uses for the health and happiness of life. It is the aim of the School to give to earnest and capable young women an education, not lacking in refinement, but which shall fit them for their great duties and trusts, making them the equals of their educated husbands and associates, and enabling them to bring the aids of science and culture to the all-important labors and vocations of womanhood. The purpose is to provide a full course of instruction in the arts of the household, and the sciences relating thereto. No industry is more important to human happiness and well-being than that which makes the home. And this industry involves principles of science, as many and as profound as those which control any other human employment. It includes the architecture of the dwelling house, with the laws of heating and ventilation ; the principles of physiology and hygiene, as applied to the sick and the well ; the nature, uses, preservation and preparation of animal and vegetable food, for the healthful and for invalids ; the chemistry of cooking ; the uses, construction, material and hygiene, of dress; the principles of taste as applied to ornamentation, furniture, clothing and landscapes ; horticulture and culture of both house and garden plants ; the laws of markets ; the usages of society and the laws of etiquette and social life. Drawing is taught by a skilled instructor ; Music can be had as an " extra." Vacation Journals will be required as in the other Schools.
HEALTH AND PHYSICAL TRAINING.
A spacious Gymnasium for young women has been fitted up in the library wing, and instruction in calisthenics is given to two or more classes daily. Lectures on health, and its conditions, and on other important topics, will be delivered to these classes at suitable intervals, and great pains will be taken to secure, to the utmost possible extent, physical vigor, robust health, and a graceful carriage, and to prepare young women to take enlightened care of their own health and of the health of others under their charge. The materials for the calisthenic uniform must be made up under the direction of the Instructor in this department. The Trustees desire that all female students shall participate in