Caption: Course Catalog - 1876-1877
This is a reduced-resolution page image for fast online browsing.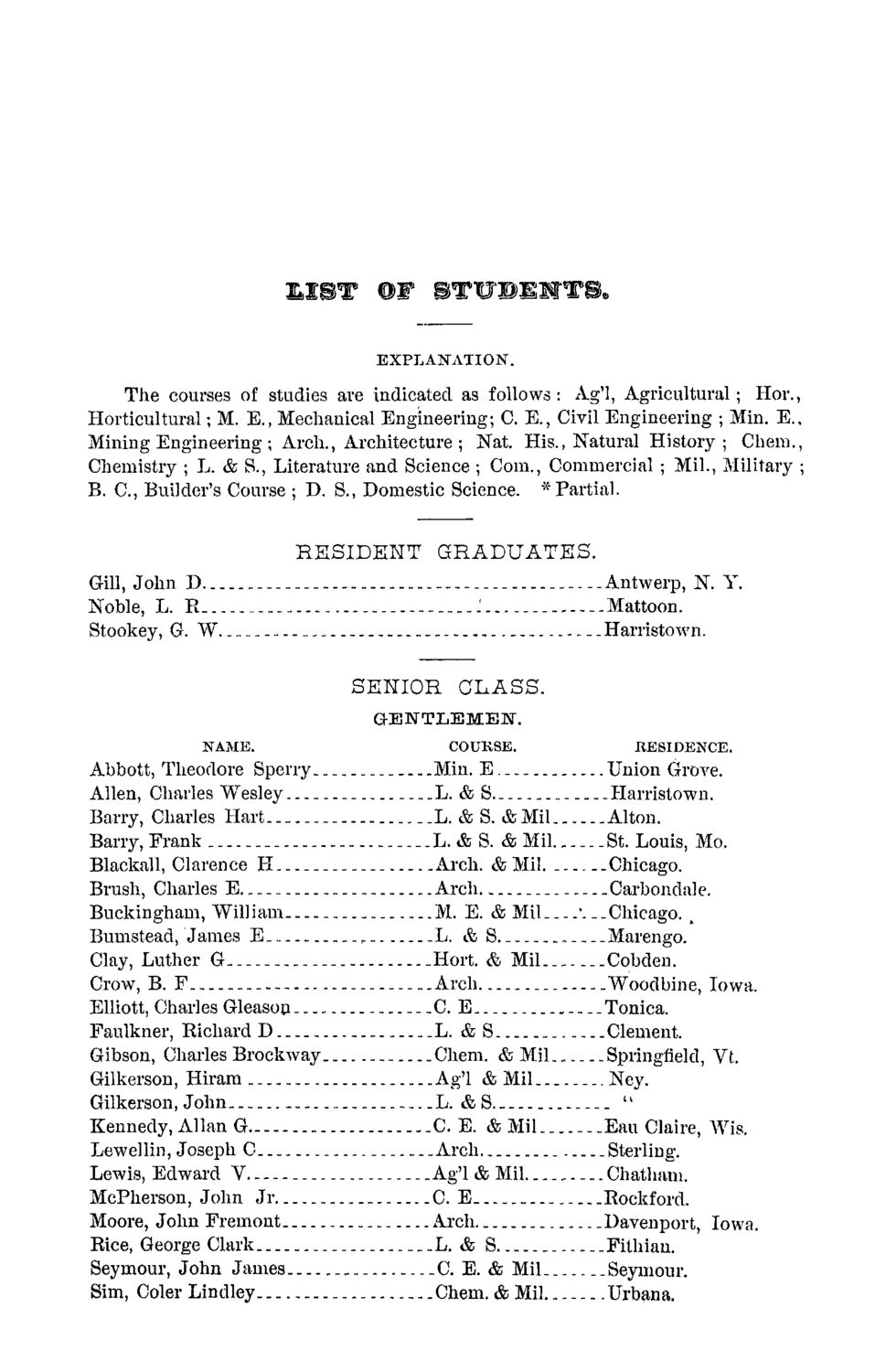 ---
EXTRACTED TEXT FROM PAGE:
EXPLANATION.
The courses of studies are indicated as follows : Ag'l, Agricultural; Hoi1., Horticultural; M. E., Mechanical Engineering; C. E., Civil Engineering ; Min. E., Mining Engineering ; Arch., Architecture ; Nat. His., Natural History; Chem., Chemistry ; L. & S., Literature and Science ; Com., Commercial ; Mil., Military ; B. C, Builder's Course ; D. S., Domestic Science. * Partial. RESIDENT Gill, John D Noble, L. E Stookey, G. W SENIOR
NAME.
GRADUATES. : GLASS.
COUKSE. RESIDENCE.
Antwerp, N. Y. Mattoon. - - Harristown.
CKENTLEMEET.
Abbott, Theodore Sperry Allen, Charles Wesley Barry, Charles Hart Barry, Frank __ Blackall, Clarence H Brush, Charles E Buckingham, William Bumstead, James E_ Clay, Luther G Crow, B. F Elliott, Charles Gleason. Faulkner, Richard D Gibson, Charles Brockway Gilkerson, Hiram Gilkerson, John Kennedy, Allan G Lewellin, Joseph C Lewis, Edward V McPherson, John Jr Moore, John Fremont Rice, George Clark Seymour, John James Sim, Coler Lindley
r
Min. E._ Union Grove. L. & S._ Harristown. _ _L. & S. & Mil Alton. L. & S. & Mil St. Louis, Mo. Arch. & Mil. _ Chicago. Arch Carbondale. M. E. & Mil • Chicago. _ _L. & S Marengo. _Hort. & Mil Cobden. Arch Woodbine, Iowa. C. E __Tonica. _L. & S Clement. Chem. & Mil Springfield, Vt. Ag'l & Mil Ney. L. & S. " C. E. & Mil Eau Claire, Wis. Arch Sterling. Ag'l & Mil _.. Chatham. C. E . Eockford. Arch -Davenport, Iowa. L. & S Fithiau. C. E. & Mil Seymour. Chem. & Mil Urbana.