Caption: Course Catalog - 1876-1877
This is a reduced-resolution page image for fast online browsing.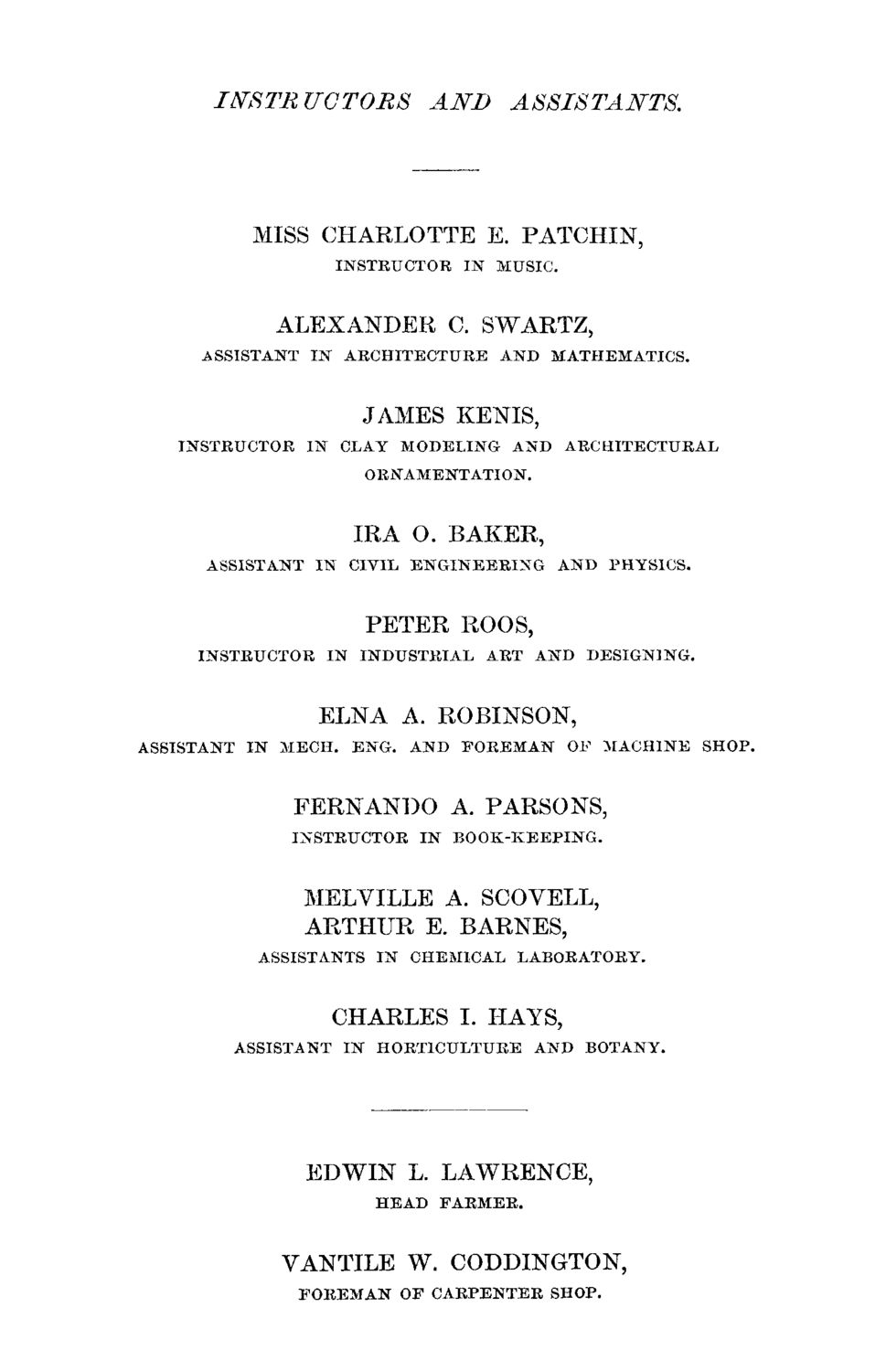 ---
EXTRACTED TEXT FROM PAGE:
INSTRUCTORS AND
ASSISTANTS.
MISS CHARLOTTE E. PATCHIN,
INSTEUCTOR IN MUSIC.
ALEXANDER C. SWARTZ,
ASSISTANT IN ARCHITECTURE AND MATHEMATICS.
JAMES KENIS,
INSTRUCTOR IN CLAY MODELING AND ARCHITECTURAL ORNAMENTATION.
IRA O. BAKER,
ASSISTANT IN CIVIL ENGINEERING AND PHYSICS.
PETER ROOS,
INSTRUCTOR IN INDUSTRIAL ART AND DESIGNING.
ELNA A. ROBINSON,
ASSISTANT IN MECH. ENG. AND FOREMAN OF MACHINE SHOP.
FERNANDO A. PARSONS,
INSTRUCTOR IN BOOK-KEEPING.
MELVILLE A. SCOVELL, ARTHUR E. BARNES,
ASSISTANTS IN CHEMICAL LABORATORY.
CHARLES I. HAYS,
ASSISTANT IN HORTICULTURE AND BOTANY.
EDWIN L. LAWRENCE,
HEAD FARMER.
VANTILE W. CODDINGTON,
FOREMAN OF CARPENTER SHOP.