Caption: Board of Trustees Minutes - 1992
This is a reduced-resolution page image for fast online browsing.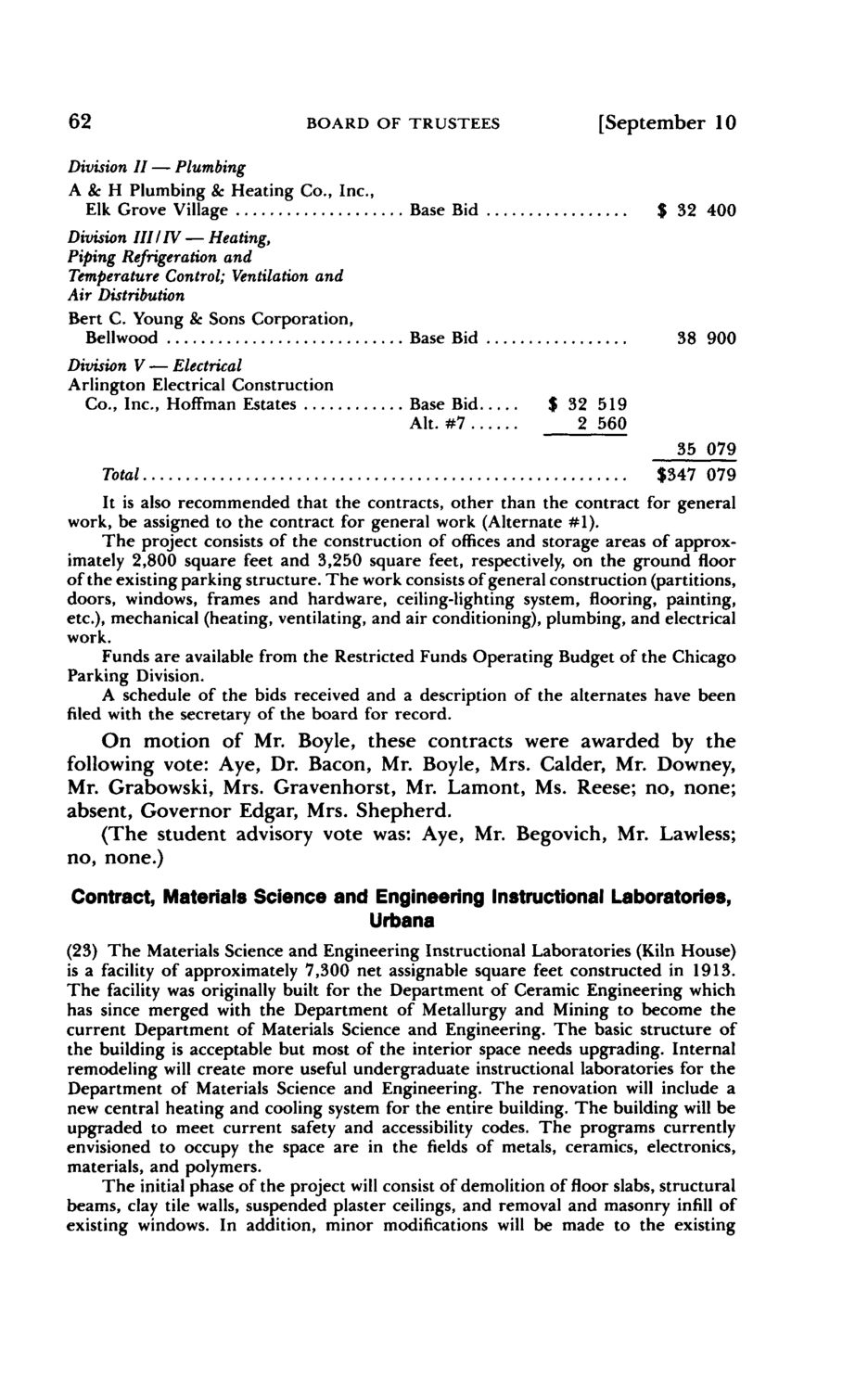 ---
EXTRACTED TEXT FROM PAGE:
62
BOARD OF TRUSTEES
[September 10
Division II — Plumbing A 8c H Plumbing 8c Heating Co., Inc., Elk Grove Village Division IIIITV — Heating, Piping Refrigeration and Temperature Control; Ventilation and Air Distribution Bert C. Young 8c Sons Corporation, Bellwood Division V — Electrical Arlington Electrical Construction Co., Inc., Hoffman Estates
Base Bid
$ 32 400
Base Bid
38 900
Base Bid Alt. #7
$ 32 519 2 560 35 079 $347 079
Total
It is also recommended that the contracts, other than the contract for general work, be assigned to the contract for general work (Alternate #1). The project consists of the construction of offices and storage areas of approximately 2,800 square feet and 3,250 square feet, respectively, on the ground floor of the existing parking structure. The work consists of general construction (partitions, doors, windows, frames and hardware, ceiling-lighting system, flooring, painting, etc.), mechanical (heating, ventilating, and air conditioning), plumbing, and electrical work. Funds are available from the Restricted Funds Operating Budget of the Chicago Parking Division. A schedule of the bids received and a description of the alternates have been filed with the secretary of the board for record.
On motion of Mr. Boyle, these contracts were awarded by the following vote: Aye, Dr. Bacon, Mr. Boyle, Mrs. Calder, Mr. Downey, Mr. Grabowski, Mrs. Gravenhorst, Mr. Lamont, Ms. Reese; no, none; absent, Governor Edgar, Mrs. Shepherd. (The student advisory vote was: Aye, Mr. Begovich, Mr. Lawless; no, none.)
Contract, Materials Science and Engineering Instructional Laboratories, Urbana
(23) The Materials Science and Engineering Instructional Laboratories (Kiln House) is a facility of approximately 7,300 net assignable square feet constructed in 1913. The facility was originally built for the Department of Ceramic Engineering which has since merged with the Department of Metallurgy and Mining to become the current Department of Materials Science and Engineering. The basic structure of the building is acceptable but most of the interior space needs upgrading. Internal remodeling will create more useful undergraduate instructional laboratories for the Department of Materials Science and Engineering. The renovation will include a new central heating and cooling system for the entire building. The building will be upgraded to meet current safety and accessibility codes. The programs currently envisioned to occupy the space are in the fields of metals, ceramics, electronics, materials, and polymers. The initial phase of the project will consist of demolition of floor slabs, structural beams, clay tile walls, suspended plaster ceilings, and removal and masonry infill of existing windows. In addition, minor modifications will be made to the existing