Caption: Board of Trustees Minutes - 1992
This is a reduced-resolution page image for fast online browsing.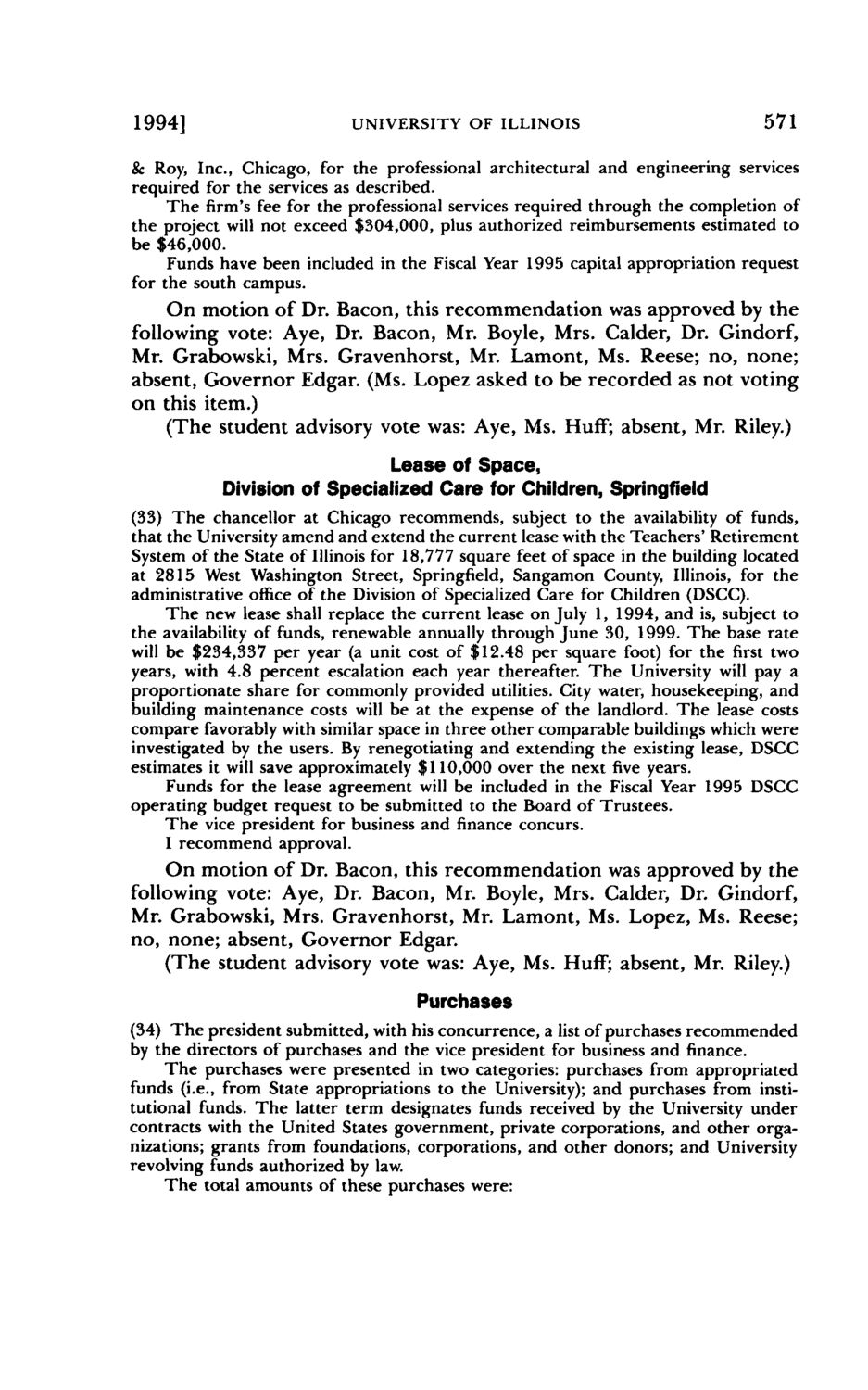 ---
EXTRACTED TEXT FROM PAGE:
1994]
UNIVERSITY OF ILLINOIS
571
& Roy, Inc., Chicago, for the professional architectural and engineering services required for the services as described. The firm's fee for the professional services required through the completion of the project will not exceed $304,000, plus authorized reimbursements estimated to be $46,000. Funds have been included in the Fiscal Year 1995 capital appropriation request for the south campus.
On motion of Dr. Bacon, this recommendation was approved by the following vote: Aye, Dr. Bacon, Mr. Boyle, Mrs. Calder, Dr. Gindorf, Mr. Grabowski, Mrs. Gravenhorst, Mr. Lamont, Ms. Reese; no, none; absent, Governor Edgar. (Ms. Lopez asked to be recorded as not voting on this item.) (The student advisory vote was: Aye, Ms. Huff; absent, Mr. Riley.)
Lease of Space, Division of Specialized Care for Children, Springfield
(33) The chancellor at Chicago recommends, subject to the availability of funds, that the University amend and extend the current lease with the Teachers' Retirement System of the State of Illinois for 18,777 square feet of space in the building located at 2815 West Washington Street, Springfield, Sangamon County, Illinois, for the administrative office of the Division of Specialized Care for Children (DSCC). The new lease shall replace the current lease on July 1, 1994, and is, subject to the availability of funds, renewable annually through June 30, 1999. The base rate will be $234,337 per year (a unit cost of $12.48 per square foot) for the first two years, with 4.8 percent escalation each year thereafter. The University will pay a proportionate share for commonly provided utilities. City water, housekeeping, and building maintenance costs will be at the expense of the landlord. The lease costs compare favorably with similar space in three other comparable buildings which were investigated by the users. By renegotiating and extending the existing lease, DSCC estimates it will save approximately $110,000 over the next five years. Funds for the lease agreement will be included in the Fiscal Year 1995 DSCC operating budget request to be submitted to the Board of Trustees. The vice president for business and finance concurs. I recommend approval.
On motion of Dr. Bacon, this recommendation was approved by the following vote: Aye, Dr. Bacon, Mr. Boyle, Mrs. Calder, Dr. Gindorf, Mr. Grabowski, Mrs. Gravenhorst, Mr. Lamont, Ms. Lopez, Ms. Reese; no, none; absent, Governor Edgar. (The student advisory vote was: Aye, Ms. Huff; absent, Mr. Riley.)
Purchases
(34) The president submitted, with his concurrence, a list of purchases recommended by the directors of purchases and the vice president for business and finance. The purchases were presented in two categories: purchases from appropriated funds (i.e., from State appropriations to the University); and purchases from institutional funds. The latter term designates funds received by the University under contracts with the United States government, private corporations, and other organizations; grants from foundations, corporations, and other donors; and University revolving funds authorized by law. The total amounts of these purchases were: