Caption: Board of Trustees Minutes - 1992
This is a reduced-resolution page image for fast online browsing.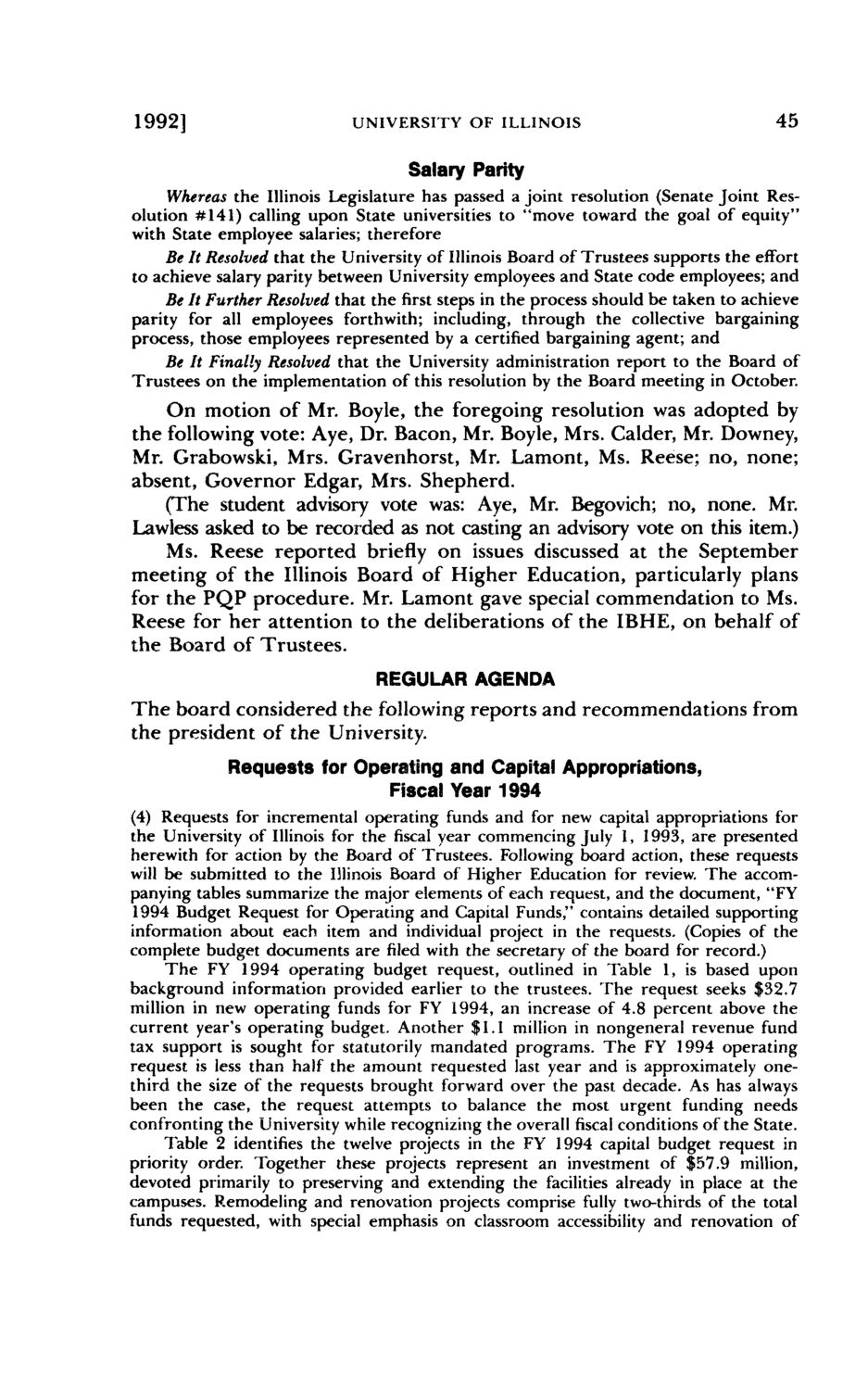 ---
EXTRACTED TEXT FROM PAGE:
1992]
UNIVERSITY OF ILLINOIS
45
Salary Parity
Whereas the Illinois Legislature has passed a joint resolution (Senate Joint Resolution #141) calling upon State universities to "move toward the goal of equity" with State employee salaries; therefore Be It Resolved that the University of Illinois Board of Trustees supports the effort to achieve salary parity between University employees and State code employees; and Be It Further Resolved that the first steps in the process should be taken to achieve parity for all employees forthwith; including, through the collective bargaining process, those employees represented by a certified bargaining agent; and Be It Finally Resolved that the University administration report to the Board of Trustees on the implementation of this resolution by the Board meeting in October.
On motion of Mr. Boyle, the foregoing resolution was adopted by the following vote: Aye, Dr. Bacon, Mr. Boyle, Mrs. Calder, Mr. Downey, Mr. Grabowski, Mrs. Gravenhorst, Mr. Lamont, Ms. Reese; no, none; absent, Governor Edgar, Mrs. Shepherd. (The student advisory vote was: Aye, Mr. Begovich; no, none. Mr. Lawless asked to be recorded as not casting an advisory vote on this item.) Ms. Reese reported briefly on issues discussed at the September meeting of the Illinois Board of Higher Education, particularly plans for the PQP procedure. Mr. Lamont gave special commendation to Ms. Reese for her attention to the deliberations of the IBHE, on behalf of the Board of Trustees.
REGULAR AGENDA
The board considered the following reports and recommendations from the president of the University.
Requests for Operating and Capital Appropriations, Fiscal Year 1994
(4) Requests for incremental operating funds and for new capital appropriations for the University of Illinois for the fiscal year commencing July 1, 1993, are presented herewith for action by the Board of Trustees. Following board action, these requests will be submitted to the Illinois Board of Higher Education for review. The accompanying tables summarize the major elements of each request, and the document, "FY 1994 Budget Request for Operating and Capital Funds," contains detailed supporting information about each item and individual project in the requests. (Copies of the complete budget documents are filed with the secretary of the board for record.) The FY 1994 operating budget request, outlined in Table 1, is based upon background information provided earlier to the trustees. The request seeks $32.7 million in new operating funds for FY 1994, an increase of 4.8 percent above the current year's operating budget. Another $1.1 million in nongeneral revenue fund tax support is sought for statutorily mandated programs. The FY 1994 operating request is less than half the amount requested last year and is approximately onethird the size of the requests brought forward over the past decade. As has always been the case, the request attempts to balance the most urgent funding needs confronting the University while recognizing the overall fiscal conditions of the State. Table 2 identifies the twelve projects in the FY 1994 capital budget request in priority order. Together these projects represent an investment of $57.9 million, devoted primarily to preserving and extending the facilities already in place at the campuses. Remodeling and renovation projects comprise fully two-thirds of the total funds requested, with special emphasis on classroom accessibility and renovation of