Caption: Board of Trustees Minutes - 1992
This is a reduced-resolution page image for fast online browsing.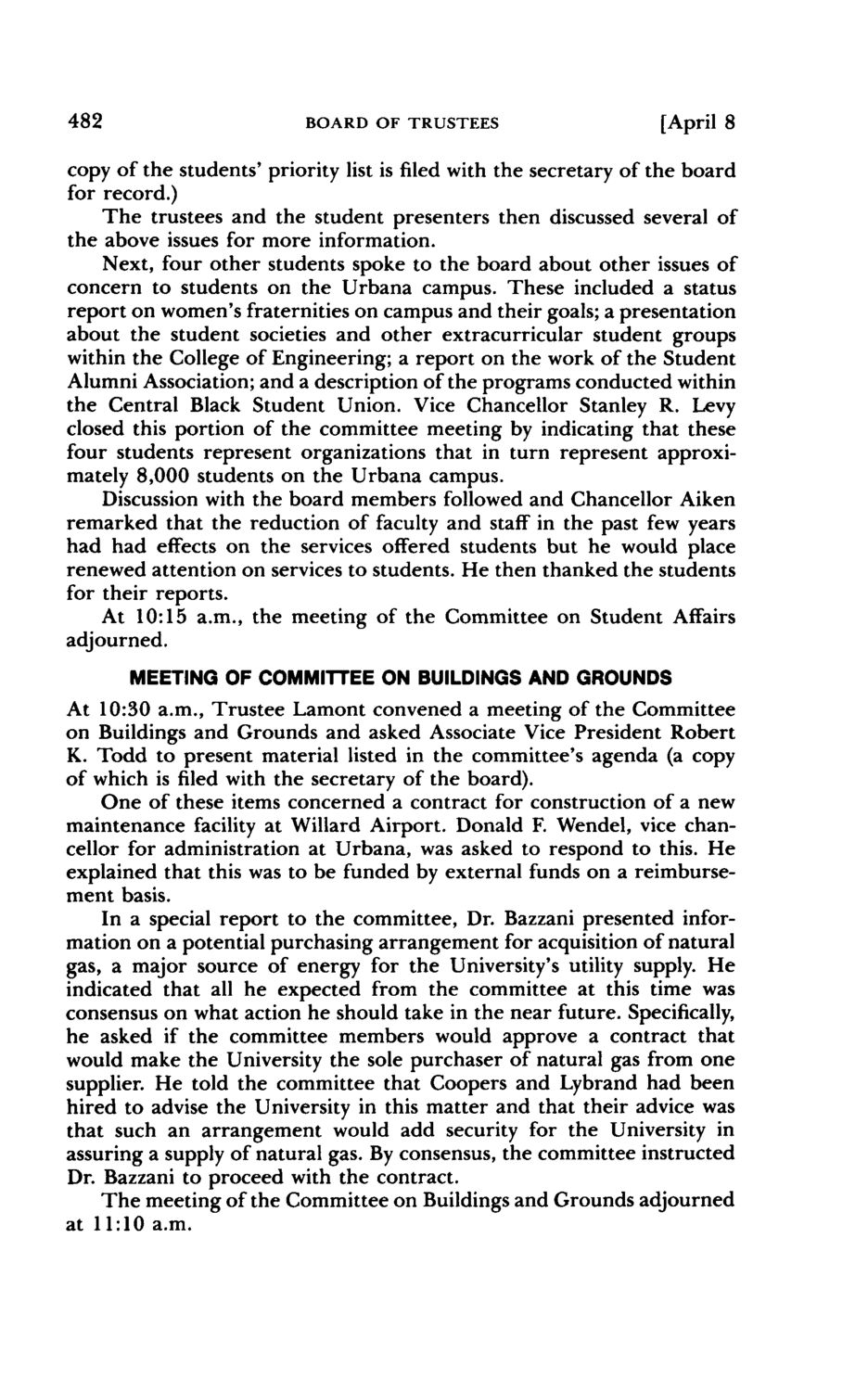 ---
EXTRACTED TEXT FROM PAGE:
482
BOARD OF TRUSTEES
[April 8
copy of the students' priority list is filed with the secretary of the board for record.) The trustees and the student presenters then discussed several of the above issues for more information. Next, four other students spoke to the board about other issues of concern to students on the Urbana campus. These included a status report on women's fraternities on campus and their goals; a presentation about the student societies and other extracurricular student groups within the College of Engineering; a report on the work of the Student Alumni Association; and a description of the programs conducted within the Central Black Student Union. Vice Chancellor Stanley R. Levy closed this portion of the committee meeting by indicating that these four students represent organizations that in turn represent approximately 8,000 students on the Urbana campus. Discussion with the board members followed and Chancellor Aiken remarked that the reduction of faculty and staff in the past few years had had effects on the services offered students but he would place renewed attention on services to students. He then thanked the students for their reports. At 10:15 a.m., the meeting of the Committee on Student Affairs adjourned.
MEETING OF COMMITTEE ON BUILDINGS AND GROUNDS
At 10:30 a.m., Trustee Lamont convened a meeting of the Committee on Buildings and Grounds and asked Associate Vice President Robert K. Todd to present material listed in the committee's agenda (a copy of which is filed with the secretary of the board). One of these items concerned a contract for construction of a new maintenance facility at Willard Airport. Donald F. Wendel, vice chancellor for administration at Urbana, was asked to respond to this. He explained that this was to be funded by external funds on a reimbursement basis. In a special report to the committee, Dr. Bazzani presented information on a potential purchasing arrangement for acquisition of natural gas, a major source of energy for the University's utility supply. He indicated that all he expected from the committee at this time was consensus on what action he should take in the near future. Specifically, he asked if the committee members would approve a contract that would make the University the sole purchaser of natural gas from one supplier. He told the committee that Coopers and Lybrand had been hired to advise the University in this matter and that their advice was that such an arrangement would add security for the University in assuring a supply of natural gas. By consensus, the committee instructed Dr. Bazzani to proceed with the contract. The meeting of the Committee on Buildings and Grounds adjourned at 11:10 a.m.