Caption: Board of Trustees Minutes - 1992
This is a reduced-resolution page image for fast online browsing.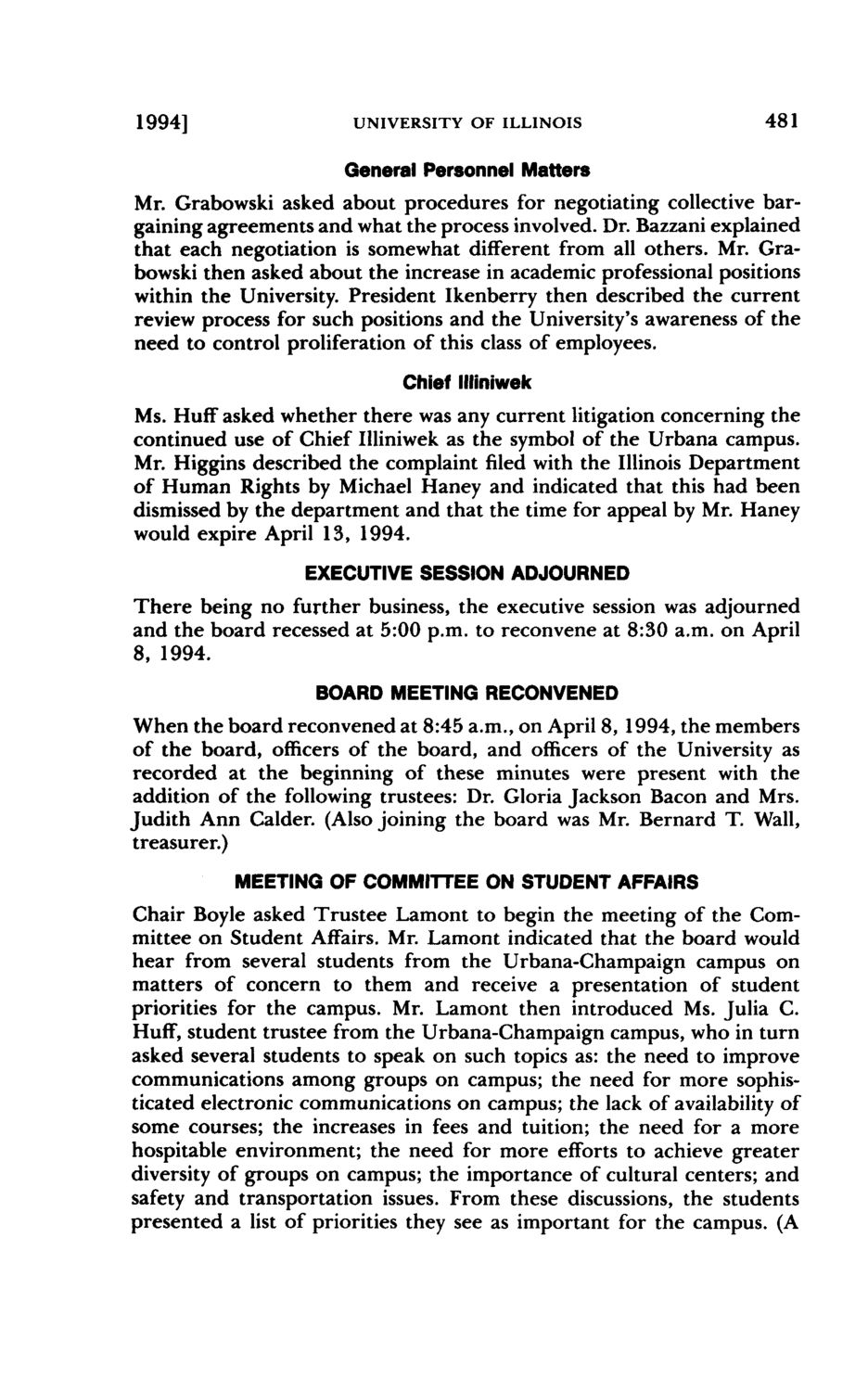 ---
EXTRACTED TEXT FROM PAGE:
1994]
UNIVERSITY OF ILLINOIS
481
General Personnel Matters
Mr. Grabowski asked about procedures for negotiating collective bargaining agreements and what the process involved. Dr. Bazzani explained that each negotiation is somewhat different from all others. Mr. Grabowski then asked about the increase in academic professional positions within the University. President Ikenberry then described the current review process for such positions and the University's awareness of the need to control proliferation of this class of employees.
Chief llliniwek
Ms. Huff asked whether there was any current litigation concerning the continued use of Chief llliniwek as the symbol of the Urbana campus. Mr. Higgins described the complaint filed with the Illinois Department of Human Rights by Michael Haney and indicated that this had been dismissed by the department and that the time for appeal by Mr. Haney would expire April 13, 1994.
EXECUTIVE SESSION ADJOURNED
There being no further business, the executive session was adjourned and the board recessed at 5:00 p.m. to reconvene at 8:30 a.m. on April 8, 1994.
BOARD MEETING RECONVENED
When the board reconvened at 8:45 a.m., on April 8, 1994, the members of the board, officers of the board, and officers of the University as recorded at the beginning of these minutes were present with the addition of the following trustees: Dr. Gloria Jackson Bacon and Mrs. Judith Ann Calder. (Also joining the board was Mr. Bernard T. Wall, treasurer.)
MEETING OF COMMITTEE ON STUDENT AFFAIRS
Chair Boyle asked Trustee Lamont to begin the meeting of the Committee on Student Affairs. Mr. Lamont indicated that the board would hear from several students from the Urbana-Champaign campus on matters of concern to them and receive a presentation of student priorities for the campus. Mr. Lamont then introduced Ms. Julia C. Huff, student trustee from the Urbana-Champaign campus, who in turn asked several students to speak on such topics as: the need to improve communications among groups on campus; the need for more sophisticated electronic communications on campus; the lack of availability of some courses; the increases in fees and tuition; the need for a more hospitable environment; the need for more efforts to achieve greater diversity of groups on campus; the importance of cultural centers; and safety and transportation issues. From these discussions, the students presented a list of priorities they see as important for the campus. (A