Caption: Board of Trustees Minutes - 1992
This is a reduced-resolution page image for fast online browsing.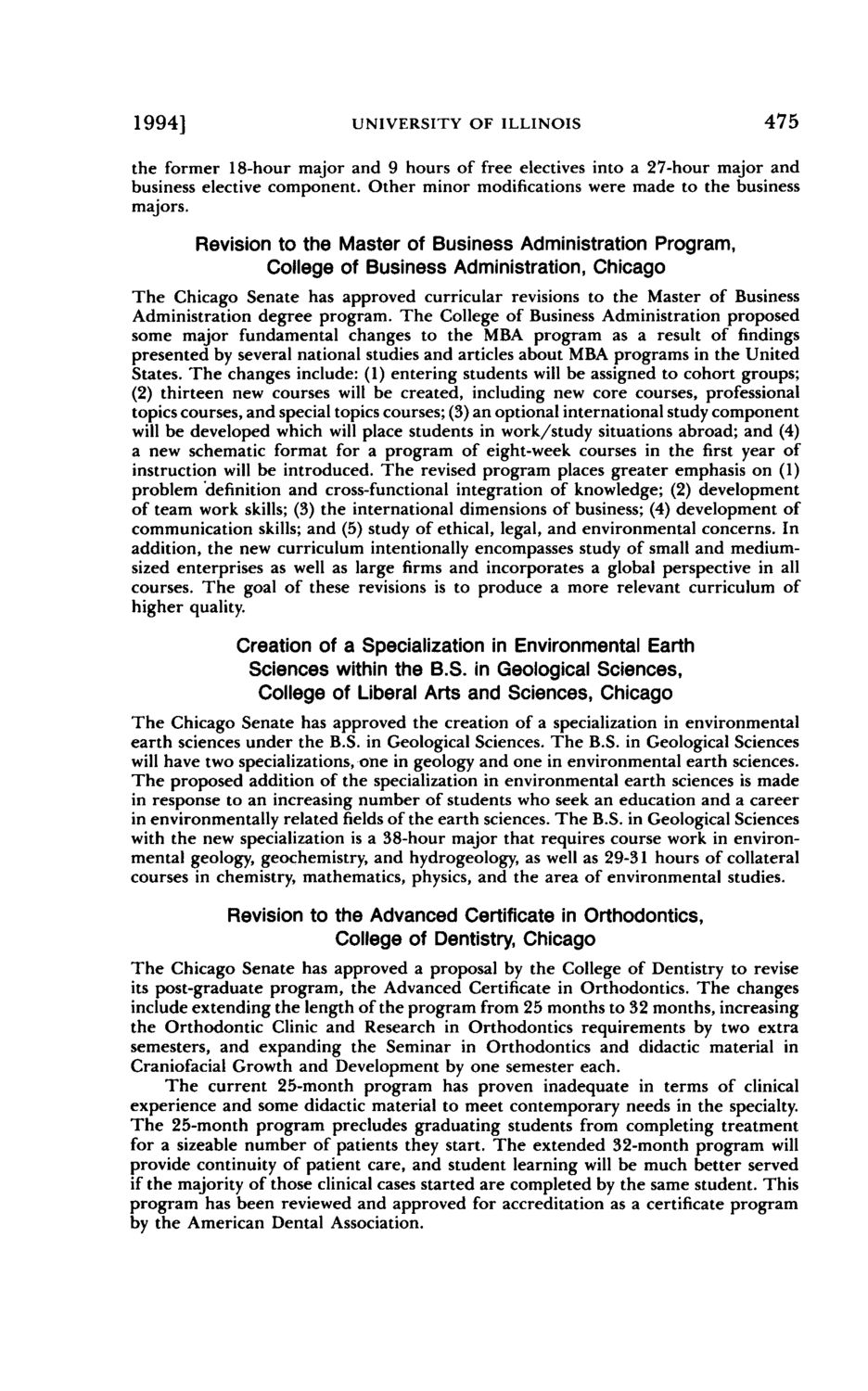 ---
EXTRACTED TEXT FROM PAGE:
1994]
UNIVERSITY OF ILLINOIS
475
the former 18-hour major and 9 hours of free electives into a 27-hour major and business elective component. Other minor modifications were made to the business majors.
Revision to the Master of Business Administration Program, College of Business Administration, Chicago
The Chicago Senate has approved curricular revisions to the Master of Business Administration degree program. The College of Business Administration proposed some major fundamental changes to the MBA program as a result of findings presented by several national studies and articles about MBA programs in the United States. The changes include: (1) entering students will be assigned to cohort groups; (2) thirteen new courses will be created, including new core courses, professional topics courses, and special topics courses; (3) an optional international study component will be developed which will place students in work/study situations abroad; and (4) a new schematic format for a program of eight-week courses in the first year of instruction will be introduced. The revised program places greater emphasis on (1) problem definition and cross-functional integration of knowledge; (2) development of team work skills; (3) the international dimensions of business; (4) development of communication skills; and (5) study of ethical, legal, and environmental concerns. In addition, the new curriculum intentionally encompasses study of small and mediumsized enterprises as well as large firms and incorporates a global perspective in all courses. The goal of these revisions is to produce a more relevant curriculum of higher quality.
Creation of a Specialization in Environmental Earth Sciences within the B.S. in Geological Sciences, College of Liberal Arts and Sciences, Chicago
The Chicago Senate has approved the creation of a specialization in environmental earth sciences under the B.S. in Geological Sciences. The B.S. in Geological Sciences will have two specializations, one in geology and one in environmental earth sciences. The proposed addition of the specialization in environmental earth sciences is made in response to an increasing number of students who seek an education and a career in environmentally related fields of the earth sciences. The B.S. in Geological Sciences with the new specialization is a 38-hour major that requires course work in environmental geology, geochemistry, and hydrogeology, as well as 29-31 hours of collateral courses in chemistry, mathematics, physics, and the area of environmental studies.
Revision to the Advanced Certificate in Orthodontics, College of Dentistry, Chicago
The Chicago Senate has approved a proposal by the College of Dentistry to revise its post-graduate program, the Advanced Certificate in Orthodontics. The changes include extending the length of the program from 25 months to 32 months, increasing the Orthodontic Clinic and Research in Orthodontics requirements by two extra semesters, and expanding the Seminar in Orthodontics and didactic material in Craniofacial Growth and Development by one semester each. The current 25-month program has proven inadequate in terms of clinical experience and some didactic material to meet contemporary needs in the specialty. The 25-month program precludes graduating students from completing treatment for a sizeable number of patients they start. The extended 32-month program will provide continuity of patient care, and student learning will be much better served if the majority of those clinical cases started are completed by the same student. This program has been reviewed and approved for accreditation as a certificate program by the American Dental Association.