Caption: Board of Trustees Minutes - 1992
This is a reduced-resolution page image for fast online browsing.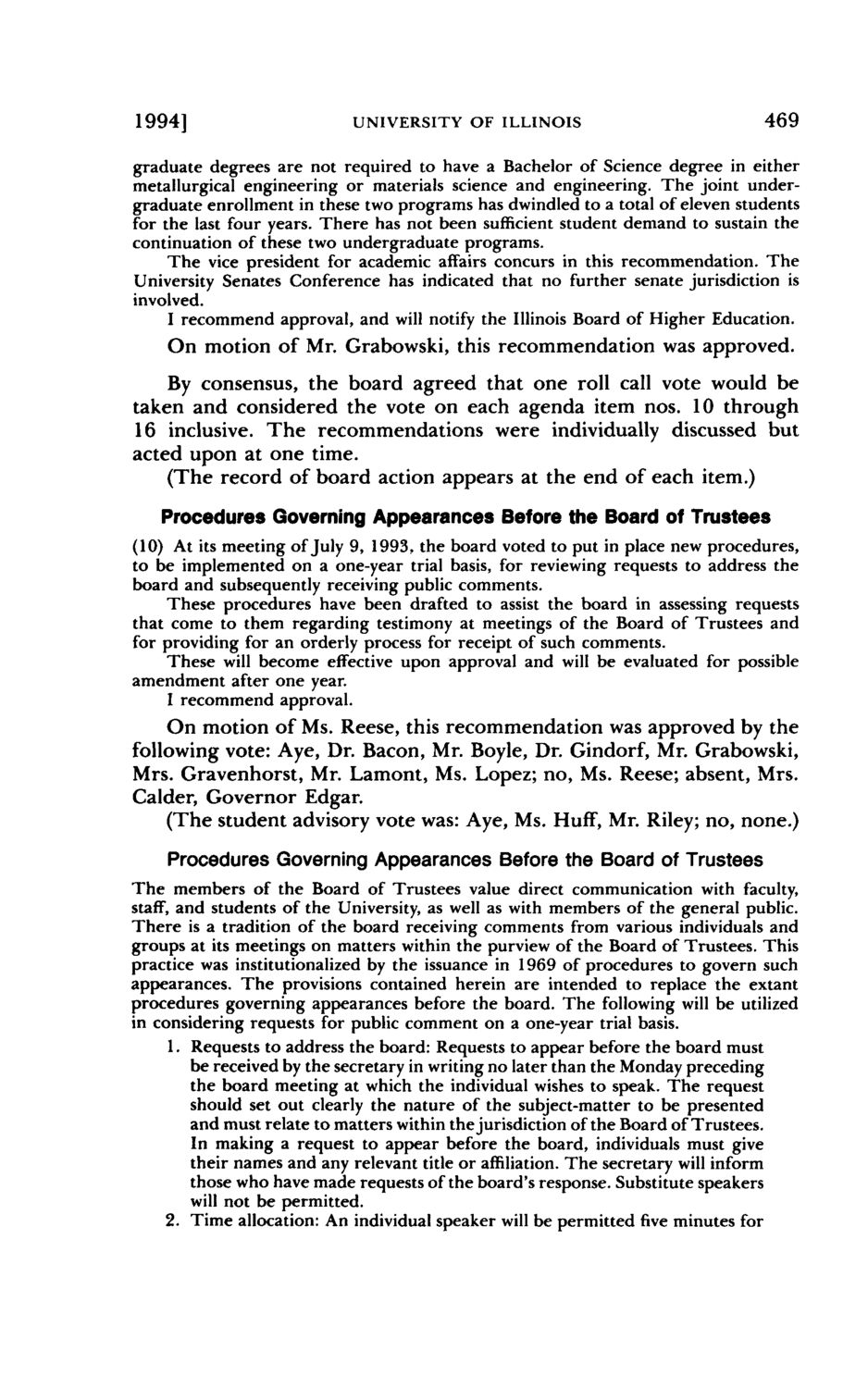 ---
EXTRACTED TEXT FROM PAGE:
1994]
UNIVERSITY OF ILLINOIS
469
graduate degrees are not required to have a Bachelor of Science degree in either metallurgical engineering or materials science and engineering. The joint undergraduate enrollment in these two programs has dwindled to a total of eleven students for the last four years. There has not been sufficient student demand to sustain the continuation of these two undergraduate programs. The vice president for academic affairs concurs in this recommendation. The University Senates Conference has indicated that no further senate jurisdiction is involved. I recommend approval, and will notify the Illinois Board of Higher Education.
On motion of Mr. Grabowski, this recommendation was approved. By consensus, the board agreed that one roll call vote would be taken and considered the vote on each agenda item nos. 10 through 16 inclusive. The recommendations were individually discussed but acted upon at one time. (The record of board action appears at the end of each item.) Procedures Governing Appearances Before the Board of Trustees
(10) At its meeting of July 9, 1993, the board voted to put in place new procedures, to be implemented on a one-year trial basis, for reviewing requests to address the board and subsequently receiving public comments. These procedures have been drafted to assist the board in assessing requests that come to them regarding testimony at meetings of the Board of Trustees and for providing for an orderly process for receipt of such comments. These will become effective upon approval and will be evaluated for possible amendment after one year. I recommend approval.
On motion of Ms. Reese, this recommendation was approved by the following vote: Aye, Dr. Bacon, Mr. Boyle, Dr. Gindorf, Mr. Grabowski, Mrs. Gravenhorst, Mr. Lamont, Ms. Lopez; no, Ms. Reese; absent, Mrs. Calder, Governor Edgar. (The student advisory vote was: Aye, Ms. Huff, Mr. Riley; no, none.) Procedures Governing Appearances Before the Board of Trustees
The members of the Board of Trustees value direct communication with faculty, staff, and students of the University, as well as with members of the general public. There is a tradition of the board receiving comments from various individuals and groups at its meetings on matters within the purview of the Board of Trustees. This practice was institutionalized by the issuance in 1969 of procedures to govern such appearances. The provisions contained herein are intended to replace the extant procedures governing appearances before the board. The following will be utilized in considering requests for public comment on a one-year trial basis. 1. Requests to address the board: Requests to appear before the board must be received by the secretary in writing no later than the Monday preceding the board meeting at which the individual wishes to speak. The request should set out clearly the nature of the subject-matter to be presented and must relate to matters within the jurisdiction of the Board of Trustees. In making a request to appear before the board, individuals must give their names and any relevant title or affiliation. The secretary will inform those who have made requests of the board's response. Substitute speakers will not be permitted. 2. Time allocation: An individual speaker will be permitted five minutes for