Caption: Board of Trustees Minutes - 1992
This is a reduced-resolution page image for fast online browsing.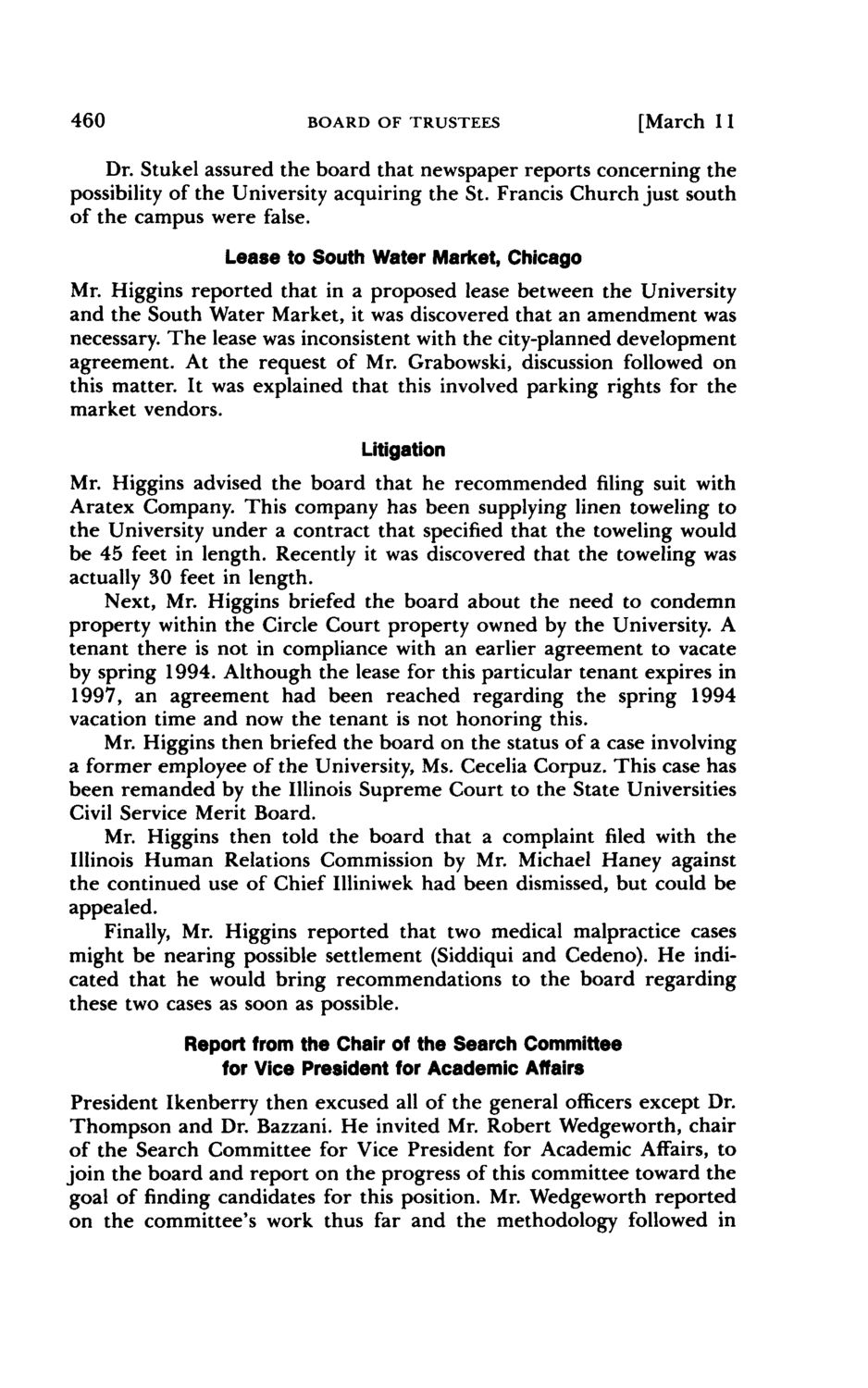 ---
EXTRACTED TEXT FROM PAGE:
460
B O A R D OF TRUSTEES
[March 11
Dr. Stukel assured the board that newspaper reports concerning the possibility of the University acquiring the St. Francis Church just south of the campus were false.
Lease to South Water Market, Chicago
Mr. Higgins reported that in a proposed lease between the University and the South Water Market, it was discovered that an amendment was necessary. The lease was inconsistent with the city-planned development agreement. At the request of Mr. Grabowski, discussion followed on this matter. It was explained that this involved parking rights for the market vendors.
Litigation
Mr. Higgins advised the board that he recommended filing suit with Aratex Company. This company has been supplying linen toweling to the University under a contract that specified that the toweling would be 45 feet in length. Recently it was discovered that the toweling was actually 30 feet in length. Next, Mr. Higgins briefed the board about the need to condemn property within the Circle Court property owned by the University. A tenant there is not in compliance with an earlier agreement to vacate by spring 1994. Although the lease for this particular tenant expires in 1997, an agreement had been reached regarding the spring 1994 vacation time and now the tenant is not honoring this. Mr. Higgins then briefed the board on the status of a case involving a former employee of the University, Ms. Cecelia Corpuz. This case has been remanded by the Illinois Supreme Court to the State Universities Civil Service Merit Board. Mr. Higgins then told the board that a complaint filed with the Illinois Human Relations Commission by Mr. Michael Haney against the continued use of Chief Illiniwek had been dismissed, but could be appealed. Finally, Mr. Higgins reported that two medical malpractice cases might be nearing possible settlement (Siddiqui and Cedeno). He indicated that he would bring recommendations to the board regarding these two cases as soon as possible.
Report from the Chair of the Search Committee for Vice President for Academic Affairs
President Ikenberry then excused all of the general officers except Dr. Thompson and Dr. Bazzani. He invited Mr. Robert Wedgeworth, chair of the Search Committee for Vice President for Academic Affairs, to join the board and report on the progress of this committee toward the goal of finding candidates for this position. Mr. Wedgeworth reported on the committee's work thus far and the methodology followed in