Caption: Board of Trustees Minutes - 1992
This is a reduced-resolution page image for fast online browsing.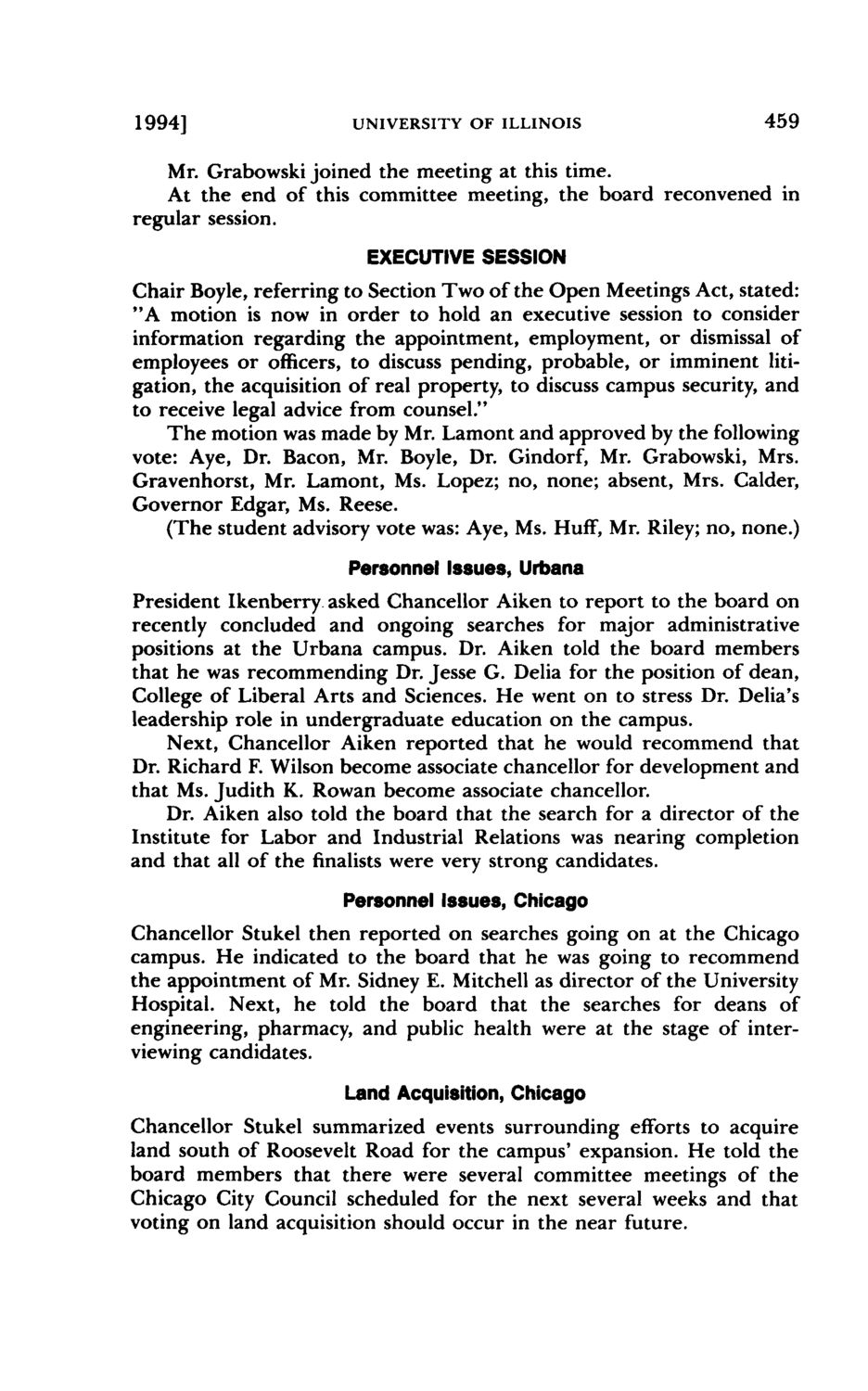 ---
EXTRACTED TEXT FROM PAGE:
1994]
UNIVERSITY OF ILLINOIS
459
Mr. Grabowski joined the meeting at this time. At the end of this committee meeting, the board reconvened in regular session.
EXECUTIVE SESSION
Chair Boyle, referring to Section Two of the Open Meetings Act, stated: "A motion is now in order to hold an executive session to consider information regarding the appointment, employment, or dismissal of employees or officers, to discuss pending, probable, or imminent litigation, the acquisition of real property, to discuss campus security, and to receive legal advice from counsel." The motion was made by Mr. Lamont and approved by the following vote: Aye, Dr. Bacon, Mr. Boyle, Dr. Gindorf, Mr. Grabowski, Mrs. Gravenhorst, Mr. Lamont, Ms. Lopez; no, none; absent, Mrs. Calder, Governor Edgar, Ms. Reese. (The student advisory vote was: Aye, Ms. Huff, Mr. Riley; no, none.)
Personnel Issues, Urbana
President Ikenberry asked Chancellor Aiken to report to the board on recently concluded and ongoing searches for major administrative positions at the Urbana campus. Dr. Aiken told the board members that he was recommending Dr. Jesse G. Delia for the position of dean, College of Liberal Arts and Sciences. He went on to stress Dr. Delia's leadership role in undergraduate education on the campus. Next, Chancellor Aiken reported that he would recommend that Dr. Richard F. Wilson become associate chancellor for development and that Ms. Judith K. Rowan become associate chancellor. Dr. Aiken also told the board that the search for a director of the Institute for Labor and Industrial Relations was nearing completion and that all of the finalists were very strong candidates.
Personnel Issues, Chicago
Chancellor Stukel then reported on searches going on at the Chicago campus. He indicated to the board that he was going to recommend the appointment of Mr. Sidney E. Mitchell as director of the University Hospital. Next, he told the board that the searches for deans of engineering, pharmacy, and public health were at the stage of interviewing candidates.
Land Acquisition, Chicago
Chancellor Stukel summarized events surrounding efforts to acquire land south of Roosevelt Road for the campus' expansion. He told the board members that there were several committee meetings of the Chicago City Council scheduled for the next several weeks and that voting on land acquisition should occur in the near future.