Caption: Board of Trustees Minutes - 1992
This is a reduced-resolution page image for fast online browsing.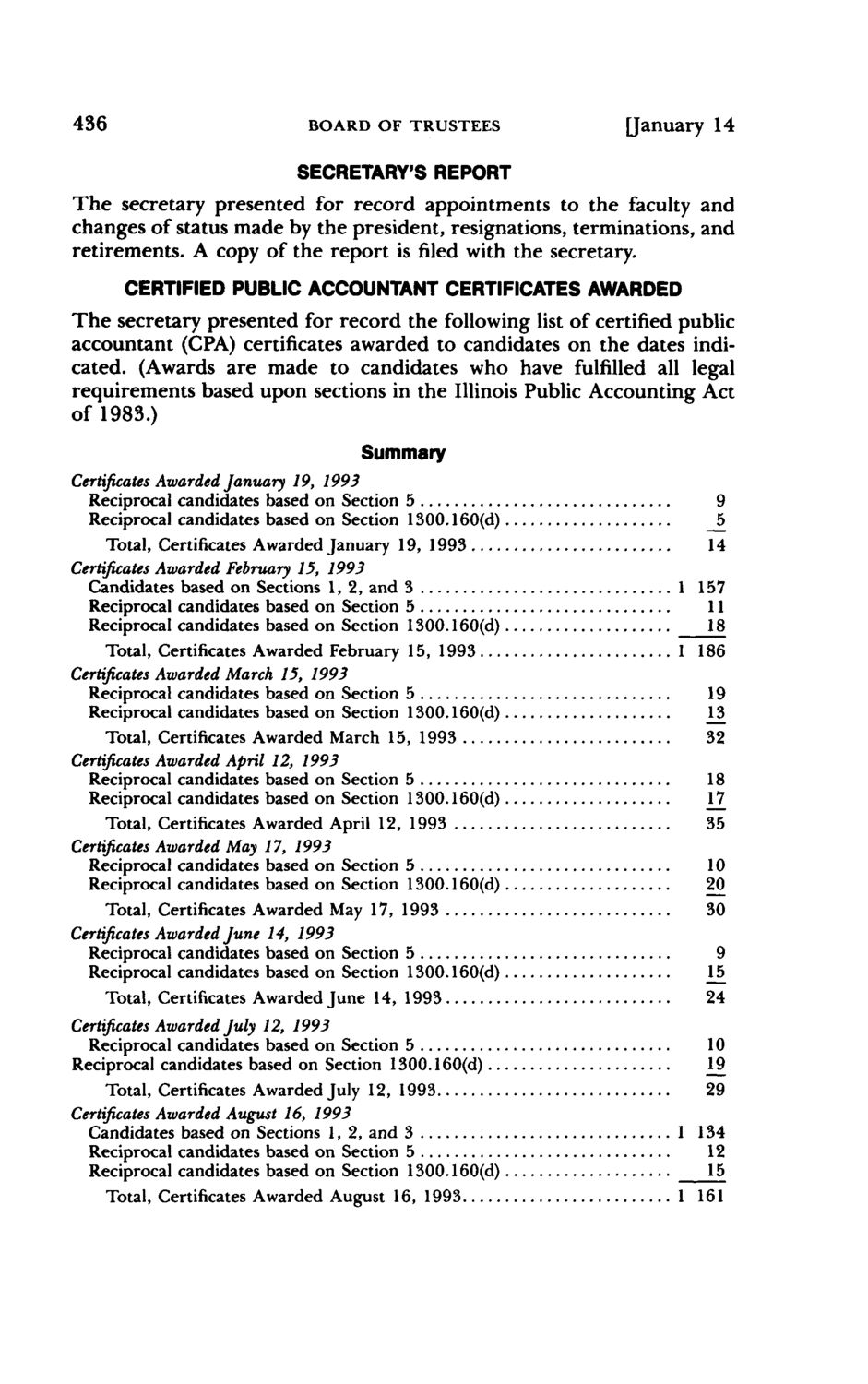 ---
EXTRACTED TEXT FROM PAGE:
436
BOARD OF TRUSTEES
[January 14
SECRETARY'S REPORT
The secretary presented for record appointments to the faculty and changes of status made by the president, resignations, terminations, and retirements. A copy of the report is filed with the secretary.
CERTIFIED PUBLIC ACCOUNTANT CERTIFICATES AWARDED
The secretary presented for record the following list of certified public accountant (CPA) certificates awarded to candidates on the dates indicated. (Awards are made to candidates who have fulfilled all legal requirements based upon sections in the Illinois Public Accounting Act of 1983.)
Summary
Certificates Awarded January 19, 1993 Reciprocal candidates based on Section 5 Reciprocal candidates based on Section 1300.160(d) Total, Certificates Awarded January 19, 1993 Certificates Awarded February 15, 1993 Candidates based on Sections 1 , 2 , and 3 Reciprocal candidates based on Section 5 Reciprocal candidates based on Section 1300.160(d) Total, Certificates Awarded February 15, 1993 Certificates Awarded March 15, 1993 Reciprocal candidates based on Section 5 Reciprocal candidates based on Section 1300.160(d) Total, Certificates Awarded March 15, 1993 Certificates Awarded April 12, 1993 Reciprocal candidates based on Section 5 Reciprocal candidates based on Section 1300.160(d) Total, Certificates Awarded April 12, 1993 Certificates Awarded May 17, 1993 Reciprocal candidates based on Section 5 Reciprocal candidates based on Section 1300.160(d) Total, Certificates Awarded May 17, 1993 Certificates Awarded June 14, 1993 Reciprocal candidates based on Section 5 Reciprocal candidates based on Section 1300.160(d) Total, Certificates Awarded June 14, 1993 Certificates Awarded July 12, 1993 Reciprocal candidates based on Section 5 Reciprocal candidates based on Section 1300.160(d) Total, Certificates Awarded July 12, 1993 Certificates Awarded August 16, 1993 Candidates based on Sections 1, 2, and 3 Reciprocal candidates based on Section 5 Reciprocal candidates based on Section 1300.160(d) Total, Certificates Awarded August 16, 1993 9 5 14 1 157 11 18 1 186 19 13 32 18 17 35 10 20 30 9 15 24 10 19 29 1 134 12 1_5 1 161