Caption: Board of Trustees Minutes - 1992
This is a reduced-resolution page image for fast online browsing.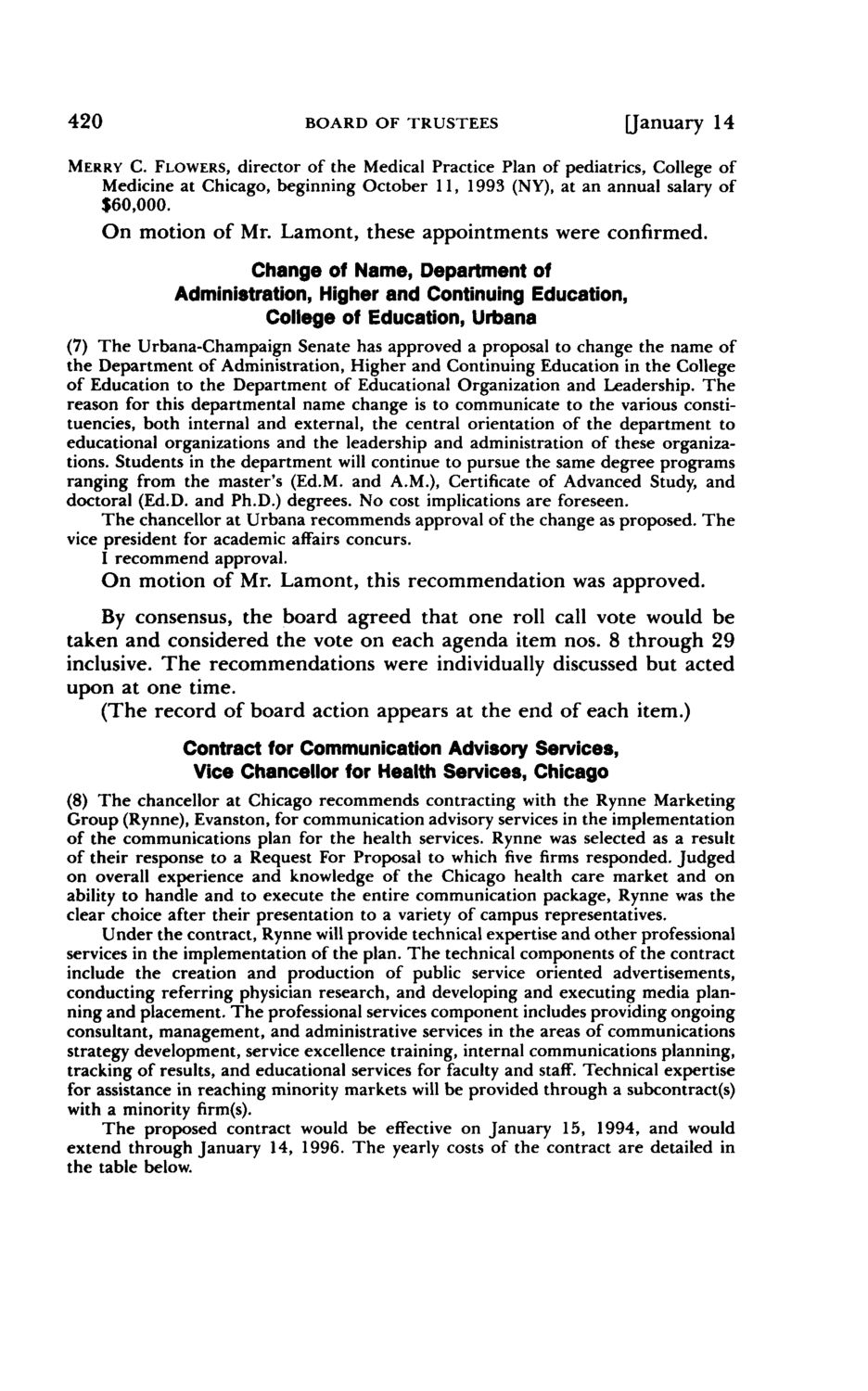 ---
EXTRACTED TEXT FROM PAGE:
420
BOARD OF TRUSTEES
[January 14
MERRY C. FLOWERS, director of the Medical Practice Plan of pediatrics, College of Medicine at Chicago, beginning October 11, 1993 (NY), at an annual salary of $60,000.
On motion of Mr. Lamont, these appointments were confirmed.
Change of Name, Department of Administration, Higher and Continuing Education, College of Education, Urbana
(7) The Urbana-Champaign Senate has approved a proposal to change the name of the Department of Administration, Higher and Continuing Education in the College of Education to the Department of Educational Organization and Leadership. The reason for this departmental name change is to communicate to the various constituencies, both internal and external, the central orientation of the department to educational organizations and the leadership and administration of these organizations. Students in the department will continue to pursue the same degree programs ranging from the master's (Ed.M. and A.M.), Certificate of Advanced Study, and doctoral (Ed.D. and Ph.D.) degrees. No cost implications are foreseen. The chancellor at Urbana recommends approval of the change as proposed. The vice president for academic affairs concurs. I recommend approval.
On motion of Mr. Lamont, this recommendation was approved. By consensus, the board agreed that one roll call vote would be taken and considered the vote on each agenda item nos. 8 through 29 inclusive. The recommendations were individually discussed but acted upon at one time. (The record of board action appears at the end of each item.)
Contract for Communication Advisory Services, Vice Chancellor for Health Services, Chicago
(8) The chancellor at Chicago recommends contracting with the Rynne Marketing Group (Rynne), Evanston, for communication advisory services in the implementation of the communications plan for the health services. Rynne was selected as a result of their response to a Request For Proposal to which five firms responded. Judged on overall experience and knowledge of the Chicago health care market and on ability to handle and to execute the entire communication package, Rynne was the clear choice after their presentation to a variety of campus representatives. Under the contract, Rynne will provide technical expertise and other professional services in the implementation of the plan. The technical components of the contract include the creation and production of public service oriented advertisements, conducting referring physician research, and developing and executing media planning and placement. The professional services component includes providing ongoing consultant, management, and administrative services in the areas of communications strategy development, service excellence training, internal communications planning, tracking of results, and educational services for faculty and staff. Technical expertise for assistance in reaching minority markets will be provided through a subcontract(s) with a minority firm(s). The proposed contract would be effective on January 15, 1994, and would extend through January 14, 1996. The yearly costs of the contract are detailed in the table below.