Caption: Board of Trustees Minutes - 1992
This is a reduced-resolution page image for fast online browsing.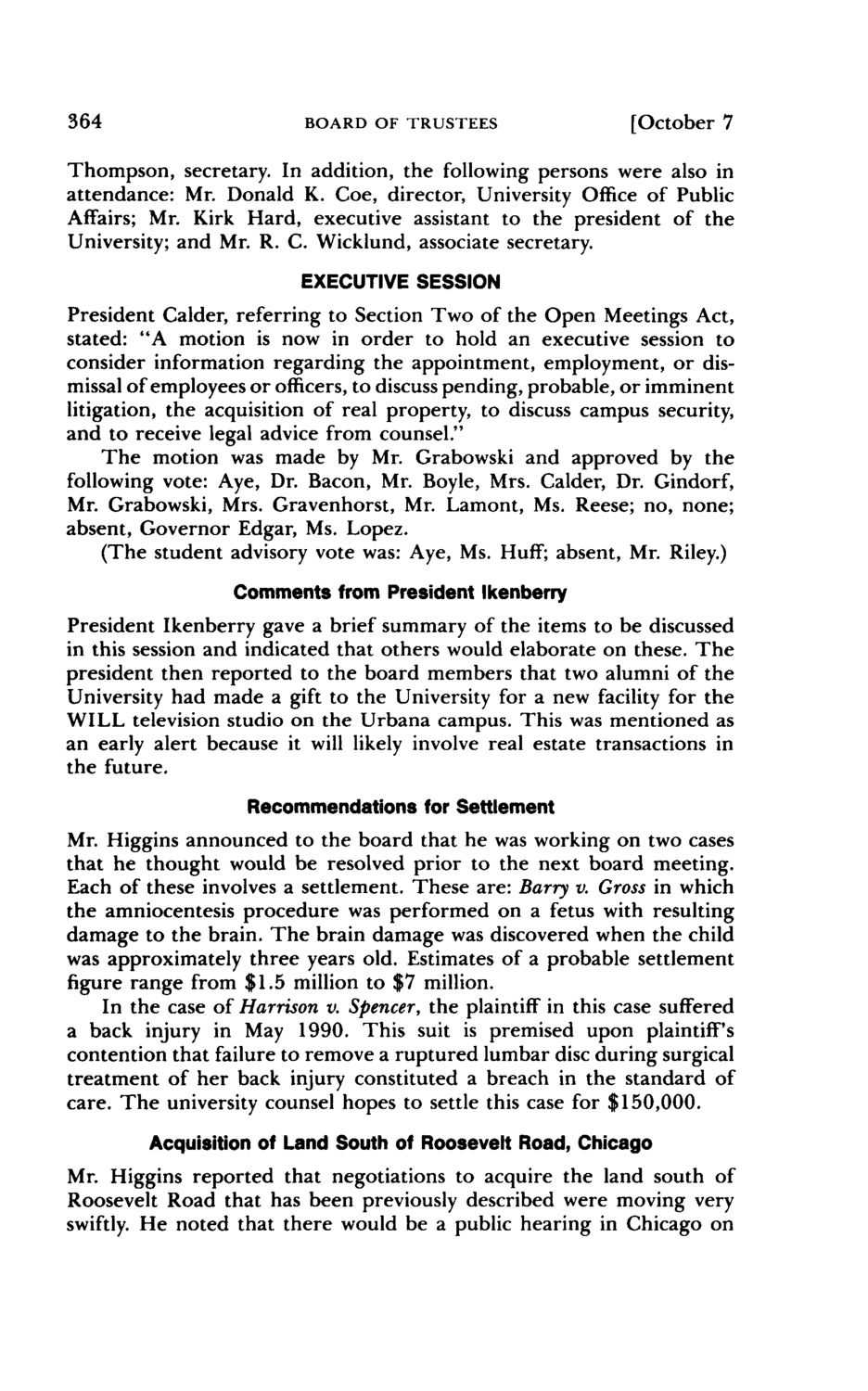 ---
EXTRACTED TEXT FROM PAGE:
364
BOARD OF TRUSTEES
[October 7
Thompson, secretary. In addition, the following persons were also in attendance: Mr. Donald K. Coe, director, University Office of Public Affairs; Mr. Kirk Hard, executive assistant to the president of the University; and Mr. R. C. Wicklund, associate secretary.
EXECUTIVE SESSION
President Calder, referring to Section Two of the Open Meetings Act, stated: "A motion is now in order to hold an executive session to consider information regarding the appointment, employment, or dismissal of employees or officers, to discuss pending, probable, or imminent litigation, the acquisition of real property, to discuss campus security, and to receive legal advice from counsel/' The motion was made by Mr. Grabowski and approved by the following vote: Aye, Dr. Bacon, Mr. Boyle, Mrs. Calder, Dr. Gindorf, Mr. Grabowski, Mrs. Gravenhorst, Mr. Lamont, Ms. Reese; no, none; absent, Governor Edgar, Ms. Lopez. (The student advisory vote was: Aye, Ms. Huff; absent, Mr. Riley.)
Comments from President Ikenberry
President Ikenberry gave a brief summary of the items to be discussed in this session and indicated that others would elaborate on these. The president then reported to the board members that two alumni of the University had made a gift to the University for a new facility for the WILL television studio on the Urbana campus. This was mentioned as an early alert because it will likely involve real estate transactions in the future.
Recommendations for Settlement
Mr. Higgins announced to the board that he was working on two cases that he thought would be resolved prior to the next board meeting. Each of these involves a settlement. These are: Barry v. Gross in which the amniocentesis procedure was performed on a fetus with resulting damage to the brain. The brain damage was discovered when the child was approximately three years old. Estimates of a probable settlement figure range from $1.5 million to $7 million. In the case of Harrison v. Spencer, the plaintiff in this case suffered a back injury in May 1990. This suit is premised upon plaintiff's contention that failure to remove a ruptured lumbar disc during surgical treatment of her back injury constituted a breach in the standard of care. The university counsel hopes to settle this case for $150,000.
Acquisition of Land South of Roosevelt Road, Chicago
Mr. Higgins reported that negotiations to acquire the land south of Roosevelt Road that has been previously described were moving very swiftly. He noted that there would be a public hearing in Chicago on