Caption: Board of Trustees Minutes - 1992
This is a reduced-resolution page image for fast online browsing.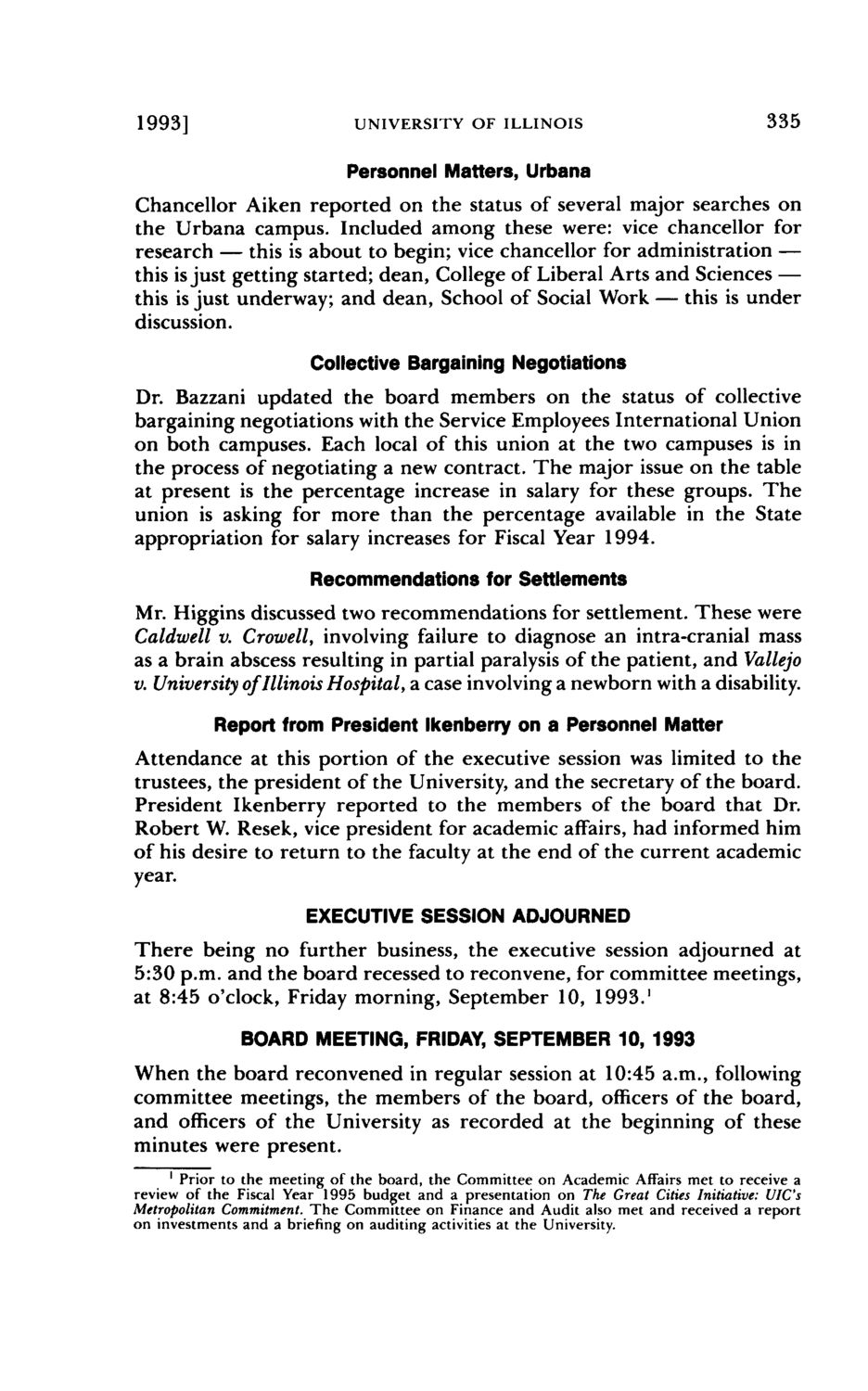 ---
EXTRACTED TEXT FROM PAGE:
1993]
UNIVERSITY OF ILLINOIS
335
Personnel Matters, Urbana
Chancellor Aiken reported on the status of several major searches on the Urbana campus. Included among these were: vice chancellor for research — this is about to begin; vice chancellor for administration — this is just getting started; dean, College of Liberal Arts and Sciences — this is just underway; and dean, School of Social Work — this is under discussion.
Collective Bargaining Negotiations
Dr. Bazzani updated the board members on the status of collective bargaining negotiations with the Service Employees International Union on both campuses. Each local of this union at the two campuses is in the process of negotiating a new contract. The major issue on the table at present is the percentage increase in salary for these groups. The union is asking for more than the percentage available in the State appropriation for salary increases for Fiscal Year 1994.
Recommendations for Settlements
Mr. Higgins discussed two recommendations for settlement. These were Caldwell v. Crowell, involving failure to diagnose an intra-cranial mass as a brain abscess resulting in partial paralysis of the patient, and Vallejo v. University ofIllinois Hospital, a case involving a newborn with a disability.
Report from President Ikenberry on a Personnel Matter
Attendance at this portion of the executive session was limited to the trustees, the president of the University, and the secretary of the board. President Ikenberry reported to the members of the board that Dr. Robert W. Resek, vice president for academic affairs, had informed him of his desire to return to the faculty at the end of the current academic year.
EXECUTIVE SESSION ADJOURNED
There being no further business, the executive session adjourned at 5:30 p.m. and the board recessed to reconvene, for committee meetings, at 8:45 o'clock, Friday morning, September 10, 1993.1
BOARD MEETING, FRIDAY, SEPTEMBER 10, 1993
When the board reconvened in regular session at 10:45 a.m., following committee meetings, the members of the board, officers of the board, and officers of the University as recorded at the beginning of these minutes were present.
1 Prior to the meeting of the board, the Committee on Academic Affairs met to receive a review of the Fiscal Year 1995 budget and a presentation on The Great Cities Initiative: UIC's Metropolitan Commitment. T h e Committee on Finance and Audit also met and received a report on investments and a briefing on auditing activities at the University.