Caption: Board of Trustees Minutes - 1992
This is a reduced-resolution page image for fast online browsing.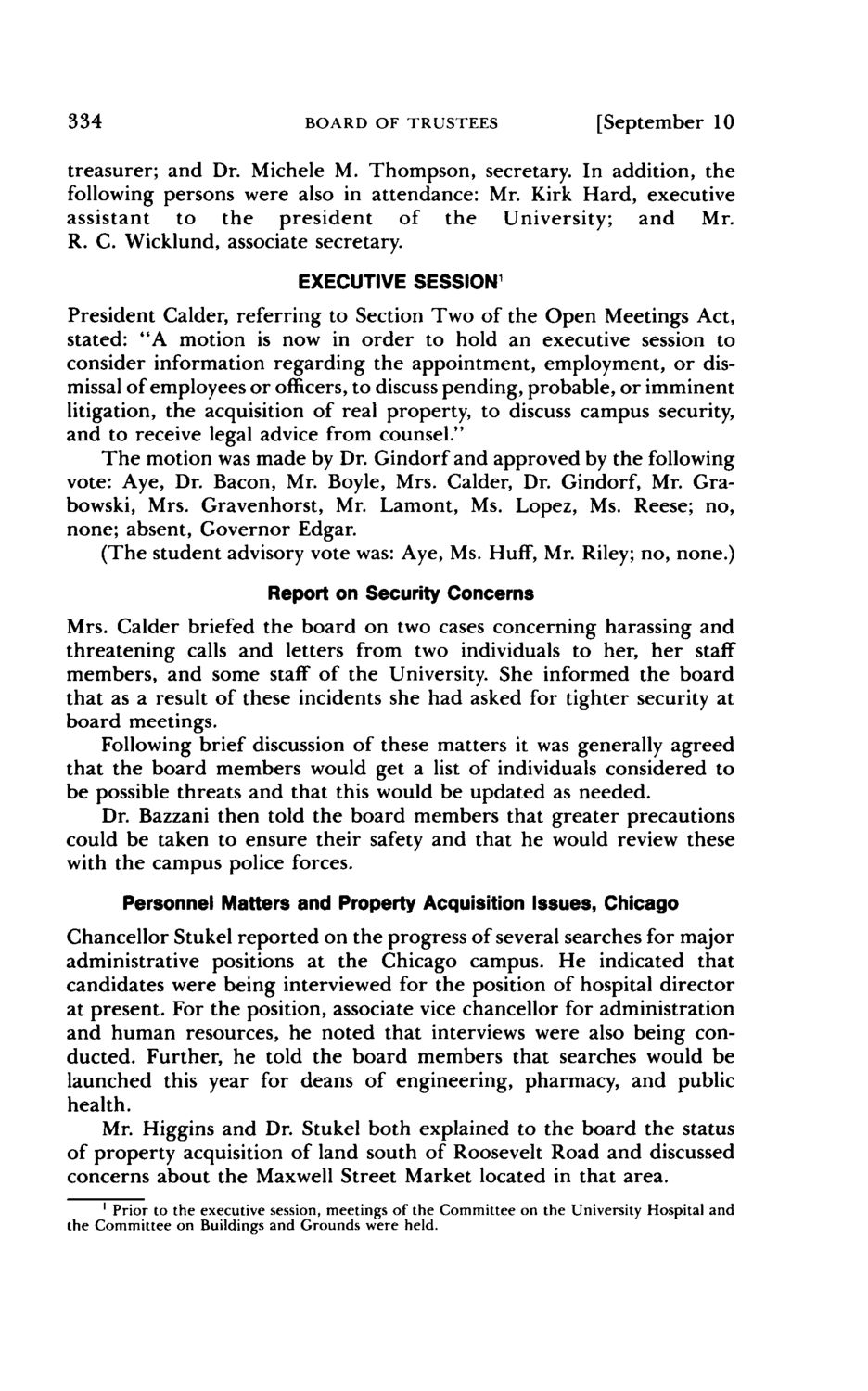 ---
EXTRACTED TEXT FROM PAGE:
334
BOARD OF TRUSTEES
[September 10
treasurer; and Dr. Michele M. Thompson, secretary. In addition, the following persons were also in attendance: Mr. Kirk Hard, executive assistant to the president of the University; and Mr. R. C. Wicklund, associate secretary.
EXECUTIVE SESSION1
President Calder, referring to Section Two of the Open Meetings Act, stated: "A motion is now in order to hold an executive session to consider information regarding the appointment, employment, or dismissal of employees or officers, to discuss pending, probable, or imminent litigation, the acquisition of real property, to discuss campus security, and to receive legal advice from counsel/' The motion was made by Dr. Gindorf and approved by the following vote: Aye, Dr. Bacon, Mr. Boyle, Mrs. Calder, Dr. Gindorf, Mr. Grabowski, Mrs. Gravenhorst, Mr. Lamont, Ms. Lopez, Ms. Reese; no, none; absent, Governor Edgar. (The student advisory vote was: Aye, Ms. Huff, Mr. Riley; no, none.)
Report on Security Concerns
Mrs. Calder briefed the board on two cases concerning harassing and threatening calls and letters from two individuals to her, her staff members, and some staff of the University. She informed the board that as a result of these incidents she had asked for tighter security at board meetings. Following brief discussion of these matters it was generally agreed that the board members would get a list of individuals considered to be possible threats and that this would be updated as needed. Dr. Bazzani then told the board members that greater precautions could be taken to ensure their safety and that he would review these with the campus police forces.
Personnel Matters and Property Acquisition Issues, Chicago
Chancellor Stukel reported on the progress of several searches for major administrative positions at the Chicago campus. He indicated that candidates were being interviewed for the position of hospital director at present. For the position, associate vice chancellor for administration and human resources, he noted that interviews were also being conducted. Further, he told the board members that searches would be launched this year for deans of engineering, pharmacy, and public health. Mr. Higgins and Dr. Stukel both explained to the board the status of property acquisition of land south of Roosevelt Road and discussed concerns about the Maxwell Street Market located in that area.
' Prior to the executive session, meetings of the Committee on the University Hospital and the Committee on Buildings and Grounds were held.