Caption: Board of Trustees Minutes - 1992
This is a reduced-resolution page image for fast online browsing.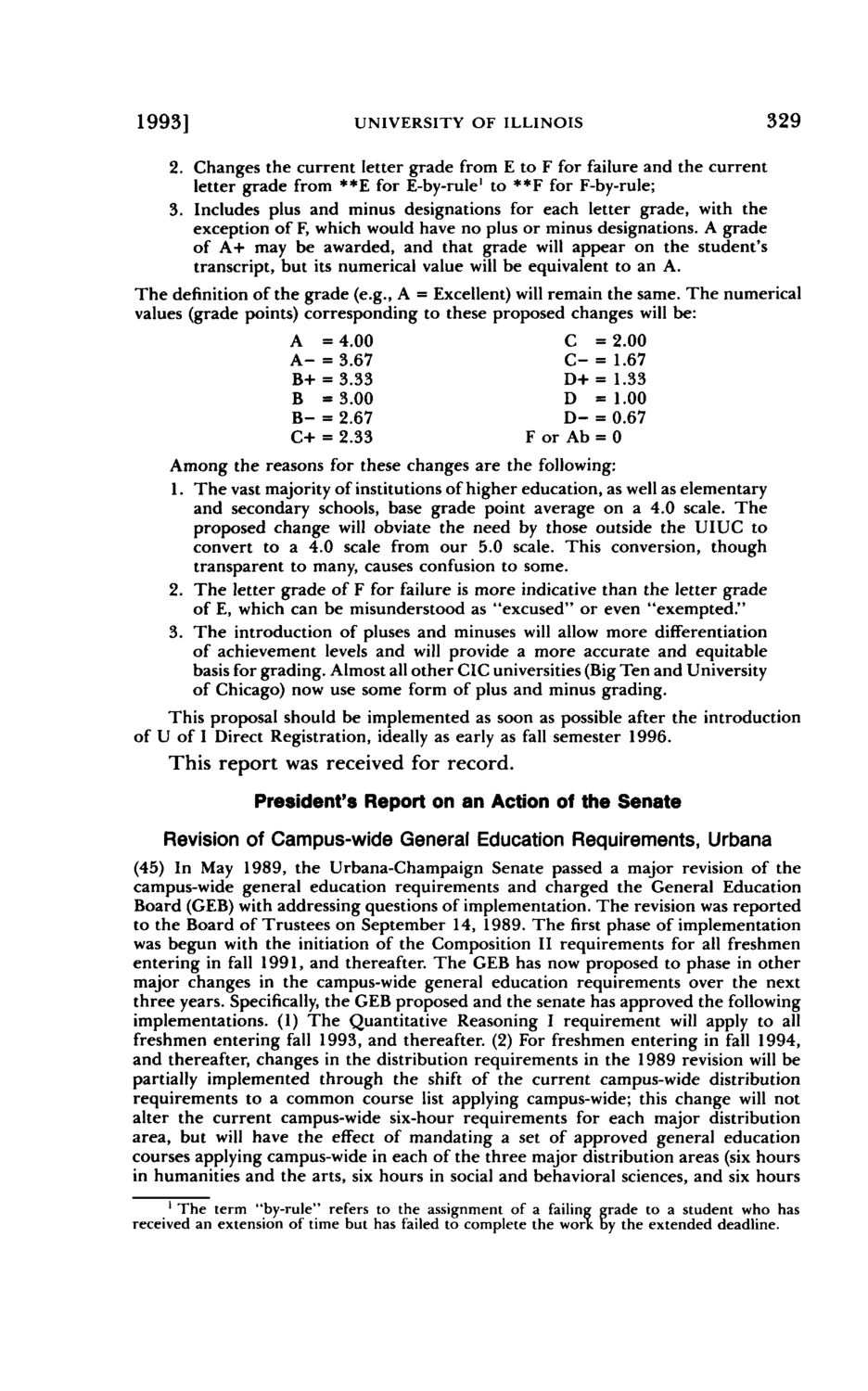 ---
EXTRACTED TEXT FROM PAGE:
1993]
UNIVERSITY OF ILLINOIS
329
2. Changes the current letter grade from E to F for failure and the current letter grade from **E for E-by-rule1 to **F for F-by-rule; 3. Includes plus and minus designations for each letter grade, with the exception of F, which would have no plus or minus designations. A grade of A+ may be awarded, and that grade will appear on the student's transcript, but its numerical value will be equivalent to an A. The definition of the grade (e.g., A = Excellent) will remain the same. The numerical values (grade points) corresponding to these proposed changes will be: A =4.00 A - = 3.67 B+ = 3.33 B =3.00 B - = 2.67 C+ = 2.33 C =2.00 C - = 1.67 D+=1.33 D =1.00 D - = 0.67 F or Ab = 0
Among the reasons for these changes are the following: 1. The vast majority of institutions of higher education, as well as elementary and secondary schools, base grade point average on a 4.0 scale. The proposed change will obviate the need by those outside the UIUC to convert to a 4.0 scale from our 5.0 scale. This conversion, though transparent to many, causes confusion to some. 2. The letter grade of F for failure is more indicative than the letter grade of E, which can be misunderstood as "excused" or even "exempted." 3. The introduction of pluses and minuses will allow more differentiation of achievement levels and will provide a more accurate and equitable basis for grading. Almost all other CIC universities (Big Ten and University of Chicago) now use some form of plus and minus grading. This proposal should be implemented as soon as possible after the introduction of U of I Direct Registration, ideally as early as fall semester 1996.
This report was received for record. President's Report on an Action of the Senate Revision of Campus-wide General Education Requirements, Urbana
(45) In May 1989, the Urbana-Champaign Senate passed a major revision of the campus-wide general education requirements and charged the General Education Board (GEB) with addressing questions of implementation. The revision was reported to the Board of Trustees on September 14, 1989. The first phase of implementation was begun with the initiation of the Composition II requirements for all freshmen entering in fall 1991, and thereafter. The GEB has now proposed to phase in other major changes in the campus-wide general education requirements over the next three years. Specifically, the GEB proposed and the senate has approved the following implementations. (1) The Quantitative Reasoning I requirement will apply to all freshmen entering fall 1993, and thereafter. (2) For freshmen entering in fall 1994, and thereafter, changes in the distribution requirements in the 1989 revision will be partially implemented through the shift of the current campus-wide distribution requirements to a common course list applying campus-wide; this change will not alter the current campus-wide six-hour requirements for each major distribution area, but will have the effect of mandating a set of approved general education courses applying campus-wide in each of the three major distribution areas (six hours in humanities and the arts, six hours in social and behavioral sciences, and six hours
1 T h e term "by-rule" refers to the assignment of a failing grade to a student who has received an extension of time but has failed to complete the work by the extended deadline.