Caption: Board of Trustees Minutes - 1992
This is a reduced-resolution page image for fast online browsing.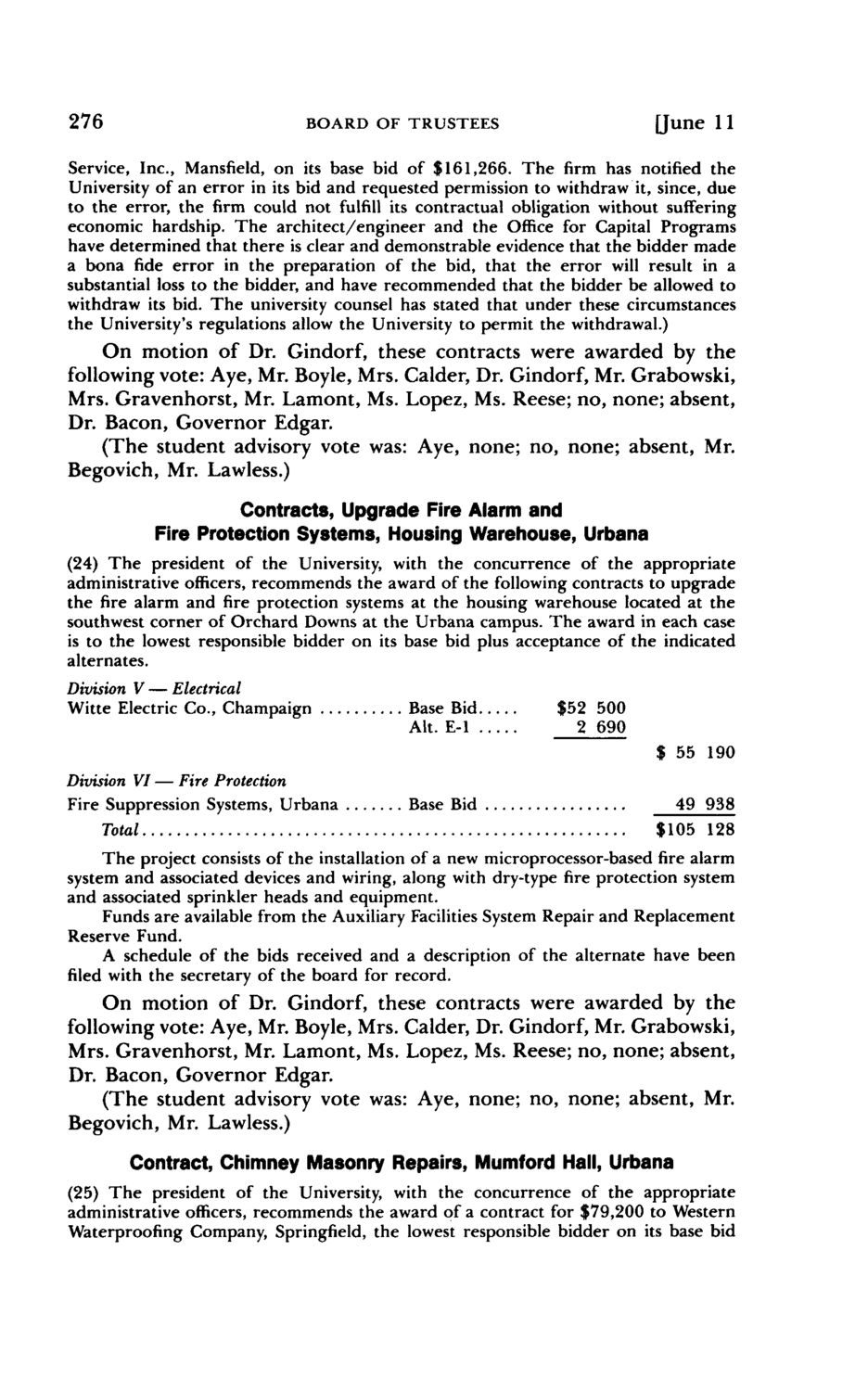 ---
EXTRACTED TEXT FROM PAGE:
276
BOARD OF TRUSTEES
[June 11
Service, Inc., Mansfield, on its base bid of $161,266. The firm has notified the University of an error in its bid and requested permission to withdraw it, since, due to the error, the firm could not fulfill its contractual obligation without suffering economic hardship. The architect/engineer and the Office for Capital Programs have determined that there is clear and demonstrable evidence that the bidder made a bona fide error in the preparation of the bid, that the error will result in a substantial loss to the bidder, and have recommended that the bidder be allowed to withdraw its bid. The university counsel has stated that under these circumstances the University's regulations allow the University to permit the withdrawal.)
On motion of Dr. Gindorf, these contracts were awarded by the following vote: Aye, Mr. Boyle, Mrs. Calder, Dr. Gindorf, Mr. Grabowski, Mrs. Gravenhorst, Mr. Lamont, Ms. Lopez, Ms. Reese; no, none; absent, Dr. Bacon, Governor Edgar. (The student advisory vote was: Aye, none; no, none; absent, Mr. Begovich, Mr. Lawless.)
Contracts, Upgrade Fire Alarm and Fire Protection Systems, Housing Warehouse, Urbana
(24) The president of the University, with the concurrence of the appropriate administrative officers, recommends the award of the following contracts to upgrade the fire alarm and fire protection systems at the housing warehouse located at the southwest corner of Orchard Downs at the Urbana campus. The award in each case is to the lowest responsible bidder on its base bid plus acceptance of the indicated alternates. Division V — Electrical Witte Electric Co., Champaign Base Bid Alt. E-l $52 500 2 690 $ 55 190 Division VI — Fire Protection Fire Suppression Systems, Urbana Total Base Bid 49 938 $105 128
The project consists of the installation of a new microprocessor-based fire alarm system and associated devices and wiring, along with dry-type fire protection system and associated sprinkler heads and equipment. Funds are available from the Auxiliary Facilities System Repair and Replacement Reserve Fund. A schedule of the bids received and a description of the alternate have been filed with the secretary of the board for record.
On motion of Dr. Gindorf, these contracts were awarded by the following vote: Aye, Mr. Boyle, Mrs. Calder, Dr. Gindorf, Mr. Grabowski, Mrs. Gravenhorst, Mr. Lamont, Ms. Lopez, Ms. Reese; no, none; absent, Dr. Bacon, Governor Edgar. (The student advisory vote was: Aye, none; no, none; absent, Mr. Begovich, Mr. Lawless.)
Contract, Chimney Masonry Repairs, Mumford Hall, Urbana
(25) The president of the University, with the concurrence of the appropriate administrative officers, recommends the award of a contract for $79,200 to Western Waterproofing Company, Springfield, the lowest responsible bidder on its base bid