Caption: Board of Trustees Minutes - 1992
This is a reduced-resolution page image for fast online browsing.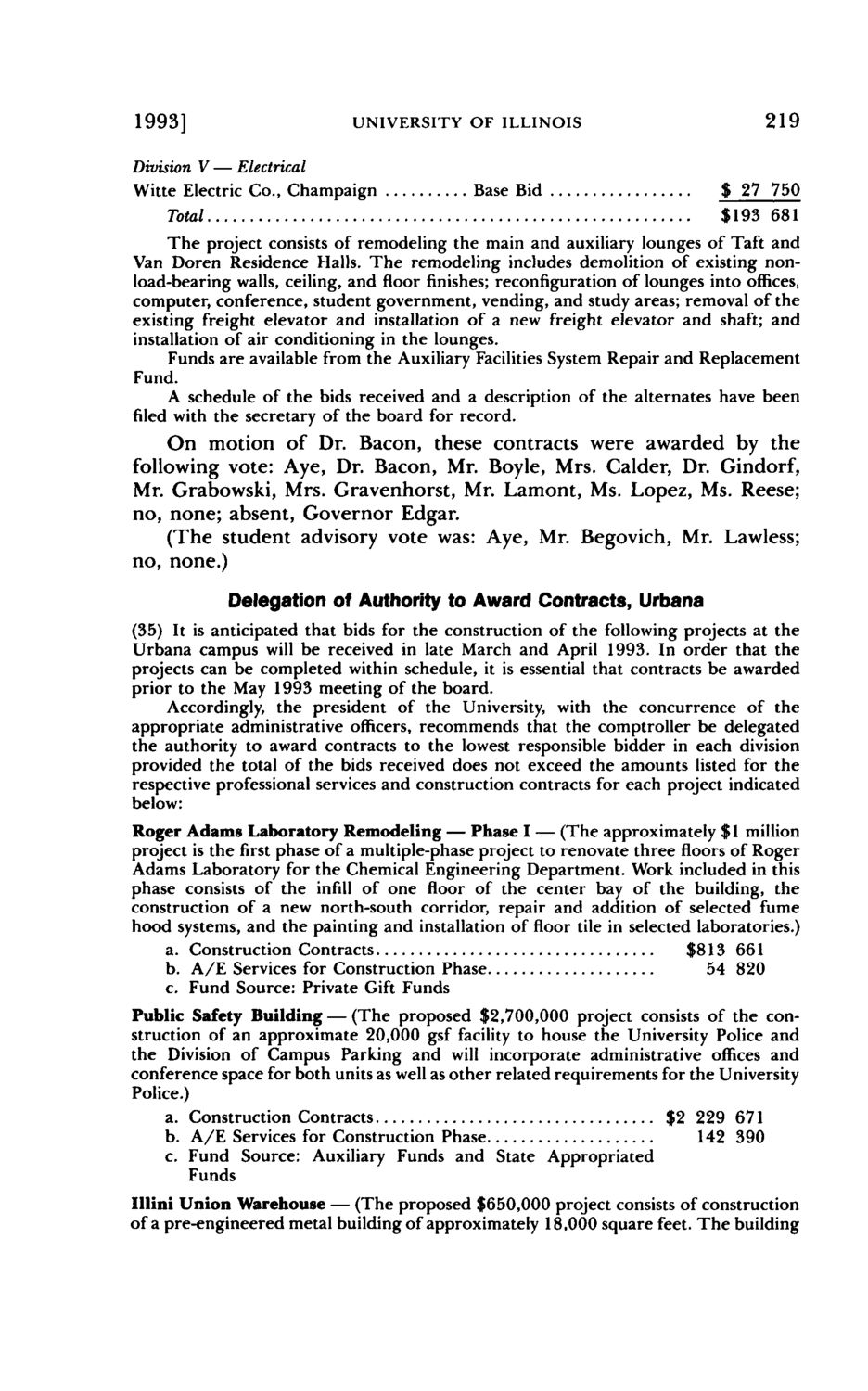 ---
EXTRACTED TEXT FROM PAGE:
1993]
UNIVERSITY OF ILLINOIS
219
$ 27 750 $193 681
Division V — Electrical Witte Electric Co., Champaign Total
Base Bid
T h e project consists of remodeling the main and auxiliary lounges of Taft and Van Doren Residence Halls. T h e remodeling includes demolition of existing nonload-bearing walls, ceiling, and floor finishes; reconfiguration of lounges into offices, computer, conference, student government, vending, and study areas; removal of the existing freight elevator and installation of a new freight elevator and shaft; and installation of air conditioning in the lounges. Funds are available from the Auxiliary Facilities System Repair and Replacement Fund. A schedule of the bids received and a description of the alternates have been filed with the secretary of the board for record.
On motion of Dr. Bacon, these contracts were awarded by the following vote: Aye, Dr. Bacon, Mr. Boyle, Mrs. Calder, Dr. Gindorf, Mr. Grabowski, Mrs. Gravenhorst, Mr. Lamont, Ms. Lopez, Ms. Reese; no, none; absent, Governor Edgar. (The student advisory vote was: Aye, Mr. Begovich, Mr. Lawless; no, none.)
Delegation of Authority to Award Contracts, Urbana
(35) It is anticipated that bids for the construction of the following projects at the Urbana campus will be received in late March and April 1993. In order that the projects can be completed within schedule, it is essential that contracts be awarded prior to the May 1993 meeting of the board. Accordingly, the president of the University, with the concurrence of the appropriate administrative officers, recommends that the comptroller be delegated the authority to award contracts to the lowest responsible bidder in each division provided the total of the bids received does not exceed the amounts listed for the respective professional services and construction contracts for each project indicated below: Roger Adams Laboratory Remodeling — Phase I — (The approximately $ 1 million project is the first phase of a multiple-phase project to renovate three floors of Roger Adams Laboratory for the Chemical Engineering Department. Work included in this phase consists of the infill of one floor of the center bay of the building, the construction of a new north-south corridor, repair and addition of selected fume hood systems, and the painting and installation of floor tile in selected laboratories.) a. Construction Contracts $813 661 b. A / E Services for Construction Phase 54 820 c. Fund Source: Private Gift Funds Public Safety Building — (The proposed $2,700,000 project consists of the construction of an approximate 20,000 gsf facility to house the University Police and the Division of Campus Parking and will incorporate administrative offices and conference space for both units as well as other related requirements for the University Police.) a. Construction Contracts $2 229 671 b. A / E Services for Construction Phase 142 390 c. Fund Source: Auxiliary Funds and State Appropriated Funds Illini Union Warehouse — (The proposed $650,000 project consists of construction of a pre-engineered metal building of approximately 18,000 square feet. T h e building