Caption: Board of Trustees Minutes - 1992
This is a reduced-resolution page image for fast online browsing.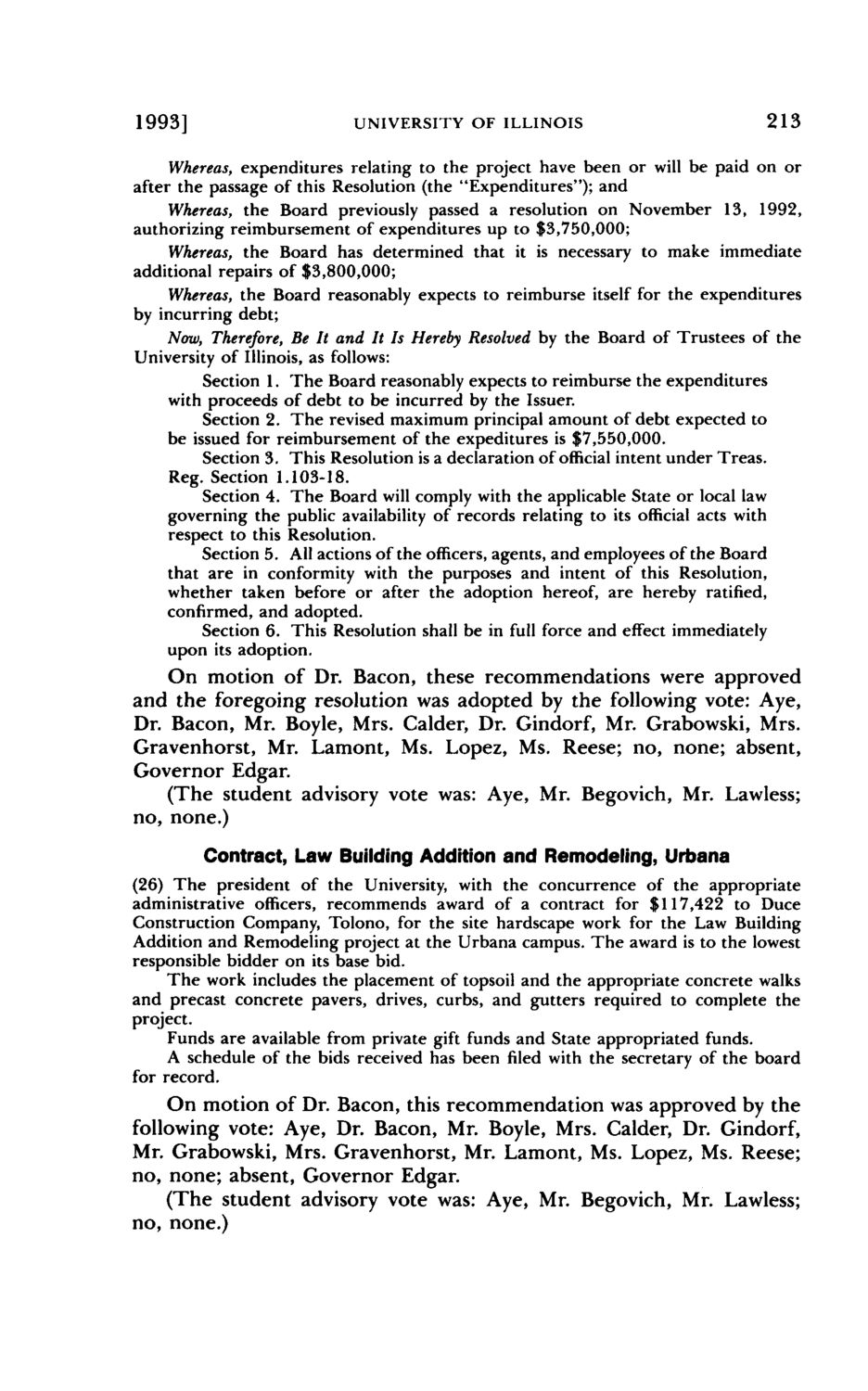 ---
EXTRACTED TEXT FROM PAGE:
1993]
UNIVERSITY OF ILLINOIS
213
Whereas, expenditures relating to the project have been or will be paid on or after the passage of this Resolution (the "Expenditures"); and Whereas, the Board previously passed a resolution on November 13, 1992, authorizing reimbursement of expenditures up to $3,750,000; Whereas, the Board has determined that it is necessary to make immediate additional repairs of $3,800,000; Whereas, the Board reasonably expects to reimburse itself for the expenditures by incurring debt; Now, Therefore, Be It and It Is Hereby Resolved by the Board of Trustees of the University of Illinois, as follows: Section 1. The Board reasonably expects to reimburse the expenditures with proceeds of debt to be incurred by the Issuer. Section 2. The revised maximum principal amount of debt expected to be issued for reimbursement of the expeditures is $7,550,000. Section 3. This Resolution is a declaration of official intent under Treas. Reg. Section 1.103-18. Section 4. The Board will comply with the applicable State or local law governing the public availability of records relating to its official acts with respect to this Resolution. Section 5. All actions of the officers, agents, and employees of the Board that are in conformity with the purposes and intent of this Resolution, whether taken before or after the adoption hereof, are hereby ratified, confirmed, and adopted. Section 6. This Resolution shall be in full force and effect immediately upon its adoption.
On motion of Dr. Bacon, these recommendations were approved and the foregoing resolution was adopted by the following vote: Aye, Dr. Bacon, Mr. Boyle, Mrs. Calder, Dr. Gindorf, Mr. Grabowski, Mrs. Gravenhorst, Mr. Lamont, Ms. Lopez, Ms. Reese; no, none; absent, Governor Edgar. (The student advisory vote was: Aye, Mr. Begovich, Mr. Lawless; no, none.)
Contract, Law Building Addition and Remodeling, Urbana
(26) The president of the University, with the concurrence of the appropriate administrative officers, recommends award of a contract for $117,422 to Duce Construction Company, Tolono, for the site hardscape work for the Law Building Addition and Remodeling project at the Urbana campus. The award is to the lowest responsible bidder on its base bid. The work includes the placement of topsoil and the appropriate concrete walks and precast concrete pavers, drives, curbs, and gutters required to complete the project. Funds are available from private gift funds and State appropriated funds. A schedule of the bids received has been filed with the secretary of the board for record.
On motion of Dr. Bacon, this recommendation was approved by the following vote: Aye, Dr. Bacon, Mr. Boyle, Mrs. Calder, Dr. Gindorf, Mr. Grabowski, Mrs. Gravenhorst, Mr. Lamont, Ms. Lopez, Ms. Reese; no, none; absent, Governor Edgar. (The student advisory vote was: Aye, Mr. Begovich, Mr. Lawless; no, none.)