Caption: Board of Trustees Minutes - 1992
This is a reduced-resolution page image for fast online browsing.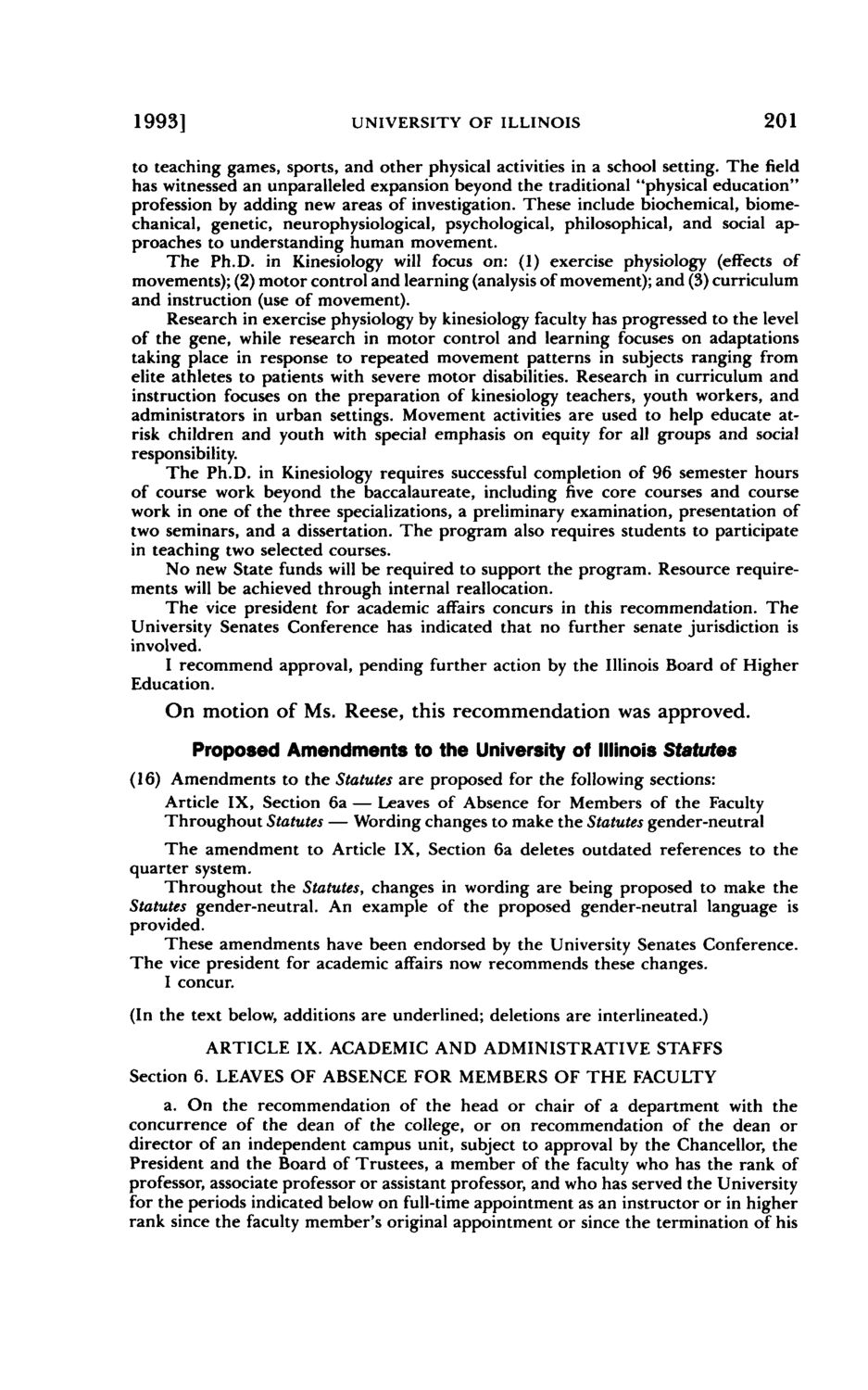 ---
EXTRACTED TEXT FROM PAGE:
1993]
UNIVERSITY OF ILLINOIS
201
to teaching games, sports, and other physical activities in a school setting. The field has witnessed an unparalleled expansion beyond the traditional "physical education" profession by adding new areas of investigation. These include biochemical, biomechanical, genetic, neurophysiological, psychological, philosophical, and social approaches to understanding human movement. The Ph.D. in Kinesiology will focus on: (1) exercise physiology (effects of movements); (2) motor control and learning (analysis of movement); and (3) curriculum and instruction (use of movement). Research in exercise physiology by kinesiology faculty has progressed to the level of the gene, while research in motor control and learning focuses on adaptations taking place in response to repeated movement patterns in subjects ranging from elite athletes to patients with severe motor disabilities. Research in curriculum and instruction focuses on the preparation of kinesiology teachers, youth workers, and administrators in urban settings. Movement activities are used to help educate atrisk children and youth with special emphasis on equity for all groups and social responsibility. The Ph.D. in Kinesiology requires successful completion of 96 semester hours of course work beyond the baccalaureate, including five core courses and course work in one of the three specializations, a preliminary examination, presentation of two seminars, and a dissertation. The program also requires students to participate in teaching two selected courses. No new State funds will be required to support the program. Resource requirements will be achieved through internal reallocation. The vice president for academic affairs concurs in this recommendation. The University Senates Conference has indicated that no further senate jurisdiction is involved. I recommend approval, pending further action by the Illinois Board of Higher Education.
On motion of Ms. Reese, this recommendation was approved. Proposed Amendments to the University of Illinois Statutes
(16) Amendments to the Statutes are proposed for the following sections: Article IX, Section 6a — Leaves of Absence for Members of the Faculty Throughout Statutes — Wording changes to make the Statutes gender-neutral The amendment to Article IX, Section 6a deletes outdated references to the quarter system. Throughout the Statutes, changes in wording are being proposed to make the Statutes gender-neutral. An example of the proposed gender-neutral language is provided. These amendments have been endorsed by the University Senates Conference. The vice president for academic affairs now recommends these changes. I concur. (In the text below, additions are underlined; deletions are interlineated.) ARTICLE IX. ACADEMIC AND ADMINISTRATIVE STAFFS Section 6. LEAVES OF ABSENCE FOR MEMBERS OF THE FACULTY a. On the recommendation of the head or chair of a department with the concurrence of the dean of the college, or on recommendation of the dean or director of an independent campus unit, subject to approval by the Chancellor, the President and the Board of Trustees, a member of the faculty who has the rank of professor, associate professor or assistant professor, and who has served the University for the periods indicated below on full-time appointment as an instructor or in higher rank since the faculty member's original appointment or since the termination of his