Caption: Board of Trustees Minutes - 1992
This is a reduced-resolution page image for fast online browsing.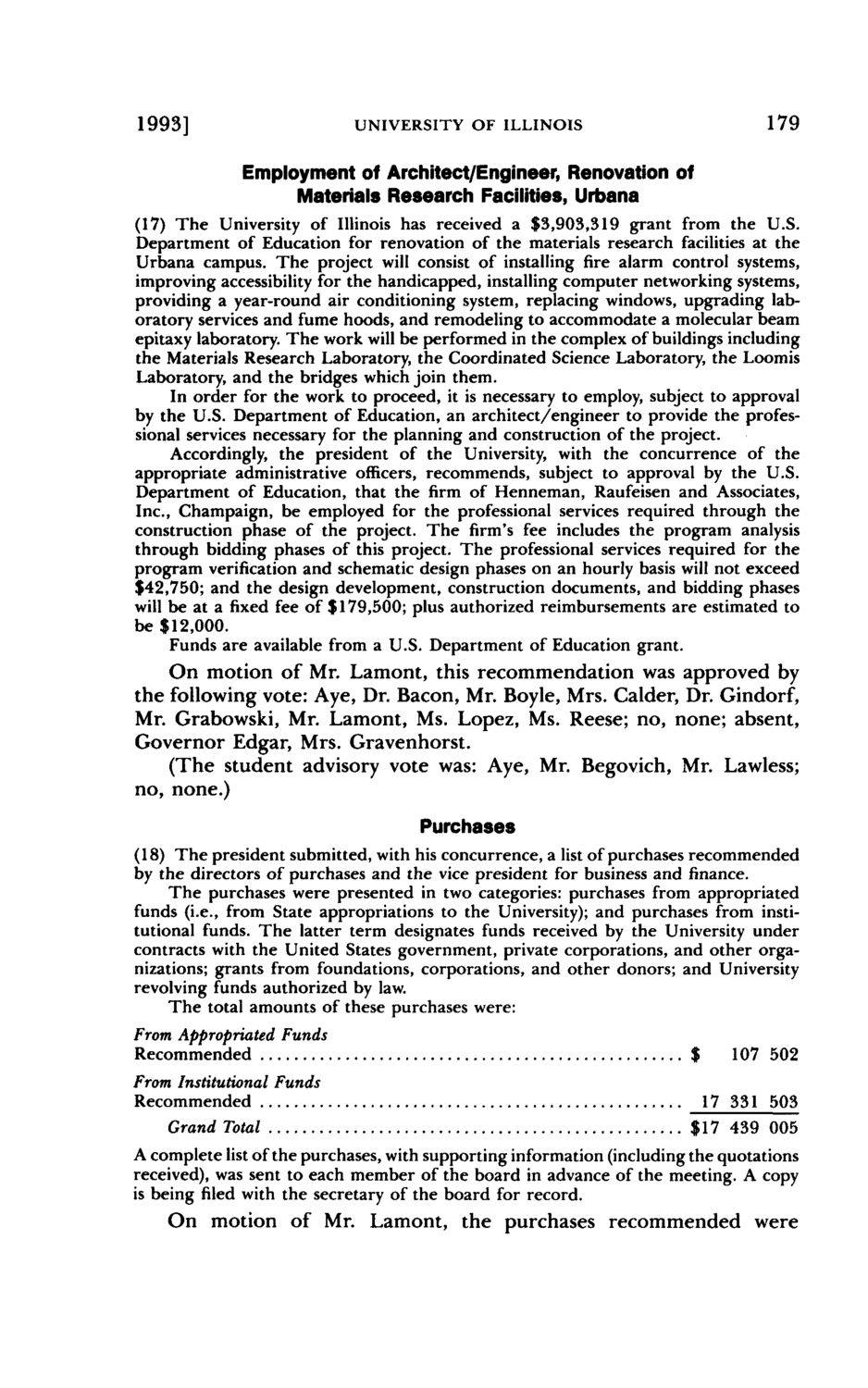 ---
EXTRACTED TEXT FROM PAGE:
1993]
UNIVERSITY OF ILLINOIS
179
Employment of Architect/Engineer, Renovation of Materials Research Facilities, Urbana
(17) The University of Illinois has received a $3,903,319 grant from the U.S. Department of Education for renovation of the materials research facilities at the Urbana campus. The project will consist of installing fire alarm control systems, improving accessibility for the handicapped, installing computer networking systems, providing a year-round air conditioning system, replacing windows, upgrading laboratory services and fume hoods, and remodeling to accommodate a molecular beam epitaxy laboratory. The work will be performed in the complex of buildings including the Materials Research Laboratory, the Coordinated Science Laboratory, the Loomis Laboratory, and the bridges which join them. In order for the work to proceed, it is necessary to employ, subject to approval by the U.S. Department of Education, an architect/engineer to provide the professional services necessary for the planning and construction of the project. Accordingly, the president of the University, with the concurrence of the appropriate administrative officers, recommends, subject to approval by the U.S. Department of Education, that the firm of Henneman, Raufeisen and Associates, Inc., Champaign, be employed for the professional services required through the construction phase of the project. The firm's fee includes the program analysis through bidding phases of this project. The professional services required for the program verification and schematic design phases on an hourly basis will not exceed $42,750; and the design development, construction documents, and bidding phases will be at a fixed fee of $179,500; plus authorized reimbursements are estimated to be $12,000. Funds are available from a U.S. Department of Education grant.
On motion of Mr. Lamont, this recommendation was approved by the following vote: Aye, Dr. Bacon, Mr. Boyle, Mrs. Calder, Dr. Gindorf, Mr. Grabowski, Mr. Lamont, Ms. Lopez, Ms. Reese; no, none; absent, Governor Edgar, Mrs. Gravenhorst. (The student advisory vote was: Aye, Mr. Begovich, Mr. Lawless; no, none.)
Purchases
(18) The president submitted, with his concurrence, a list of purchases recommended by the directors of purchases and the vice president for business and finance. The purchases were presented in two categories: purchases from appropriated funds (i.e., from State appropriations to the University); and purchases from institutional funds. The latter term designates funds received by the University under contracts with the United States government, private corporations, and other organizations; grants from foundations, corporations, and other donors; and University revolving funds authorized by law. The total amounts of these purchases were: From Appropriated Funds Recommended From Institutional Funds Recommended Grand Total $ 107 502
17 331 503 $17 439 005
A complete list of the purchases, with supporting information (including the quotations received), was sent to each member of the board in advance of the meeting. A copy is being filed with the secretary of the board for record.
On motion of Mr. Lamont, the purchases recommended were