Caption: Board of Trustees Minutes - 1992
This is a reduced-resolution page image for fast online browsing.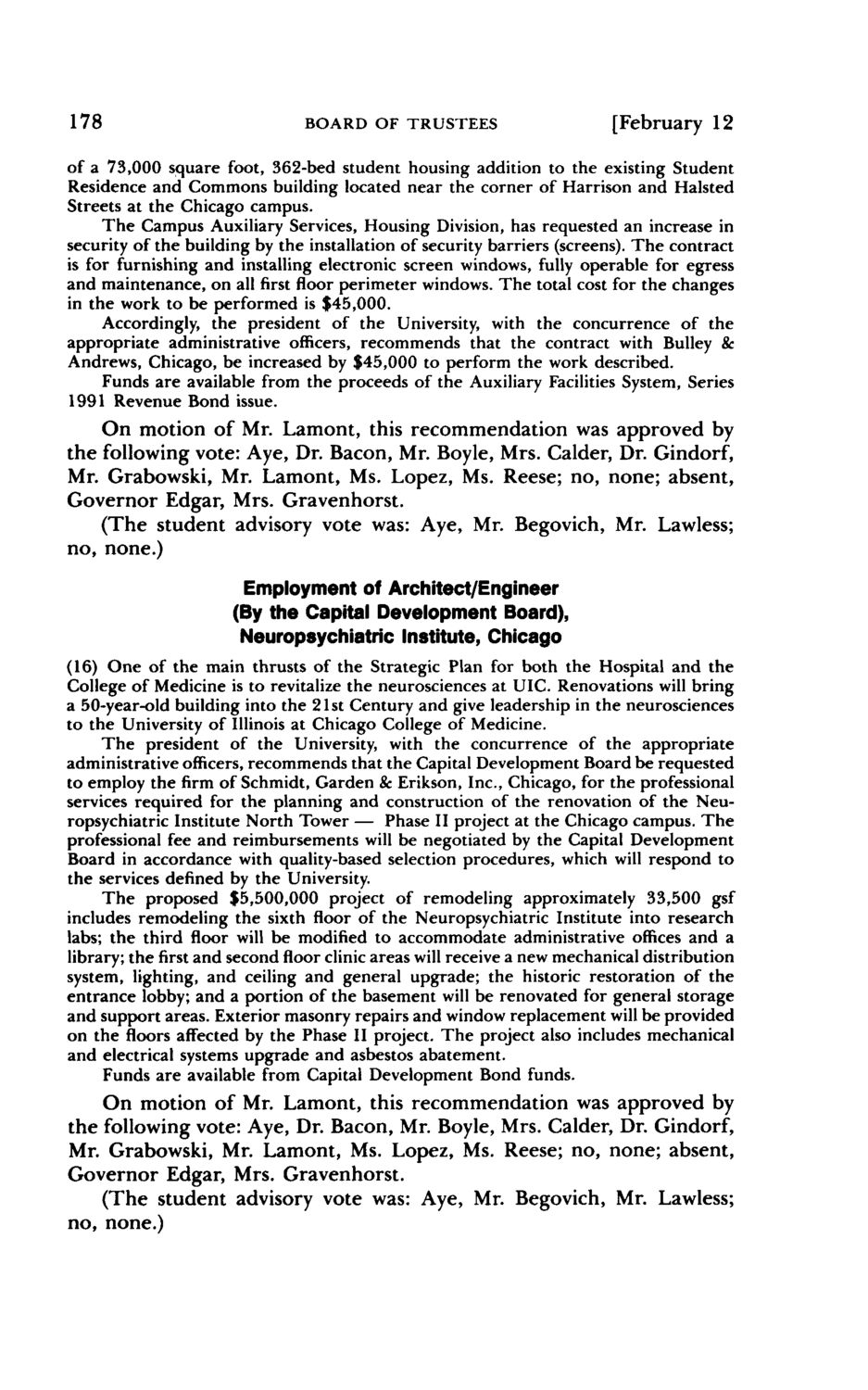 ---
EXTRACTED TEXT FROM PAGE:
178
BOARD OF TRUSTEES
[February 12
of a 73,000 square foot, 362-bed student housing addition to the existing Student Residence and Commons building located near the corner of Harrison and Halsted Streets at the Chicago campus. The Campus Auxiliary Services, Housing Division, has requested an increase in security of the building by the installation of security barriers (screens). The contract is for furnishing and installing electronic screen windows, fully operable for egress and maintenance, on all first floor perimeter windows. The total cost for the changes in the work to be performed is $45,000. Accordingly, the president of the University, with the concurrence of the appropriate administrative officers, recommends that the contract with Bulley & Andrews, Chicago, be increased by $45,000 to perform the work described. Funds are available from the proceeds of the Auxiliary Facilities System, Series 1991 Revenue Bond issue.
On motion of Mr. Lamont, this recommendation was approved by the following vote: Aye, Dr. Bacon, Mr. Boyle, Mrs. Calder, Dr. Gindorf, Mr. Grabowski, Mr. Lamont, Ms. Lopez, Ms. Reese; no, none; absent, Governor Edgar, Mrs. Gravenhorst. (The student advisory vote was: Aye, Mr. Begovich, Mr. Lawless; no, none.)
Employment of Architect/Engineer (By the Capital Development Board), Neuropsychiatric Institute, Chicago
(16) One of the main thrusts of the Strategic Plan for both the Hospital and the College of Medicine is to revitalize the neurosciences at UIC. Renovations will bring a 50-year-old building into the 21 st Century and give leadership in the neurosciences to the University of Illinois at Chicago College of Medicine. The president of the University, with the concurrence of the appropriate administrative officers, recommends that the Capital Development Board be requested to employ the firm of Schmidt, Garden & Erikson, Inc., Chicago, for the professional services required for the planning and construction of the renovation of the Neuropsychiatric Institute North Tower — Phase II project at the Chicago campus. The professional fee and reimbursements will be negotiated by the Capital Development Board in accordance with quality-based selection procedures, which will respond to the services defined by the University. The proposed $5,500,000 project of remodeling approximately 33,500 gsf includes remodeling the sixth floor of the Neuropsychiatric Institute into research labs; the third floor will be modified to accommodate administrative offices and a library; the first and second floor clinic areas will receive a new mechanical distribution system, lighting, and ceiling and general upgrade; the historic restoration of the entrance lobby; and a portion of the basement will be renovated for general storage and support areas. Exterior masonry repairs and window replacement will be provided on the floors affected by the Phase II project. The project also includes mechanical and electrical systems upgrade and asbestos abatement. Funds are available from Capital Development Bond funds.
On motion of Mr. Lamont, this recommendation was approved by the following vote: Aye, Dr. Bacon, Mr. Boyle, Mrs. Calder, Dr. Gindorf, Mr. Grabowski, Mr. Lamont, Ms. Lopez, Ms. Reese; no, none; absent, Governor Edgar, Mrs. Gravenhorst. (The student advisory vote was: Aye, Mr. Begovich, Mr. Lawless; no, none.)