Caption: Board of Trustees Minutes - 1992
This is a reduced-resolution page image for fast online browsing.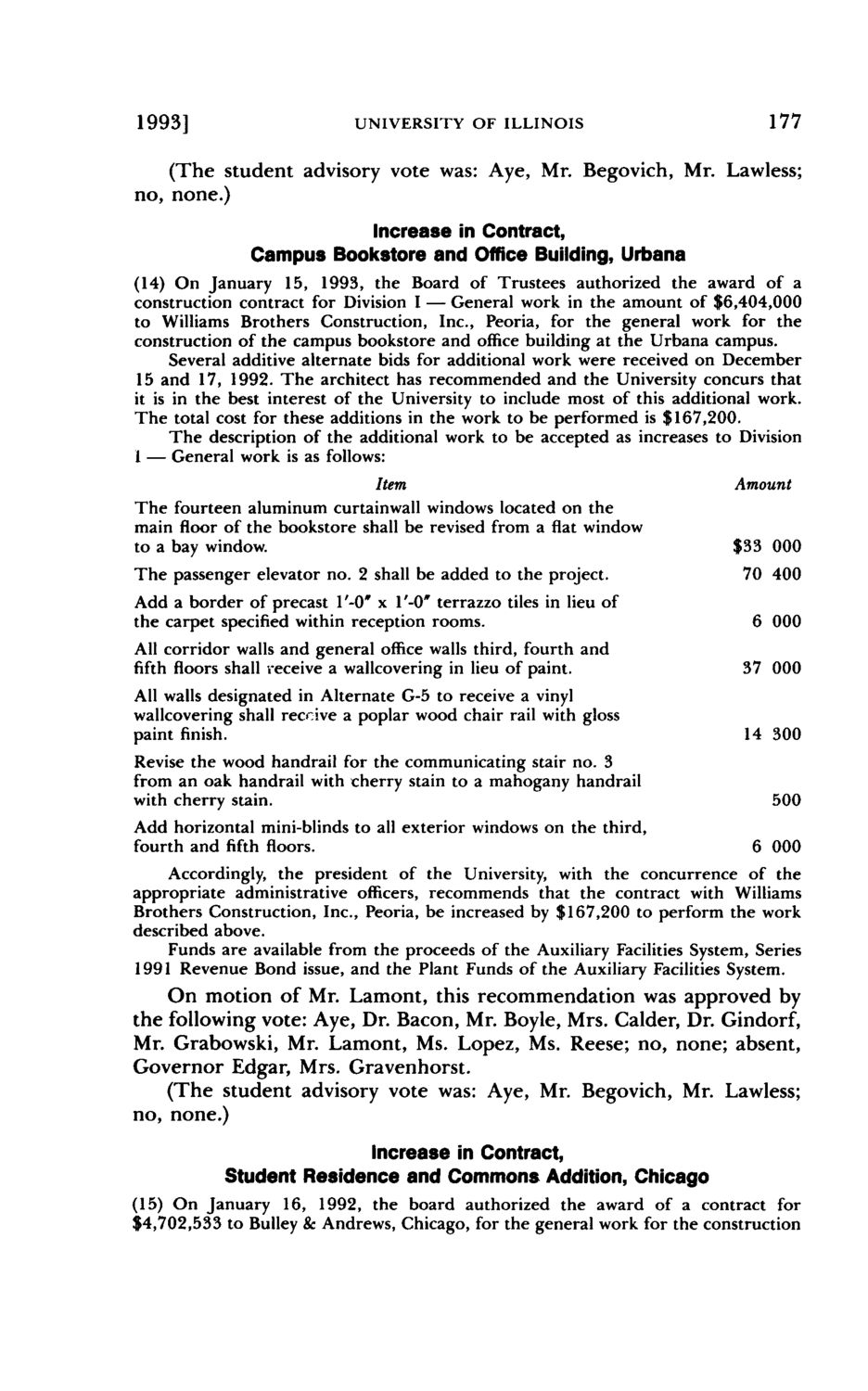 ---
EXTRACTED TEXT FROM PAGE:
1993]
UNIVERSITY OF ILLINOIS
177
(The student advisory vote was: Aye, Mr. Begovich, Mr. Lawless; no, none.)
Increase in Contract, Campus Bookstore and Office Building, Urbana
(14) On January 15, 1993, the Board of Trustees authorized the award of a construction contract for Division I — General work in the amount of $6,404,000 to Williams Brothers Construction, Inc., Peoria, for the general work for the construction of the campus bookstore and office building at the Urbana campus. Several additive alternate bids for additional work were received on December 15 and 17, 1992. The architect has recommended and the University concurs that it is in the best interest of the University to include most of this additional work. The total cost for these additions in the work to be performed is $167,200. The description of the additional work to be accepted as increases to Division I — General work is as follows: Item The fourteen aluminum curtainwall windows located on the main floor of the bookstore shall be revised from a flat window to a bay window. The passenger elevator no. 2 shall be added to the project. Add a border of precast 1 '-0* x 1 '-0* terrazzo tiles in lieu of the carpet specified within reception rooms. All corridor walls and general office walls third, fourth and fifth floors shall receive a wallcovering in lieu of paint. All walls designated in Alternate G-5 to receive a vinyl wallcovering shall receive a poplar wood chair rail with gloss paint finish. Revise the wood handrail for the communicating stair no. 3 from an oak handrail with cherry stain to a mahogany handrail with cherry stain. Add horizontal mini-blinds to all exterior windows on the third, fourth and fifth floors. Amount
$33 000 70 400 6 000 37 000
14 300
500 6 000
Accordingly, the president of the University, with the concurrence of the appropriate administrative officers, recommends that the contract with Williams Brothers Construction, Inc., Peoria, be increased by $167,200 to perform the work described above. Funds are available from the proceeds of the Auxiliary Facilities System, Series 1991 Revenue Bond issue, and the Plant Funds of the Auxiliary Facilities System.
On motion of Mr. Lamont, this recommendation was approved by the following vote: Aye, Dr. Bacon, Mr. Boyle, Mrs. Calder, Dr. Gindorf, Mr. Grabowski, Mr. Lamont, Ms. Lopez, Ms. Reese; no, none; absent, Governor Edgar, Mrs. Gravenhorst. (The student advisory vote was: Aye, Mr. Begovich, Mr. Lawless; no, none.)
Increase in Contract, Student Residence and Commons Addition, Chicago
(15) On January 16, 1992, the board authorized the award of a contract for $4,702,533 to Bulley & Andrews, Chicago, for the general work for the construction