Caption: Board of Trustees Minutes - 1992
This is a reduced-resolution page image for fast online browsing.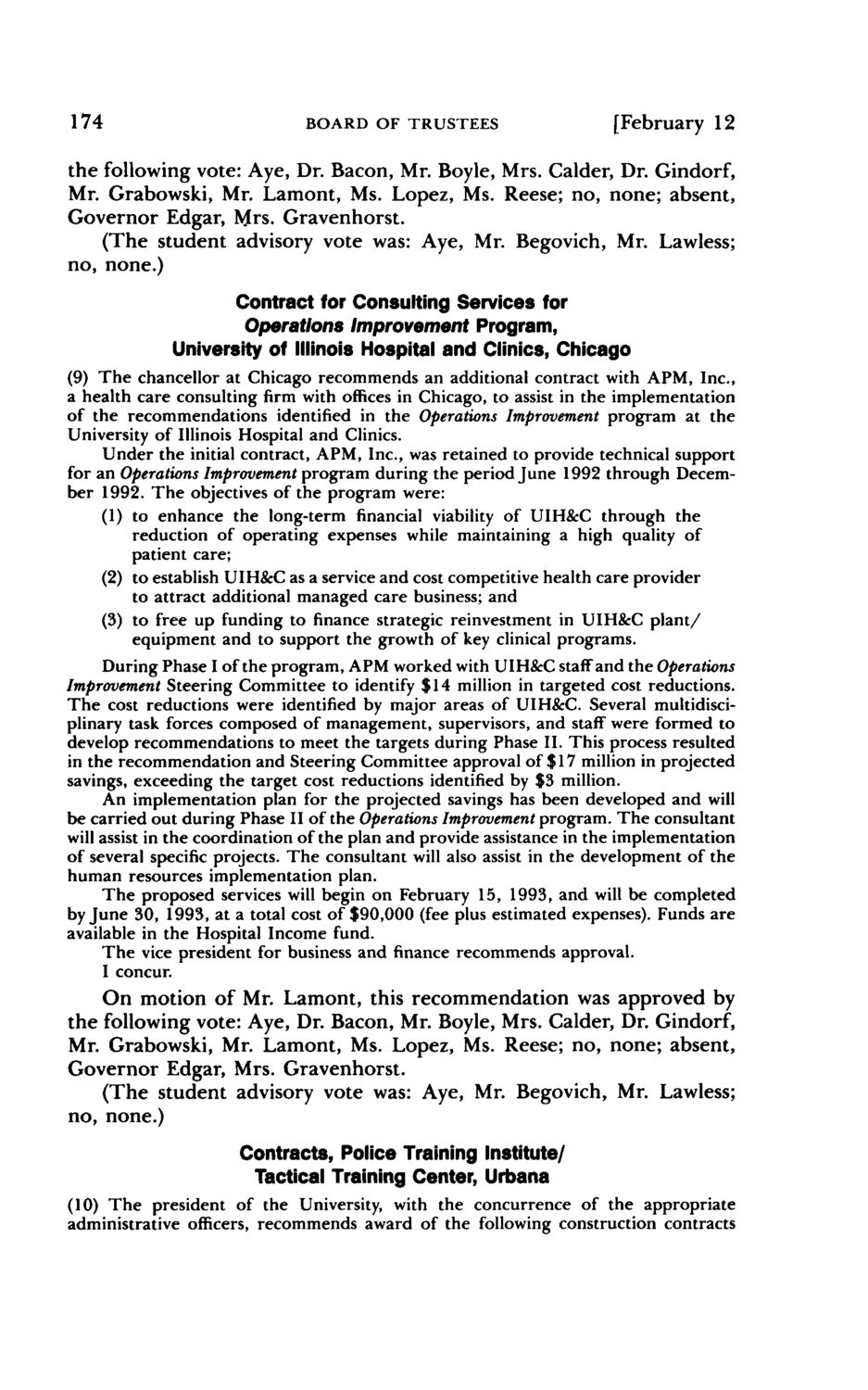 ---
EXTRACTED TEXT FROM PAGE:
174
BOARD OF TRUSTEES
[February 12
the following vote: Aye, Dr. Bacon, Mr. Boyle, Mrs. Calder, Dr. Gindorf, Mr. Grabowski, Mr. Lamont, Ms. Lopez, Ms. Reese; no, none; absent, Governor Edgar, Mrs. Gravenhorst. (The student advisory vote was: Aye, Mr. Begovich, Mr. Lawless; no, none.)
Contract for Consulting Services for Operations Improvement Program, University of Illinois Hospital and Clinics, Chicago
(9) The chancellor at Chicago recommends an additional contract with APM, Inc., a health care consulting firm with offices in Chicago, to assist in the implementation of the recommendations identified in the Operations Improvement program at the University of Illinois Hospital and Clinics. Under the initial contract, APM, Inc., was retained to provide technical support for an Operations Improvement program during the period June 1992 through December 1992. The objectives of the program were: (1) to enhance the long-term financial viability of UIH&C through the reduction of operating expenses while maintaining a high quality of patient care; (2) to establish UIH&C as a service and cost competitive health care provider to attract additional managed care business; and (3) to free up funding to finance strategic reinvestment in UIH&C plant/ equipment and to support the growth of key clinical programs. During Phase I of the program, APM worked with UIH&C staff and the Operations Improvement Steering Committee to identify $14 million in targeted cost reductions. The cost reductions were identified by major areas of UIH&C. Several multidisciplinary task forces composed of management, supervisors, and staff were formed to develop recommendations to meet the targets during Phase II. This process resulted in the recommendation and Steering Committee approval of $ 17 million in projected savings, exceeding the target cost reductions identified by $3 million. An implementation plan for the projected savings has been developed and will be carried out during Phase II of the Operations Improvement program. The consultant will assist in the coordination of the plan and provide assistance in the implementation of several specific projects. The consultant will also assist in the development of the human resources implementation plan. The proposed services will begin on February 15, 1993, and will be completed by June 30, 1993, at a total cost of $90,000 (fee plus estimated expenses). Funds are available in the Hospital Income fund. The vice president for business and finance recommends approval. I concur.
On motion of Mr. Lamont, this recommendation was approved by the following vote: Aye, Dr. Bacon, Mr. Boyle, Mrs. Calder, Dr. Gindorf, Mr. Grabowski, Mr. Lamont, Ms. Lopez, Ms. Reese; no, none; absent, Governor Edgar, Mrs. Gravenhorst. (The student advisory vote was: Aye, Mr. Begovich, Mr. Lawless; no, none.)
Contracts, Police Training Institute/ Tactical Training Center, Urbana
(10) The president of the University, with the concurrence of the appropriate administrative officers, recommends award of the following construction contracts