Caption: Board of Trustees Minutes - 1992
This is a reduced-resolution page image for fast online browsing.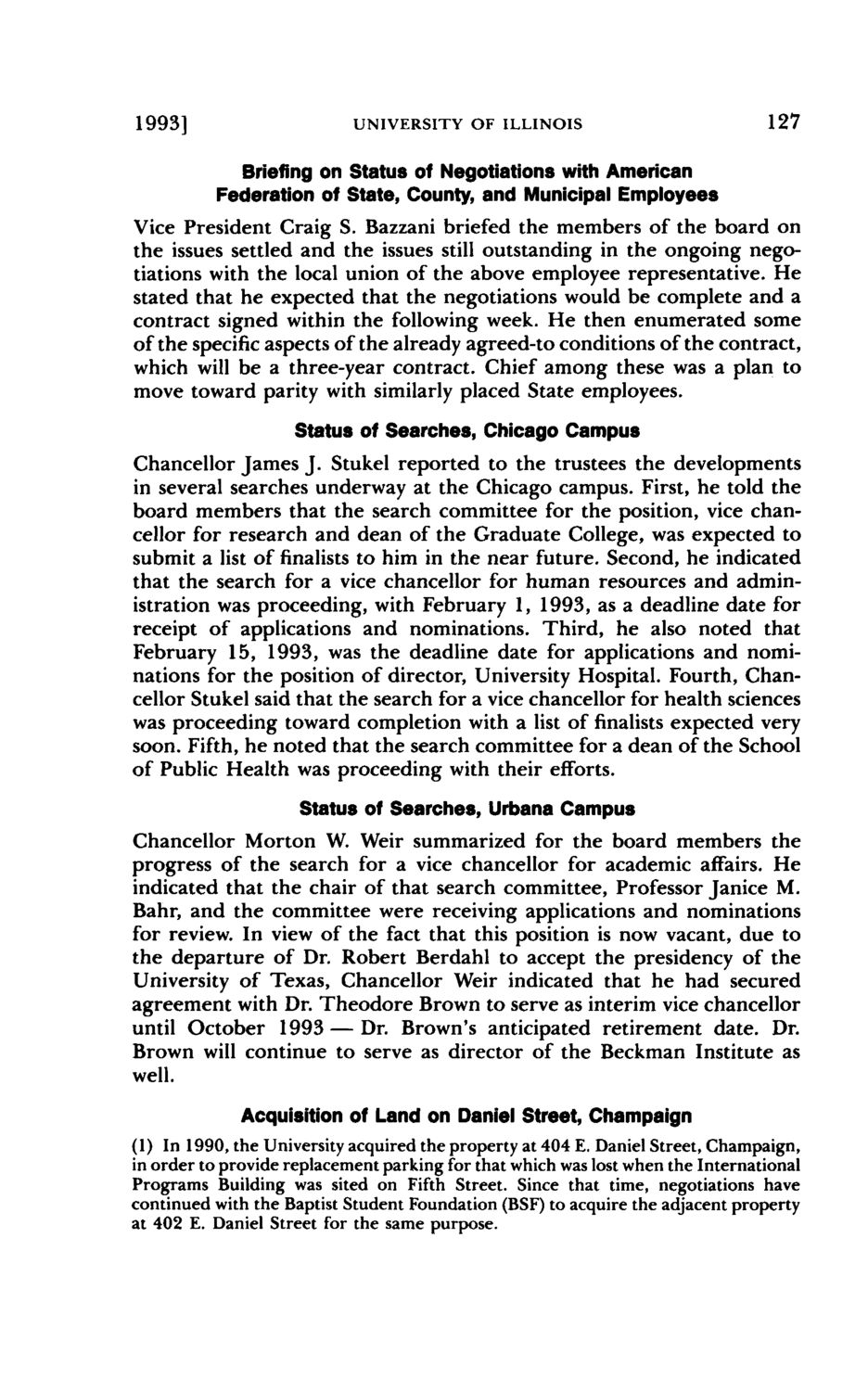 ---
EXTRACTED TEXT FROM PAGE:
1993]
UNIVERSITY OF ILLINOIS
127
Briefing on Status of Negotiations with American Federation of State, County, and Municipal Employees
Vice President Craig S. Bazzani briefed the members of the board on the issues settled and the issues still outstanding in the ongoing negotiations with the local union of the above employee representative. He stated that he expected that the negotiations would be complete and a contract signed within the following week. He then enumerated some of the specific aspects of the already agreed-to conditions of the contract, which will be a three-year contract. Chief among these was a plan to move toward parity with similarly placed State employees.
Status of Searches, Chicago Campus
Chancellor James J. Stukel reported to the trustees the developments in several searches underway at the Chicago campus. First, he told the board members that the search committee for the position, vice chancellor for research and dean of the Graduate College, was expected to submit a list of finalists to him in the near future. Second, he indicated that the search for a vice chancellor for human resources and administration was proceeding, with February 1, 1993, as a deadline date for receipt of applications and nominations. Third, he also noted that February 15, 1993, was the deadline date for applications and nominations for the position of director, University Hospital. Fourth, Chancellor Stukel said that the search for a vice chancellor for health sciences was proceeding toward completion with a list of finalists expected very soon. Fifth, he noted that the search committee for a dean of the School of Public Health was proceeding with their efforts.
Status of Searches, Urbana Campus
Chancellor Morton W. Weir summarized for the board members the progress of the search for a vice chancellor for academic affairs. He indicated that the chair of that search committee, Professor Janice M. Bahr, and the committee were receiving applications and nominations for review. In view of the fact that this position is now vacant, due to the departure of Dr. Robert Berdahl to accept the presidency of the University of Texas, Chancellor Weir indicated that he had secured agreement with Dr. Theodore Brown to serve as interim vice chancellor until October 1993 — Dr. Brown's anticipated retirement date. Dr. Brown will continue to serve as director of the Beckman Institute as well.
Acquisition of Land on Daniel Street, Champaign (1) In 1990, the University acquired the property at 404 E. Daniel Street, Champaign, in order to provide replacement parking for that which was lost when the International Programs Building was sited on Fifth Street. Since that time, negotiations have continued with the Baptist Student Foundation (BSF) to acquire the adjacent property at 402 E. Daniel Street for the same purpose.