Caption: Board of Trustees Minutes - 1992
This is a reduced-resolution page image for fast online browsing.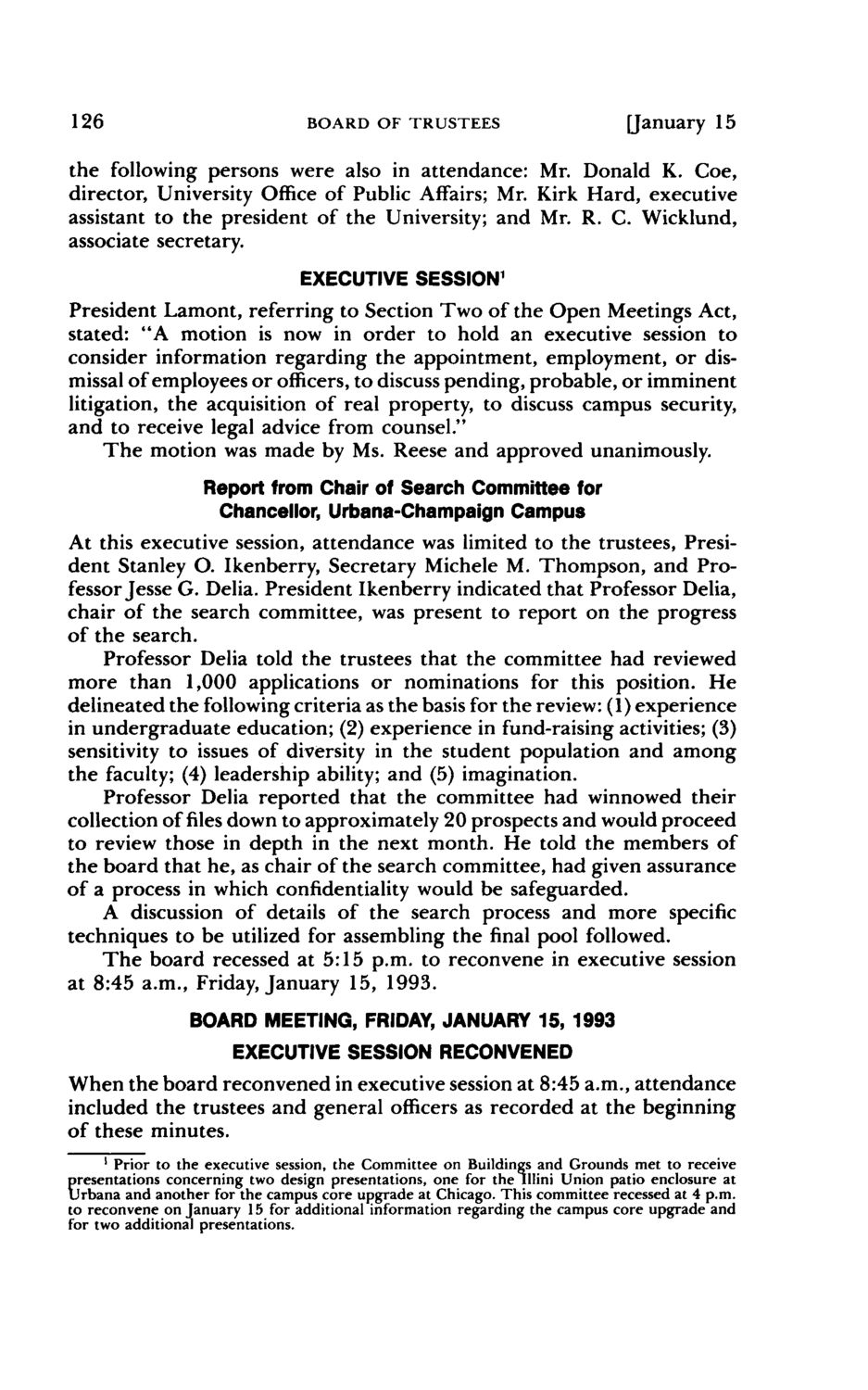 ---
EXTRACTED TEXT FROM PAGE:
126
B O A R D OF T R U S T E E S
[January 15
the following persons were also in attendance: Mr. Donald K. Coe, director, University Office of Public Affairs; Mr. Kirk Hard, executive assistant to the president of the University; and Mr. R. C. Wicklund, associate secretary.
EXECUTIVE SESSION1
President Lamont, referring to Section Two of the Open Meetings Act, stated: "A motion is now in order to hold an executive session to consider information regarding the appointment, employment, or dismissal of employees or officers, to discuss pending, probable, or imminent litigation, the acquisition of real property, to discuss campus security, and to receive legal advice from counsel/' The motion was made by Ms. Reese and approved unanimously.
Report from Chair of Search Committee for Chancellor, Urbana-Champaign Campus
At this executive session, attendance was limited to the trustees, President Stanley O. Ikenberry, Secretary Michele M. Thompson, and Professor Jesse G. Delia. President Ikenberry indicated that Professor Delia, chair of the search committee, was present to report on the progress of the search. Professor Delia told the trustees that the committee had reviewed more than 1,000 applications or nominations for this position. He delineated the following criteria as the basis for the review: (1) experience in undergraduate education; (2) experience in fund-raising activities; (3) sensitivity to issues of diversity in the student population and among the faculty; (4) leadership ability; and (5) imagination. Professor Delia reported that the committee had winnowed their collection of files down to approximately 20 prospects and would proceed to review those in depth in the next month. He told the members of the board that he, as chair of the search committee, had given assurance of a process in which confidentiality would be safeguarded. A discussion of details of the search process and more specific techniques to be utilized for assembling the final pool followed. The board recessed at 5:15 p.m. to reconvene in executive session at 8:45 a.m., Friday, January 15, 1993.
BOARD MEETING, FRIDAY, JANUARY 15, 1993 EXECUTIVE SESSION RECONVENED
When the board reconvened in executive session at 8:45 a.m., attendance included the trustees and general officers as recorded at the beginning of these minutes.
1 Prior to the executive session, the Committee on Buildings and Grounds met to receive presentations concerning two design presentations, one for the Illini Union patio enclosure at Urbana and another for the campus core upgrade at Chicago. This committee recessed at 4 p.m. to reconvene on January 15 for additional information regarding the campus core upgrade and for two additional presentations.